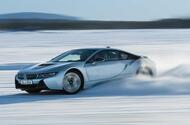 Winter tyres can dramatically increase grip on slippery surfaces, such as frozen lakes…
Just how good are winter tyres? We sample a set to find out…
Winter tyres are fitted by many of our European cousins during the colder seasons, yet us Brits still mostly stick with summer rubber all year round.
Attitudes are beginning to change in the UK, though, and slowly demand for seasonal tyres is picking up. To see if this trend is a worthwile one, we sample some cold weather tyres on an unlikely winter vehicle, before offering advice on how to best look after these specialised tyres, and yourself, on wintry British roads.
WINTER TYRES – THE AUTOCAR TEST
The one thing we know about the seasons is that they are seasonal, correct? Which means it'll be winter before we know it again soon, and the questions about winter tyres will once again arise in the minds of the everyday motorist.
Such as: are winter tyres worth what they cost, do they really make a difference compared with summer tyres when the roads turn greasy, should they be made compulsory in the UK (as they are in many other "cold" European countries at certain times of the year), and which are the best ones to buy; and where are the best places to go to find the best deals?
Until recent years much of the Autocar team was skeptical about winter rubber. They were called a conspiracy designed by the car and tyre manufacturers to get us to part with our hard earned folding for something that we don't strictly need. But then we tried some, at which point opinions on the subject changed completely.
Click here for winter car maintenance tips
The first test was using a BMW 1M – a rear-wheel-drive coupé with little weight over its driven axle – using Michelin Alpin winter tyres. Immediately the car felt remarkably different to drive; it was much more comfortable along a straight road, was sweeter to steer, less fidgety on badly surfaced roads, and offered much more grip everywhere in the wet.
The whole car felt as if it had been unlocked somehow, and there was also an amusing little sticker that had appeared in the top right-hand side of the windscreen, warning that it should not be driven above 149mph. As if BMW GB was saying: 'Because we know what sort of larks you Autocar lot normally get up to in our cars…'
There were some other qualities about the car on winter tyres that were less desirable, true. For instance, the speedo had become wildly ambitious; at a true 70mph it was reading almost 80mph, which meant the fuel range indicator was similarly off-piste. And the car's traction control also become neurotic, killing the power at the merest whiff of throttle, even on bone dry roads.
But when eventually it snowed – albeit only a bit – the tyres were an absolute revelation. The 1M was not rendered useless, as no doubt it would have been on its original 19in summer tyres. Instead, it could go pretty much anywhere because it could stop, steer and accelerate, almost as if the roads were merely wet rather than covered in snow.
And having subsequently tried other winter tyres on similarly hardcore machines – including a BMW i8 (pictured) and Porsche 911 – it's equally clear that winter tyres aren't just here to stay but are getting better, year-on-year.
Winter tyres are now big business for the tyre companies of Europe, even if we in the UK have yet to embrace them like most other countries in Europe. But our guess is that this attitude will change in the near future. 
WINTER TYRES – RIGHT FOR BRITAIN?
What's the point in spending upwards of £1000 on winter tyres when we don't have the weather to justify such extra cost?
Put it this way, next time it snows and our nation grinds to a halt once more (which it will) just think how much money will go up in smoke in the resulting mayhem. And think how much more efficient it would be if, as they do in Latvia when it snows (which means most of the year), we all continued to get around in our cars, vans, lorries and buses, virtually as if nothing had happened. 
That's how much of a difference winter tyres can make. And the sooner we realise it, the less carnage there will be next time our beloved weather forcasters warn us there's a "cold snap" heading our way.
WINTER TYRES – FREQUENTLY ASKED QUESTIONS
Can I drive on winter tyres in summer?
Yes, but the best thing to do is store them in the summer otherwise they'll wear out quite quickly.
What are the biggest benefits of winter tyres compared with normal tyres?
On rear-wheel-drive cars in particular, they improve all areas of performance. But the biggest differences are in braking and traction, and the differences are monumental, as in more than 50%.
Do I really need winter tyres on a front-wheel-drive car?
Yes, because although the improvements aren't as great as they are on rear drive cars, they are still very significant indeed, especially in braking performance.
How much do winter tyres cost?
About the same as summer tyres, depending on size, style and make.
Where's the best place to buy them?
Always check for deals on the internet (with companies such as blackcircles.com) but check with your car manufacturer first to get the recommended sizes.
Do winter tyres make any difference in the rain?
Yes, a huge difference. In fact, they will improve the braking, traction and overall grip of your car at pretty much any temperature below 5-7deg C – even in the dry. And in the wet, in those sorts of temperatures the difference is like chalk and cheese.
Is it worth putting winter tyres on a tired old banger?
If you value the front and rear bumpers of your tired old banger and don't fancy the idea of ruining your no-claims bonus, yes. If not, no. And good luck.
Can I get 20in winter tyres that look the same as 20in high performance summer tyres?
Yes. Most of the major tyre companies now make 20in winter tyres.
What's wrong with carrying a set of snow chains instead?
Best of luck fitting a set of those once you've slid to a halt on the hard shoulder on the uphill section of a busy motorway.
Are winter tyres worth it?
In our humble opinion, yes. With extra cheese and chilli sauce on top.
Source: Car
Write

a Comment
Fields with * are required