Zenos

hybrid model under consideration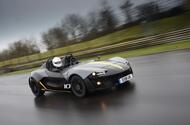 Sports car maker Zenos embarks on £250,000 research project to build a prototype hybrid version of its E10R
A Zenos hybrid model based on the E10 R is being considered, and Zenos is working on a hybrid powertrain system that could find its way into its production sports car in the future.
The Norfolk-based sports car company has found considerable acclaim for its range of E10 lightweight machines. It has now received a government grant to build a prototype hybrid version of the E10 R, with a manual gearbox, as part of a nine-month research and development project.
The funds, worth a total of £250,000, come from Niche Vehicle Network's SME & Supply Chain Development competition, which gives grants to projects within the low-volume vehicle industry.
Zenos will work alongside battery management firm Hyperdrive Innovation, transmission specialists Vocis Driveline Control and engineering company Cosworth to research ways of adapting Ford's Ecoboost engine into a hybrid system. The production E10 range is currently powered by the 2.3-litre Ecoboost unit.
Mark Edwards, Zenos' managing director, said the firm didn't have a firm hybridisation strategy, but was aware that increasing emissions regulations meant niche vehicle manufacturers had to look to the future to ensure they comply with targets.
So far the lightweight nature of Zenos' lineup has meant combustion engine power has been able to meet all the targets, but that is unlikely to continue.
Zenos is also considering adding E11 and E12 models to its lineup – read more here
"It's something that we would be foolish to ignore," Edwards said. "This is an R&D project, so it's our first step in evaluating what options might be suitable for future vehicles.
"A lot of people have looked at pure EV, but we like it [hybrid] because it still has the smell, feel and noise of a traditional gasoline solution but does offer the efficiency benefits. Emissions targets are only going to one way."
The complexity of modern hybrid systems mean that simply using a full Ford system isn't viable, Edwards said.
"We can't just use a Mondeo ECU for example, because it's embedded with so many systems within the Ford car. You have to start developing your own control systems to work with the hardware, be it an engine or a battery system."
Get our full review of the Zenos E10 R here
Edwards stressed the project wasn't a firm commitment to put a hybrid Zenos into production.
"We're aware that there are challenges five, 10, 15 years out that we have to meet and we have to start looking at them," he explains. "We're not saying that the next Zenos will be a hybrid vehicle. It could well be the case, but it's not a signal of a particular intention.
"If it does work, and it's economically viable, then it could give us a path to further longevity, but it doesn't transform our brand position or volume aspirations."
Sunderland-based Hyperdrive Innovation, which supplies battery management systems to a range of different vehicle manufacturers, will look to market a finished hybrid system to other carmakers once the R&D project with Zenos is completed. The company this week also secured use of Nissan's Leaf battery technology to develop electric vehicle solutions to third parties.
The E10 R made its debut at the Autosport International show
A separate pitch from Zenos got it awarded further funds from Niche Vehicle Network's R&D Project competition to develop a new way of eking out extra power and fuel efficiency from its turbocharged engines. The £125,000 grant will fund a research project with two other firms, Air Cycle Technology and Specialist Control systems, to design and build a prototype turbo expansion system that uses active charge cooling.
This will be a piece of electronically controlled hardware that sits between a turbocharger and the engine and cools charged air using advanced thermodynamics. Zenos hopes it will allow more boost and therefore more power from the Ecoboost engine, while also reducing emissions and improving fuel economy.
Edwards said the two projects, if successful, could conceivably combine in the future.
Zenos has previously benefited from similar grants in the past, including one that allowed it to develop the recycled carbonfibre tub that it uses in the E10. Edwards said such grants were vital in the niche vehicle industry.
"They're massively important," he said. "Every company like us has its own product and development capital availability, but that has to almost exclusively be spent on managing the life cycle of current products and developing new products. There just isn't cash available to put into these risky, might-work-might-not projects. This enables more blue-sky project to be undertaken by niche companies as opposed to pure product development.
"We are hugely grateful and benefit very greatly from these projects, it enables us to try something different and bring something different to the market for the future."
Phill Tromans
Source: Car
Write

a Comment
Fields with * are required