2016

IAA Commercial Vehicles show: concepts that could influence cars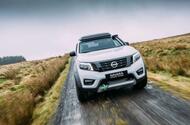 These three vehicle and product concepts offer a glimpse of technology and systems that could feature on future cars
The IAA Commercial Vehicles show in Hanover is a leading trade fair for mobility, transportation and logistics.
This year's show has already welcomed the arrival of several new intelligent concepts that demonstrate advanced powertrain and transport solutions.
Several could offer a glimpse of the future for the car industry. We run through three key unveilings below.
Hyundai H350 Fuel Cell Concept van
Hyundai's alternatively fuelled concept is powered by hydrogen – via a 175-litre tank – and can be filled with fuel in under four minutes.
The H350 Fuel Cell Concept has a total range of more than 260 miles and emits only water. 
While the concept is a pure technology study at this stage, it signals Hyundai's intent to produce zero-emission commercial vehicles that could one day influence passenger models.
Nissan Navara EnGuard Concept
Nissan's rugged-looking concept is designed to be a durable and tough all-terrain pick-up.
Based on the Navara, it's the first car to feature a portable battery pack for use in emergency scenarios.
Using EV battery technology first adopted by the Leaf and e-NV200, the battery packs are constantly in 'charge' mode, using power generated by the 2.3-litre twin-turbo diesel engine to ensure they're ready for emergency use when required.
They have two input and five output sockets and can be used to operate specialist cutting or heavy-lifting equipment.
Volkswagen Truck and Bus cloud community
Shippers, dispatchers, carriers, drivers and recipients can all connect to Volkswagen's new data-sharing information and application system, called RIO.
Thanks to intelligent algorithms, RIO combines different sources of data and than normalises them.
Combining data from tractors, trailers and drivers along with traffic, weather and navigation information, RIO can offer users real-time information.
If a significant number of users connect to the system, it could drastically increase efficiency in the wider transportation industry. Perhaps more significantly, it could also influence a similar shared data system within the car industry.
Source: Car
Write

a Comment
Fields with * are required