2017

Hyundai i20 Coupe WRC – new pre-season testing pics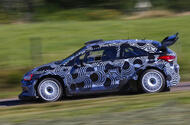 Aggressive-looking three-door rally hatch is a favourite for the title following Volkswagen's departure
The Hyundai i20 Coupe WRC has taken to gravel and tarmac already ahead of its entry into the 2017 World Rally Championship.
The car, which was revealed earlier this month at Italy's Monza racing circuit, is expected to be a front-running contender in next year's rejuvenated season. It replaces the now-retired i20 WRC.
The new three-door i20 Coupe WRC is described as a heavy evolution of the outgoing car, using the same basic structure as 2016's five-door i20 but conforming to the WRC's less restrictive engine and aerodynamic regulations for 2017.
The i20 Coupe WRC has a much larger rear wing and the front bumper works the air significantly harder than before with large, swooping winglets. The car's 1.6-litre engine also has a larger restrictor – up from 33mm to 36mm in diameter – so produces 376bhp, significantly more than the 2016 car's 330bhp.
Drive is sent to all four wheels through a six-speed paddle-shift manual gearbox as before, but the drivers can now adjust the percentage of torque sent to each end using a new active central differential.
When asked how much difference the upgraded drivetrain of the 2017 car would have on performance at the car's launch, both the drivers and team leaders said straight-line speed would improve, but it wouldn't necessarily be noticeable to spectators.
However, all agreed that the new car's bigger aerodynamic package would make a large difference to pace, helping the 2017 i20 Coupe WRC to cut its stage times by around 1sec per kilometre.
Hyundai Motorsport team principal Michel Nandan said: "[This new era] is a great new technical challenge and one that we have tackled with enthusiasm. It's an opportunity to put into practice everything we have learned and experienced in the past three seasons. All teams are starting from scratch so we are on equal footing."
Hyundai Motorsport president Gyoo-Heon Choi added: "We aim to be champion.
"We are taking this very seriously and want to be at the top. Hyundai Motorsport is investing heavily into making this work, and after three years we feel very strong."
The Germany-based Hyundai Motorsport team's 2017 challenger had already completed nearly 4000 miles of testing before its reveal. It'll make its WRC competition debut in the opening round of 2017 at the Monte Carlo rally in January.
Hyundai Motor will field three i20 Coupe WRCs, driven by the same drivers as last year: Thierry Neuville, Hayden Paddon and Dani Sordo, with Nicolas Gilsoul, John Kennard and Marc Martí as their co-drivers.
With 2016 title winner Volkswagen having quit the WRC, Hyundai's biggest rivals for the 2017 championship will be Ford, Citroën and Toyota, which is back in WRC for the first time in 17 years.
2016's driver's champion and ex-VW driver Sébastien Ogier has moved to M-Sport, where he'll drive a new Fiesta WRC.
Hyundai Motorsport team principal Nandan said: "It's a pity to not be able to compete against the 2016 champions.
"You always want to beat the previous winners, but the 2017 championship will be very competitive and I expect things to be very close from the start. I think Citroën will be very fast."
Belgian driver Neuville said: "Citroën will be the benchmark, but I think we can fight them.
"I think having the same driver line-up as last year can give us an advantage compared to the other teams."
Source: Car
Write

a Comment
Fields with * are required