2017

Kia Stinger GT – design boss Peter Schreyer on why it's a milestone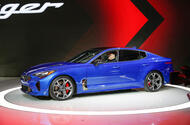 Updated with interview; Hot version of Kia's sports saloon packs 360bhp and can go from 0-62mph in 5.1sec
The Kia Stinger, a star of this week's Detroit motor show, aims to help the car maker become a maker of credible performance cars.
Scroll to the bottom to read our interview with Kia design boss Peter Schreyer
The model is a rear-wheel-drive sports saloon powered by a twin-turbocharged 3.3-litre V6 engine that can outpunch the Audi S4.
The Stinger has been honed at the Nürburgring under the watch of Albert Biermann, who Kia poached from BMW's M division in late 2014 – in fact, the BMW 440i has been used as a benchmark. It is closely related to the GT concept of 2011, a car which Kia says it never lost sight of in the intervening years and always intended to use as inspiration for a production car.
The twin-turbo V6, which produces 360bhp and 376lb ft, powers a range-topping GT version of the Stinger that will be on sale in Europe by the end of the year. The Stinger GT is aimed squarely at the more potent versions of the Audi A4, BMW 3 Series and Mercedes-Benz C-Class, although it sits below the likes of the BMW M3 and Mercedes-AMG C63.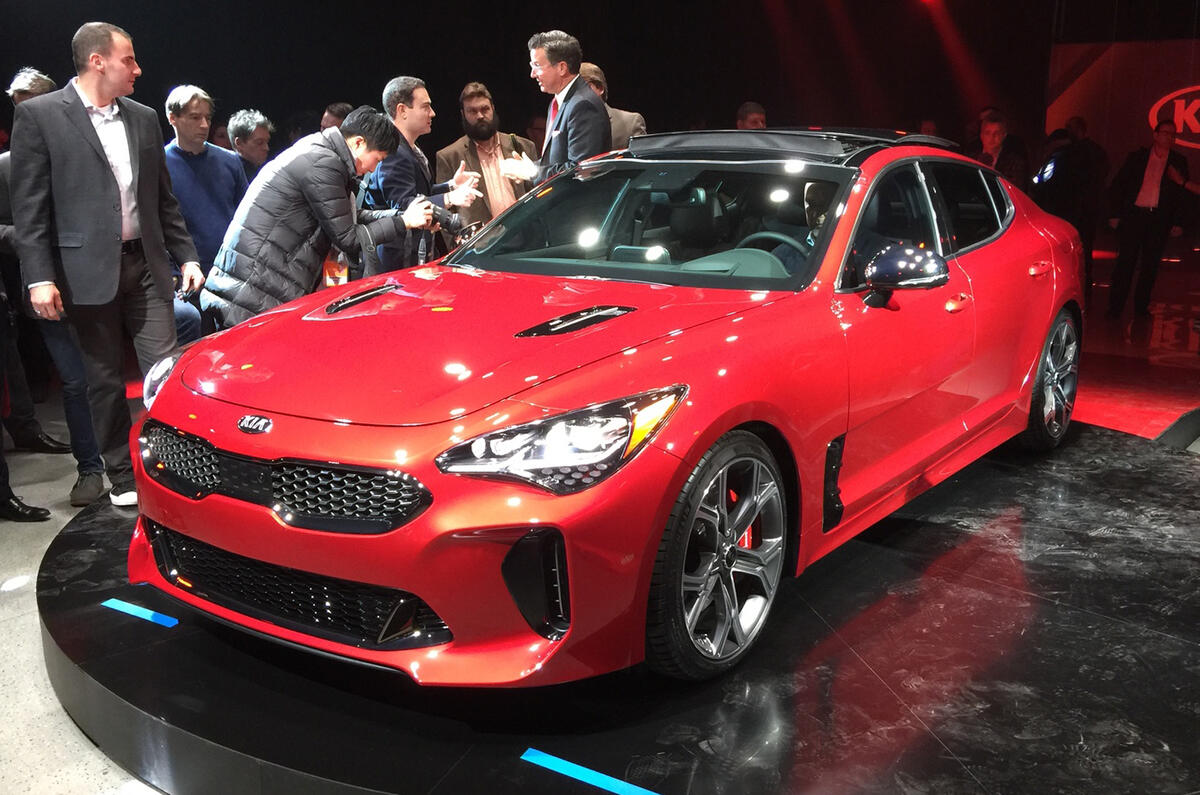 In standard guise, drive goes to the rear wheels through an eight-speed automatic gearbox, but all-wheel drive is optional. A 0-62mph time of 5.1sec is the target for the car, along with a top speed of 167mph. As a demonstration of the Stinger GT's potency, its V6's outputs eclipse the 349bhp and 369lb ft of the new Audi S4's 3.0-litre turbo V6.
Kia will also offer four-cylinder engine options in the Stinger in an effort to bring the car's likely handling prowess and premium cabin to a wider audience and steal sales from cars, such as the 3 Series, lower down the range.
Kia has confirmed that a turbocharged 2.0-litre four-cylinder petrol model with 252bhp and 260lb ft will join the line-up early next year, along with a four-cylinder diesel variant.
At 4831mm in length, the Stinger is almost 200mm longer than a 3 Series and actually closer to the BMW 5 Series (4935mm) in length. It is 1869mm wide and 1400mm tall and has a wheelbase of 2906mm. This makes it 58mm wider than a 3 Series and 41mm lower, with a wheelbase that's 96mm longer.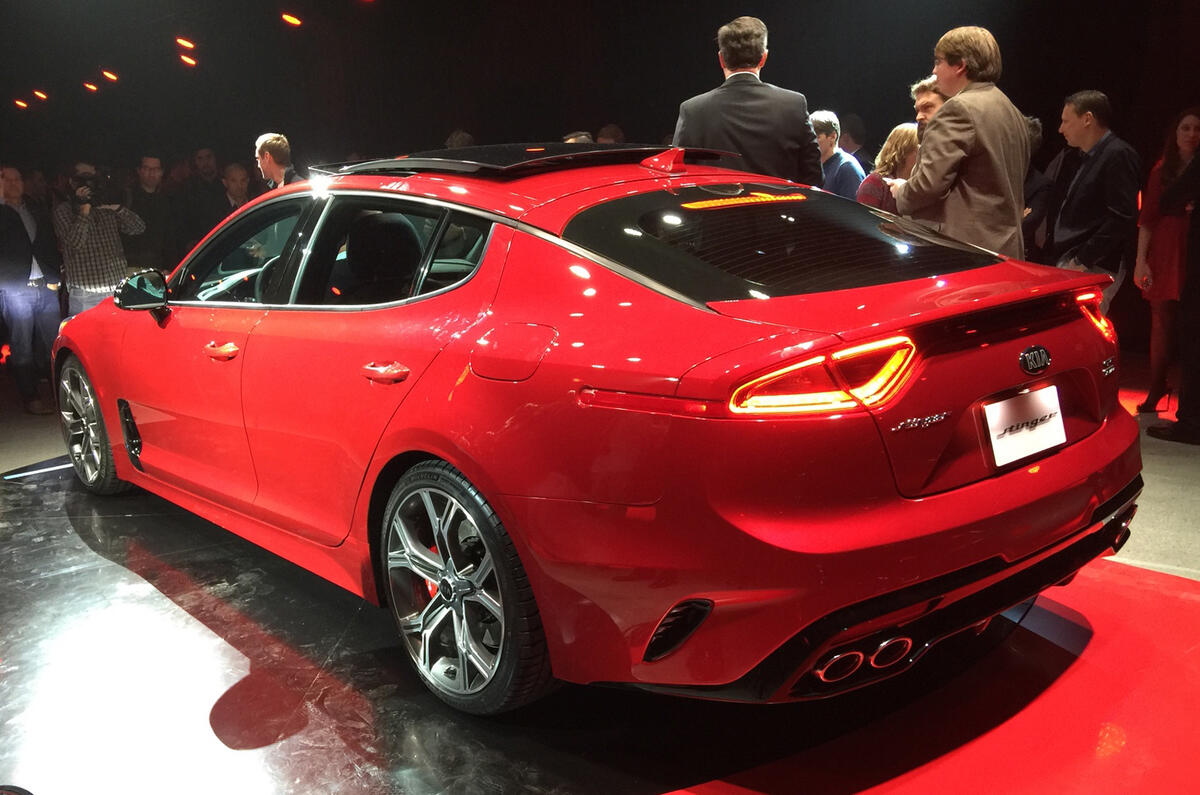 Underpinning the Stinger is a modified Genesis chassis, 55% of which is made from lightweight high-strength steel for what Kia claims is a rigid chassis with reduced levels of noise, vibration and harshness (NVH) in the "quiet cabin". The suspension features MacPherson struts at the front and a multi-link system at the rear, and is claimed to have been tuned "to provide optimal feedback to the driver".
The suspension is adjustable with adaptive damping, a Kia first, through a system called Dynamic Stability Damping Control. Kia has tuned the system to offer agility through the corners as well as high-speed stability.
For the first time, Kia will offer switchable driving modes, with five settings on offer. These modes adjust not only the firmness of the suspension but also the responses of the variable-ratio electric steering, which has the motor mounted directly on the steering rack for what Kia claims are improved responses and feedback and reduced vibrations.
The four-cylinder Stinger has 18in alloy wheels and 225/45 R18 'performance' tyres, with 19in alloys and 225/40 R19 'ultra-high-performance' rubber for the GT model. Brembo brakes with four-piston calipers at the front and two-piston calipers at the rear provide the stopping power for the GT model.
Pricing for the V6 Stinger GT has not yet been confirmed, but it is expected to be in line with that of a top-spec Sorento, which costs £49,050.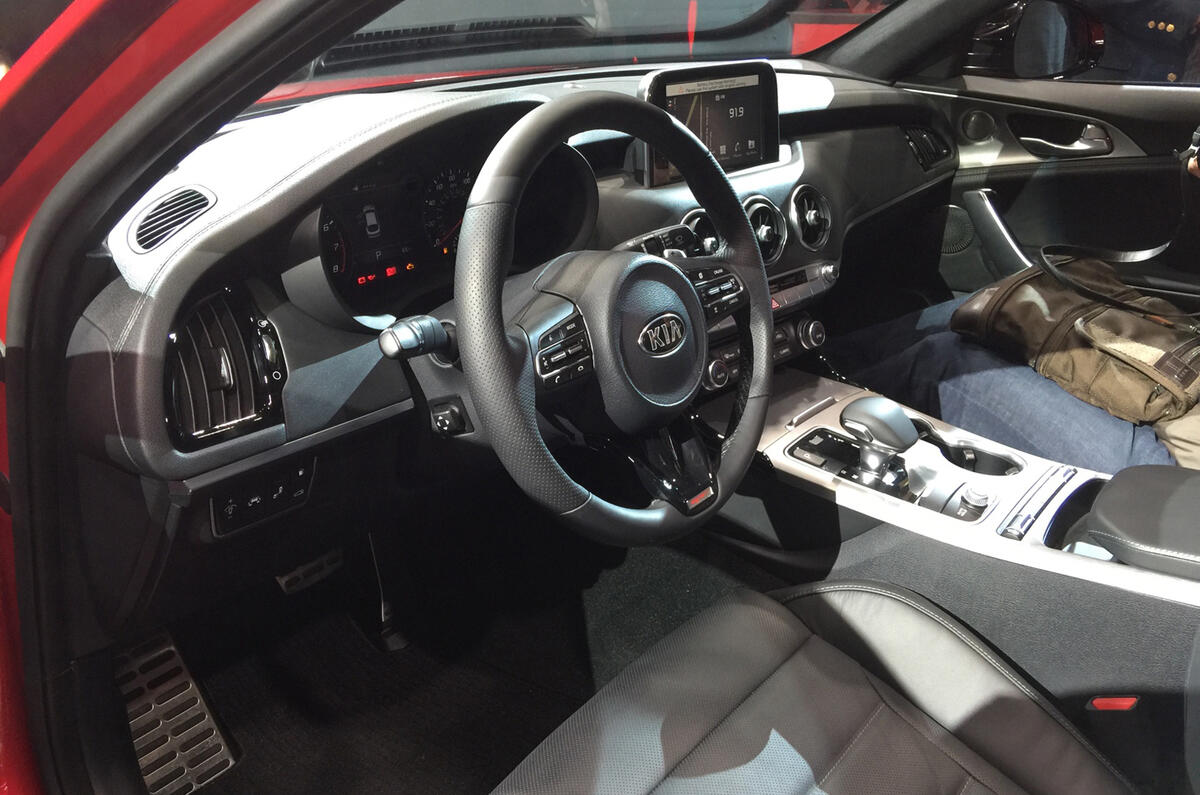 Describing Kia's latest creation, Biermann said: "I think for the Kia brand, the Stinger is a special event because no one expects such a car — not just the way it looks, but also the way it drives. It's a whole different animal." 
Speaking to Autocar in Detroit, Biermann described the car as an excellent all round gran turismo car rather than an out and out track car. "It's a really sporty car but still a good all rounder. It has a high handling level but is still comfortable and has a spacious interior." Stability was also a key part of the GT's appeal, he said, and the confidence it inspired when you pushed it. Biermann said that he hoped the Stinger GT would have an impact on the handling of the rest of the Kia range. "We're on the way to do that, we already have some good handling cars and are on the way to doing more." 
Biermann said the GT had been one of the key reasons he switched to Kia from BMW. "There's this car and a few others. I thought 'wow, what an interesting challenge'. I wanted to get them dancing, complete and fun to drive. It was still a concept when I joined, but I guided it. Such a car you never leave alone, you babysit it."
The model was designed at Kia's European design studio, where it was overseen by Gregory Guillaume. He said: "We were convinced from day one that we would take this concept car [the 2011 GT] from motor show plinth to the road, knowing that we have the freedom within Kia to stretch the brand in many directions. There was no doubt we were going to build it, so it became our halo performance car."
An interview with design boss Peter Schreyer
What can this do for the Kia brand?
"It's a milestone, a strong statement. I think it's a brand shaper. This is a special moment. We're a challenger brand but we have a strong design philosophy. The brand and design already have consistency. This car makes the brand more sporty, more fresh, younger. It shows in that we can compete at a high level with some of the premium brands."
Can it really challenge premium brands?
"The premium brands have a loyal following, but in the US market this is not such a problem. We have a great chance US, which is key for the car."
Did you try and stick closely to the GT concept?
"We had a concept car that got so much positive feedback from media, dealers and customers that we went into looking at it for production and the business case. It got more and more serious. I still remember when we first knew about making it; it was good news for all of us and we had time to really refine the design. Put it next to the concept and you can see it's really close, and in some ways it's even better."
Was it nice to design a rear wheel drive car?
"It was a dream to get these kind of proportions, which are possible only with a rear wheel drive platform. It's the beginning of a new chapter for Kia, I never want to see an end and we will never be done. We will always go on and open up the doors. This allows us in other segments to make more attractive and sporty architectures and proportions."
Was it design or engineering led?
"It's a design lead project definitely but we can't do it without engineers. We work together with engineering and Albert Biermann. He was so excited when he first came here and has been a big help."
Read more Detroit motor show news here
Source: Car
Write

a Comment
Fields with * are required