2017

Mercedes-Benz E-Class Coupé to be shown at Detroit motor show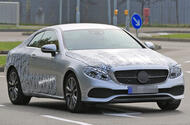 The new E-Class Coupé gets similar styling to the C-Class and S-Class Coupés and will go on sale in 2017 following its debut in January at the Detroit motor show
The Mercedes-Benz E-Class Coupé will be revealed at the Detroit motor show in January before going on sale in Spring 2017.
The svelte two-door coupé version of the E-Class Saloon is aimed squarely at the BMW 6 Series and Audi A5, and has hit the road in a final round of durability testing prior to a planned premiere at the Detroit motor show in early January 2017. 
The new E-Class Coupé forms the basis of an all-new E-Class Cabriolet, which is also set to go on UK sale next year. That car will again feature a fabric hood as well and a two-plus-two seating layout.   
Set to reach UK showrooms next April with an initially limited line-up of petrol and diesel engines, the new E-Class Coupé is the first Mercedes-Benz model to reflect a more conservative design lineage being introduced by the German car maker's design boss, Gorden Wagener.
The fifth-generation E-Class Saloon was unveiled at the Detroit motor show in January. It adopts many of the features of the larger S-Class, including a dual-screen digital instrument cluster and multimedia display. The new E-Class Coupé largely shares its interior architecture and appointments with the E-Class Saloon and Estate, including its optional 12.3in digital instrument display and multi-function steering wheel featuring touch sensitive pads as part of the latest Comand APS NTG 5 infotainment system.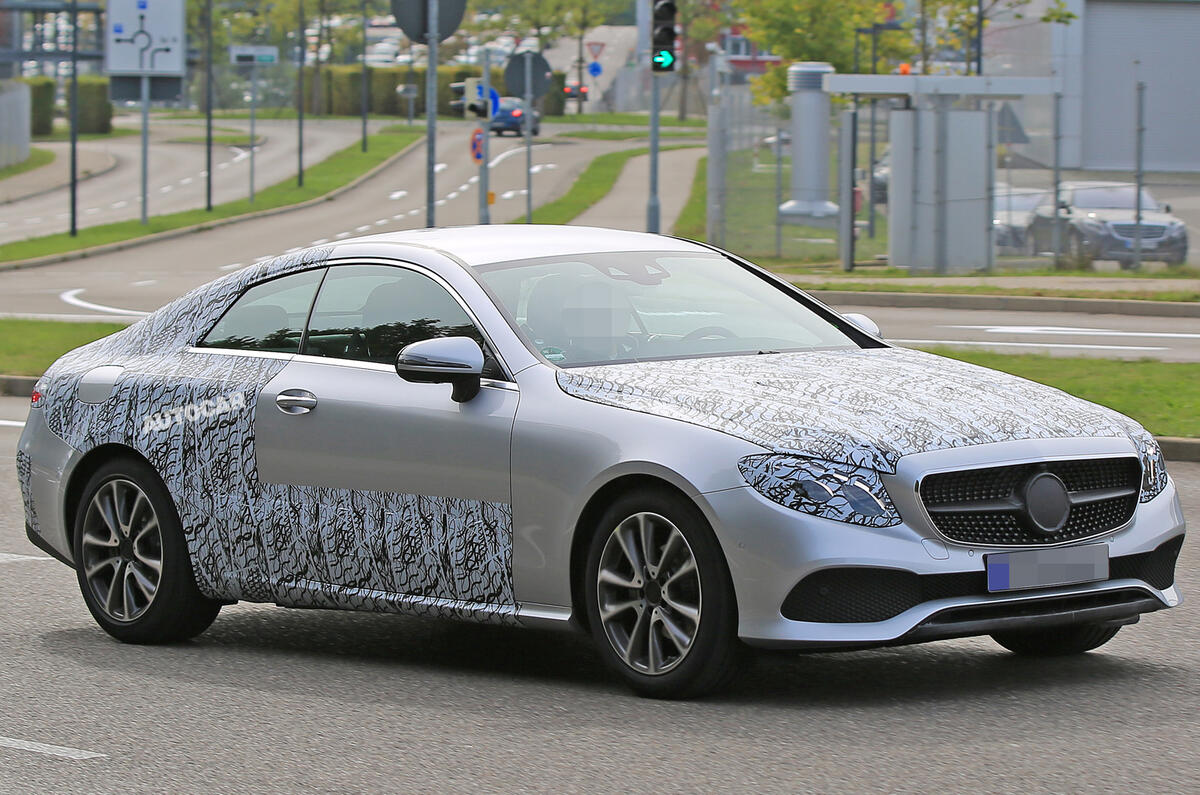 The Comand system's rotary controller will also go, as Mercedes replaces it with an enlarged version of the existing optional touchpad, allowing you to scroll through various navigation, audio and vehicle setting menus with a swipe of your finger.
While this early E-Class Coupé test mule is disguised, we can see the car gets a sloping roofline that tapers towards the rear and daytime running lights at the front. The two-door E-Class is expected to feature many of the same styling cues as the S-Class Coupé and recently launched C-Class Coupé. An extension of the so-called 'sensual purity' theme of recent Mercedes-Benz concept cars, it does away with the heavy sculpturing and taut surfacing of the previous E-Class E-Class Coupé for an altogether smoother look, featuring largely unadorned flanks and fuller forms.
"We're progressing the design of our production cars to a new phase. It still adheres to the basic principles evident in more recent models, but it is much cleaner and more timeless in appeal," says Wagener of the new lineage.  
The new design can be seen on the E-Class Coupé prototype pictured here, which has only taped cladding over its production panels.  Most prominent of all is the almost total lack of feature or swage lines throughout the flanks and around the rear wheelhouses – a hallmark that marks a radical shift away from the heavily adorned look and distinctive swage line technique of the old E-Class Coupé.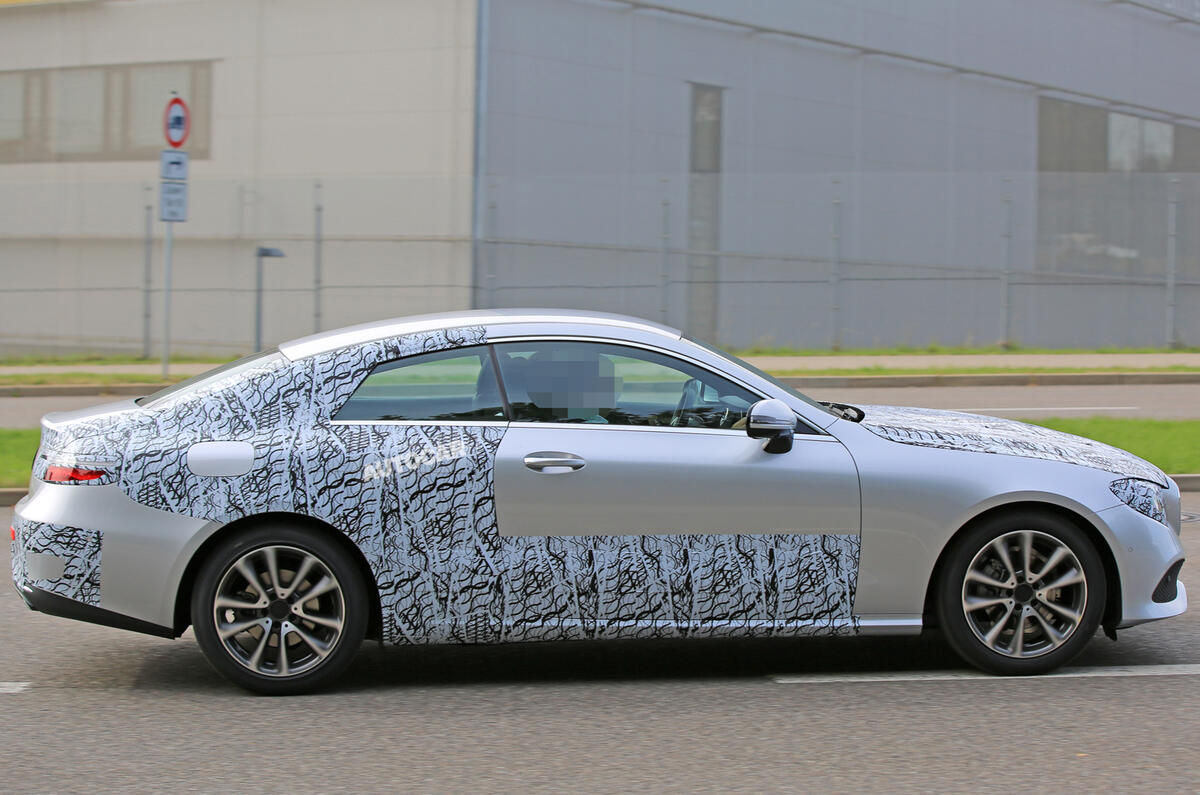 The new E-Class Coupé, codenamed C208, is based on Mercedes' latest MRA (modular rear architecture) structure, with a unique wheelbase and wider tracks providing it with a significantly larger footprint.
Further distinguishing design elements featured on the new model include Mercedes-Benz's now traditional soft nose grille, a more conventional bonnet that eschews the wide fender clamshell style shut lines of its predecessor,  frameless doors, heavy tumblehome effect to the glasshouse, lack of B-pillars, flowing C-pillar, defined shoulder line over the rear wheelhouses, shallow rear screen, negatively sloping boot line, and trapezoidal shape tailpipes integrated within the lower section of the rear bumper.  
Like the new-generation saloon, the E-Class Coupé will sit on Mercedes' MRA platform, which already underpins the C-Class and S-Class. The Coupé will also feature the same range of engines, including a new generation of four-cylinder petrol powerplants alongside a staple 2.0-litre diesel. A range of 3.0-litre six-cylinder diesels is also expected to be offered.
Mercedes will also offer a E 350e plug-in hybrid saloon variant, which mates a turbocharged 2.0-litre petrol engine to an electric motor, although it's not yet known whether this powertrain will be offered in the Coupé variant. Among the planned engines are the latest generation of Mercedes-Benz in-line 2.0-litre four-cylinder and newly developed 3.0-litre in-line six-cylinder petrol and diesel engines.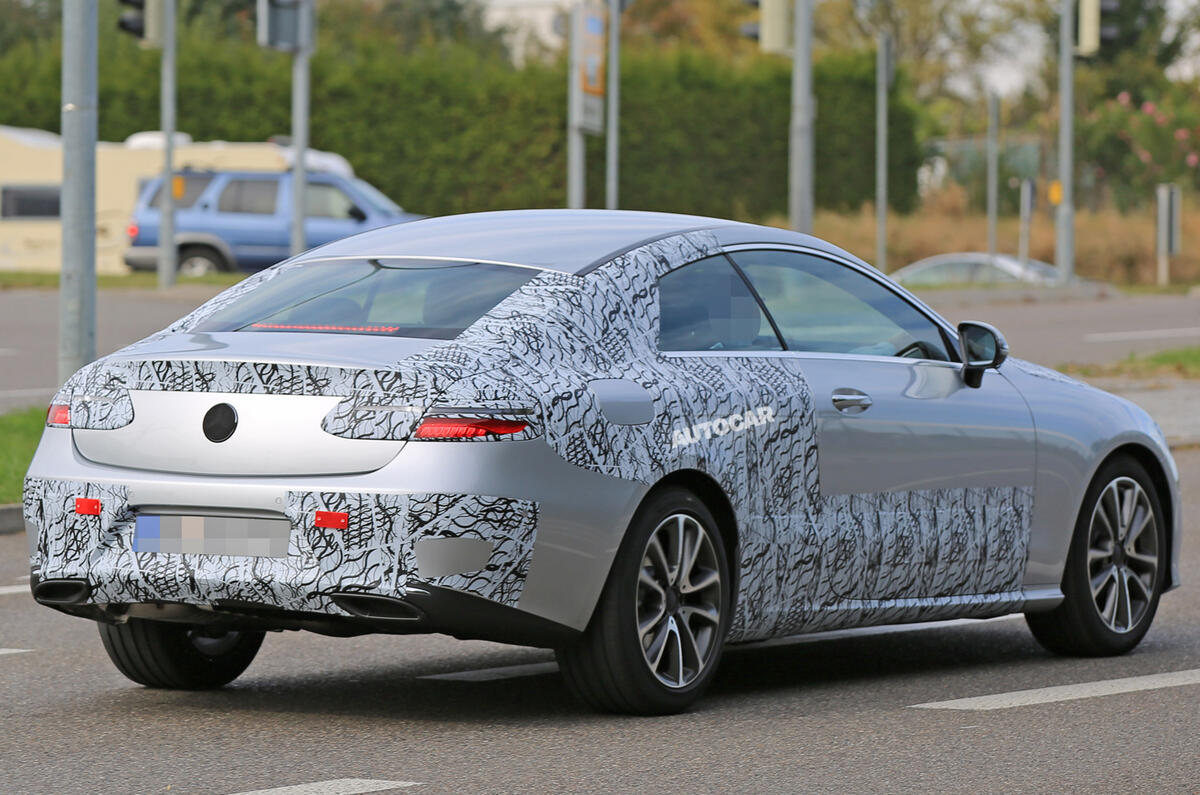 Also planned to feature in the new coupe is Mercedes-Benz's new twin-turbocharged 4.0-litre V8 – essentially a detuned version of the similar configured engine used in the latest line of models from its AMG performance car division.
All engines will be mated exclusively to the German car maker's latest nine-speed automatic gearbox. Alongside standard rear wheel drive, selected models will  also set to feature optional 4Matic four-wheel drive.  
Speculation surrounding plans for a top-of-the-range Mercedes-AMG E 63 Coupé model are yet to be confirmed, although sources say a new C43 Coupé model is already under development and planned for launch in 2017.   
As with the saloon, prices for the E-Class Coupé are expected to rise compared with those of the current car. The current generation of E-Class Coupé is priced from £38,635 in the UK.
Source: Car
Write

a Comment
Fields with * are required