2017

Nissan Micra prices and specs revealed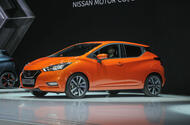 Nissan aims for the class-leading Ford Fiesta and Volkswagen Polo with its new supermini; it will be priced from £11,995
The new Nissan Micra will start from £11,995 when it goes on sale in the UK in March.
The range kicks off with entry-level Visia trim, progressing through Visia+, Acenta, N-Connecta and range-topping Tekna, which will cost £17,295. 
The entry-level car will be equipped with a 1.0-litre 73bhp petrol engine. A 0.9-litre three-cylinder petrol and 1.5-litre diesel, both of which are shared with lower-end Renaults, will also feature. 
2017 Nissan Micra prototype driven
Nissan expects the 0.9-litre three-cylinder Micra in Acenta trim to be the most popular car, at £14,995. This spec will directly compete with the new Ford Fiesta, which is expected to start at around £15,000 after Ford made the decision to replace lower-end Fiesta models with the new Ka+.
Options will allow for a level of personalisation previously unseen on the Micra, including decals on the bonnet, sides and roof, as well as metallic paint (£575), Vision and Comfort packs for the Acenta-spec car (£450 and £700), which bring automatic air-conditioning and keyless entry and go, or a reversing camera and rear parking sensors respectively. 
Paris motor show reveal
The new Nissan Micra – an all-new, European-designed Micra – was revealed at the Paris motor show, earlier this year with the unabashed aim of beating the supermini class leaders at their own game.
Over four previous generations, Nissan has been content to target middle-rank rivals such as the Toyota Yaris and Suzuki Swift but without ever topping the sector, and the strategy has had some success. More than seven million Micras have been sold so far, half in Europe.
Now, using more modern proportions, dynamic styling and hardware shared with the next-generation Renault Clio (with which the Micra will also share a production line), the company wants to challenge the market-leading Ford Fiesta and Volkswagen Polo and won't mind if it also steals Clio sales.
"This Micra has been created to be a flagship," said product manager Laurent Marion, a five-year veteran of the project. "Nissan has launched plenty of progressive cars – Juke, Note and Qashqai are great examples – but now it's time to prove we can do well in the toughest sector of all."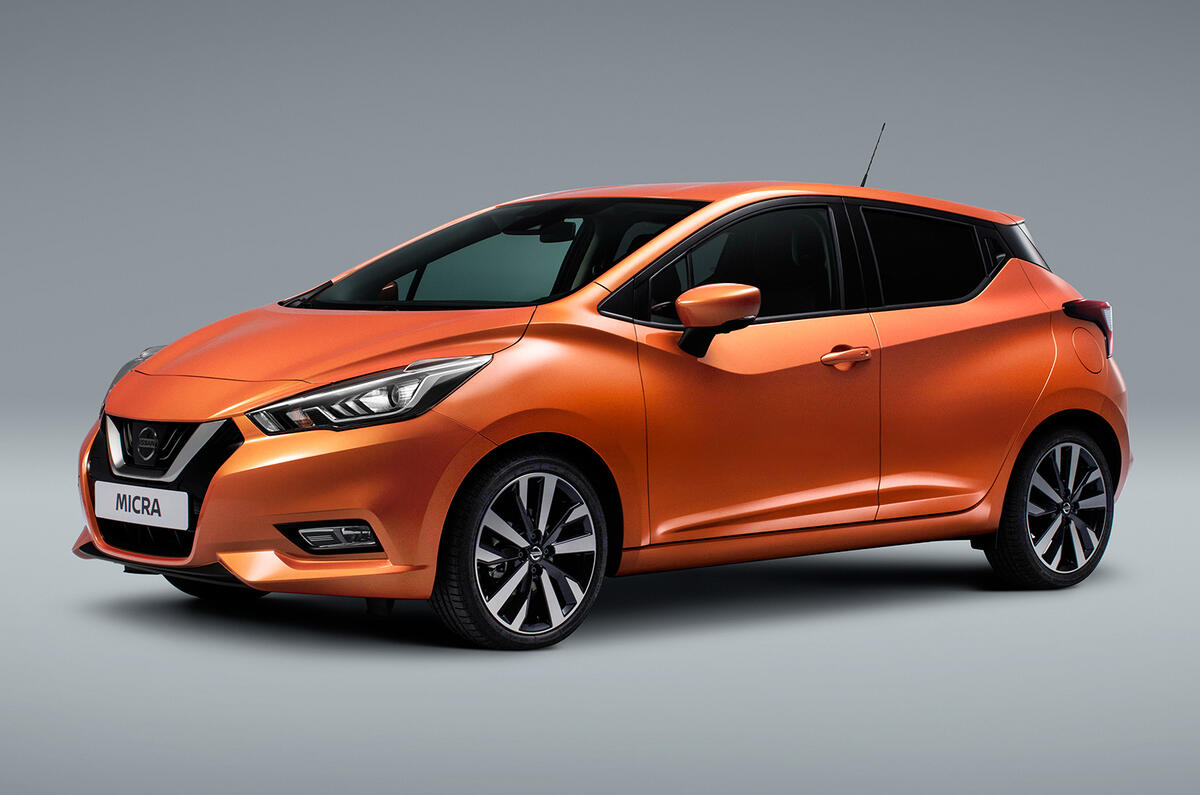 CONCEPT, DIMENSIONS
The Micra name has better recognition in Europe than Nissan itself, according to project boss Keno Kato, so the decision to keep the name was an easy one.
Early on, the company identified what it calls the three key attractors of European buyers to superminis: expressive design, an inviting interior and what it calls confident (meaning stable and agile) handling.
The new Micra's dimensions are different from those of the outgoing model, placing it in the mainstream of European B-segment hatchbacks for the first time. Length is now 3995mm (up by 170mm), while a width of 1742mm (up 77mm) makes the new model the widest in its class. 
Height is reduced by 69mm to a class average 1452mm (the previous Indian-built edition made head room for turban-wearing owners a priority), while the wheelbase is 75mm longer at a class-competitive 2525mm, which benefits boot space in particular.
"Our research shows luggage room is even more important to buyers than rear seat space," said Kato.
STYLING
Nissan's route to expressive styling is to adopt the look of the Sway concept, which won approval at the Geneva motor show 18 months ago. Its key features are a short bonnet, a more raked windscreen than that of previous Micras, a lower, floating roof and a small boot bustle. Prominent is an extravagant character line that runs uninterrupted from front to rear, giving both a rising waist and impressive front and rear wings. Jewel-like front and rear lights complete the picture of a grown-up Micra. 
To go with its shape, the Micra gets big wheels (16in as standard, 17s optional), available in a large variety of styles, plus an array of decals and colour combinations to allow owners to personalise their cars.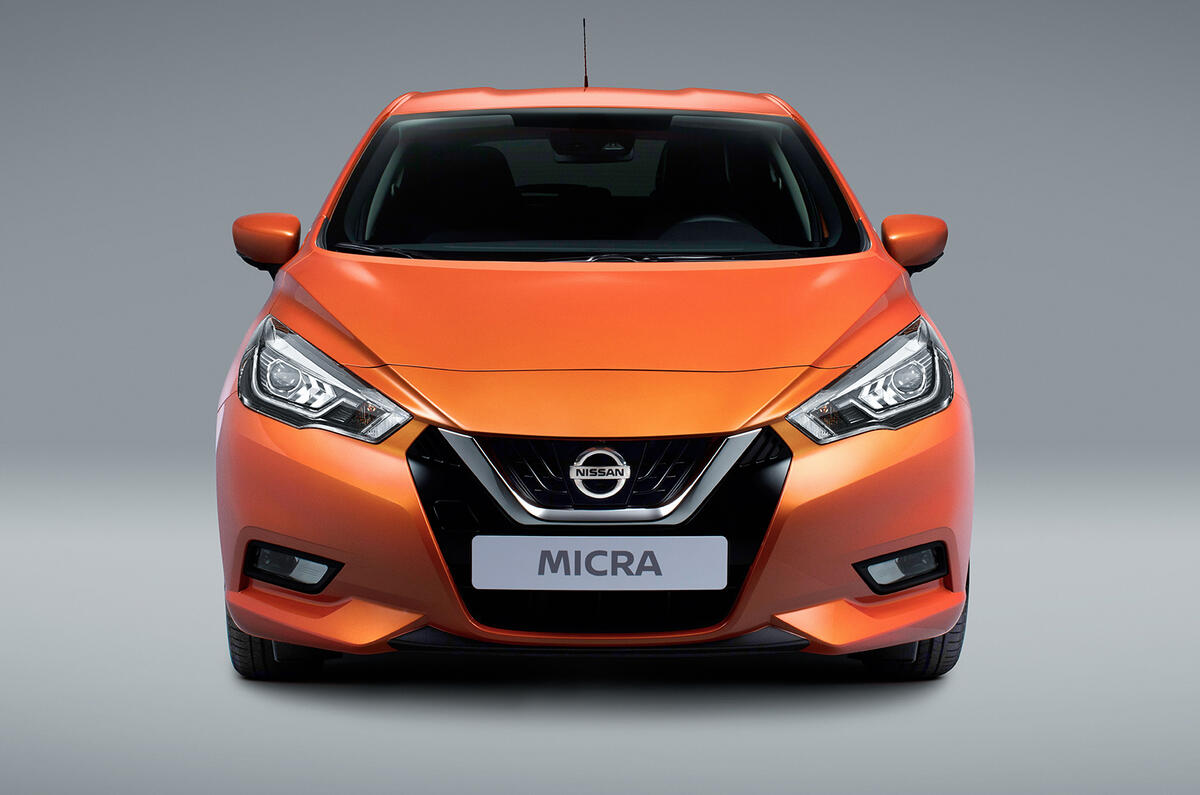 EQUIPMENT 
Much of the equipment specification was decided at the company's UK technical centre at Cranfield, whose experts worked on the premise that the car had to appeal both to style-conscious young couples and empty nesters who were downsizing and would tolerate no reduction in quality.
As a result, the Micra uses soft trim materials from the pricier Qashqai, has a 5.0in instrument screen instead of the 3.5in item first proposed, has door pockets that can hold a 1.5-litre water bottle, a 10-litre glovebox and wheel adjusters instead of levers for its front seat backrests. Europeans prefer them all.
Cranfield research also decreed that the Micra's steering column should be adjustable for reach as well as rake, which is unusual in a B-segment hatch. It was also decided that buyers needed a 7.0in infotainment screen and class-leading connectivity, plus a Bose audio system with speakers in the driver's headrest on top-end versions. 
Depending on equipment level (there are five, including Youth, Racing and Mature), the Micra has most of the electronic aids found in pricier cars, including lane departure and blind spot warning, forward city braking (with optional pedestrian recognition), surround-view cameras and traffic sign recognition. 
CHASSIS, POWERTRAIN
The Micra will have a specially configured version of the 89bhp 1.5-litre four-cylinder diesel found in smaller Renaults, plus a turbocharged 0.9-litre three-cylinder petrol engine of the same output. A 69bhp, non-turbo petrol triple will arrive later, and a 120bhp version of the 0.9 turbo will follow that. All engines get standard manual gearboxes, but Nissan is likely to offer a CVT auto in at least one model. 
Insiders admit there will be a close underskin relationship between the Micra and the next Clio, but for now the two are built on different platforms. The two cars' suspensions (front struts, twist beam behind) differ in detail, but even when the Clio moves to Micra hardware, Nissan engineers say enough variation will be available to provide differences in what drivers feel.
Nissan engineers have tested the Micra all over Europe to reach settings for brakes, wheel dimensions, tyre brand and size, steering and suspension rates. They have also tuned the electronic systems that govern dynamics: Active Trace Control (which uses brake applications to keep the car on line in corners) and Active Ride Control (which uses nose dive from imperceptible brake applications to improve body control over large bumps).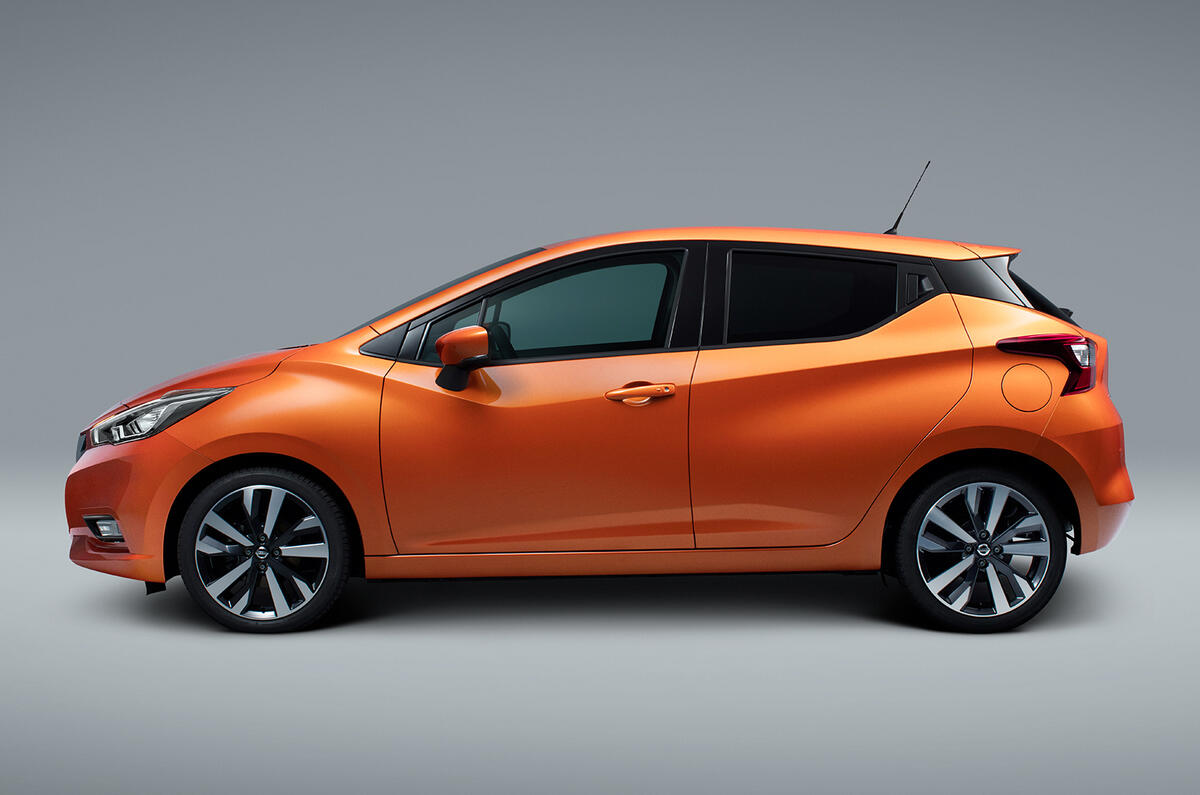 LAUNCH DETAILS, PRICING
Nissan will start building Micras in December and plans to have them on sale in both right and left-hand drive next March. There's no indication of anticipated volume, but an insider revealed that Micra sales topped 170,000 a year for a while in the early 1990s. 
It's too early to discuss pricing, Nissan says, but the plan is to "compete hard" with the established players such as the Polo, which starts at about £11,500. 
Q&A Norman Snowdon, Micra engineering manager
Have you reached the final dynamic spec for the Micra?
"We're close. We've done a lot of testing and we're pleased with the results. Our testing against rivals has been encouraging. There's always more you can do, but we're where we want to be."
Do Micra models have a variety of damper settings?
"Just two: one for the petrol cars and one for the diesels. It's likely we'll have a higher-output model in future, and we'll visit them again, but for the launch cars we think we've got them right."
Would you say this was a plush car or a sporty one?
"Both, hopefully. But we've definitely done a lot of tyre development – there have been many iterations – and we're especially pleased with the car's refinement. But it's agile, too, as our tests against competitors show."
Is your own Micra work nearly finished?
"You've got to be joking! We now have 5000 people – dealers and product managers – to show the car to, and they'll be our first line of contact with the customer. Then we'll be paying close attention to early survey results. We'll want to know exactly what early owners think, and react if necessary. It'll be busy."
Source: Car
Write

a Comment
Fields with * are required