2017

Porsche 911 RSR – Le Mans racer all but revealed in preview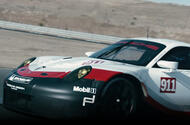 Porsche releases a preview game for its 911 RSR which shows most of the car; intakes hint at a boosted engine
A preview image of the 2017 Porsche 911 RSR has been released ahead of the model's LA motor show debut, and it suggests the future Le Mans and World Endurance Championship racer will have a turbocharged engine. A preview clip also shows much of the car's appearance, albeit deliberately blurrily.
The main image, which comes in the form of a colourless sketch, appears to show an air intake that's much bigger than those used on the current RSR. This change could simply have been made to improve cooling, or, if rumours are correct, it comes to feed a turbocharged flat-six engine.
The outgoing 911 RSR is powered by a naturally aspirated flat-six engine that sends 464bhp to its rear wheels, which could still be retained in an updated form. However, the power output of the car's biggest rivals, such as the Ford GT LME, are often closer to 500bhp, so Porsche might move to forced induction to close the gap.
Porsche is also expected to have shifted the 911 RSR's engine and gearbox forward to improve handling balance. However, the sketch does little to prove or disprove this theory due to the unchanged rear roofline and back bodywork. If the engine is shifted forward, it still might not be enough to class the car as mid-engined.
The new car's aerodynamic set-up looks significantly more aggressive than the current RSR's. The rear wing, mounted higher up the back, reaches back further due to bent arms to help increase the amount of downforce on offer. The use of a significantly larger rear diffuser should maximise this effect.
The 2017 911 RSR will make its world debut at the LA motor show this week. More information will be revealed when it does, so check back here for updates.
Source: Car
Write

a Comment
Fields with * are required