2017

Volkswagen Golf – world debut date confirmed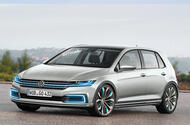 Volkswagen's next-generation Golf will usher in a new era of mild hybrid powertrains when it is revealed in early November
The next Volkswagen Golf will be revealed early in November, and will bring with it more solid evidence of Volkswagen's new electrification strategy, ushering in an era of new super-frugal mild hybrid powertrains. Despite being a facelift, the Golf will be updated heavily, and the model to be revealed is regarded as the eighth-generation Golf.
Insiders predict the new Golf will feature a new 48V petrol hybrid system as its main powertrain option – a strategy which could be particularly effective in the US market, where VW's 'clean diesel' aspirations look dead in the water in the wake of its emissions scandal.
The initial overhaul of the MQB architecture was well under way before the diesel emissions scandal hit the company. The aim was to reduce the expense of an architecture that many analysts (and rival car makers) believe has been over-engineered for the price points of the vehicles it underpins.
Targeting a 'real-world' 60mpg, the new mild hybrid powertrain is thought to be based on the company's new turbocharged 1.0-litre three-cylinder petrol engine, with the addition of an electrically driven supercharger and a combined starter motor/generator. A low-cost lead-acid battery is used to store recovered energy, such as when the car is braking.
Unlike a conventional hybrid transmission, which uses a full-size electric motor, these 48V mild hybrids provide assistance to the petrol engine via the oversized starter motor/generator. The belt that connects the starter motor to the engine's crank pulley is also used to assist the engine when extra power and torque are needed. The process can be reversed to allow the engine's crank pulley to turn the starter motor/generator when the car is slowing down. 
This recovered energy is not used just to assist the engine. It is also used to power a small supercharger that's driven by an electric motor. By powering the blower electrically, rather than relying on engine and exhaust gas speed to drive it, it can boost the engine's performance from very low revs.
These two forms of electrical assistance allow the engine of a 48V hybrid to be significantly downsized, enabling a 1.0-litre three-pot Golf to offer brisk performance and impressive economy.
Insiders say the new 48V hybrid system should be competitive on cost with a modern EU6-rated diesel engine, because it doesn't use a full-size electric motor or an expensive lithium ion battery. This is particularly relevant now that VW has announced that expensive urea injection systems are likely to be fitted to Golf-class diesel models.
Seven generations of the Volkswagen Golf have been made and read what we make of the current generation
Source: Car
Write

a Comment
Fields with * are required