2018

Lamborghini Urus SUV launch triggers new corporate look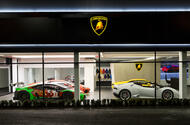 Lamborghini unveils "more approachable" look at new dealership in Bristol
Lamborghini Urus launch preparations for 2018 have stepped up with a revamp of the brand's corporate image, with the first showroom to be overhauled in Bristol in the UK.
The new look and values – designed to convey Lamborghini as a pure, cutting edge and visionary brand – will be rolled out across all Lamborghini outlets, from its headquarters in Sant 'Agata Bolognese and the adjacent museum, the corporate website and all showrooms.
The shift is a result of a perceived need to make Lamborghini more approachable ahead of the launch of the Urus 4×4, which the firm hopes will double sales from around 3250 cars a year to more than 6500. Crucial to this will be winning more family and female buyers.
"While the Urus will retain the DNA of Lamborghini – we describe it as a super-sport SUV – it's arrival will mean we can speak to additional customers and fans, and we want to use this new look to welcome them in," said Federico Foschini, Lamborghini commercial director.
"We expect there will be many customers who will own supercars from other brands at the moment and want the ultimate SUV to compliment them – and in the Urus, we will have the fastest, most powerful SUV on the market."
Highlights of the Bristol showroom revamp include a totum pole outside the dealership with an illuminated Lamborghini shield on a black background that glows at night, plus a bright, airy showroom environment with all decoration in the form of polygons or characterised by sharp lines. 
"When Audi took over Lamborghini we wanted stability and a brand that had consistent values built around the premise of being Italian, uncompromising and extreme," said Foschini. "That has been really effective, but with the arrival of the Urus we can be more open and less intimidating.
"We want people to approach the brand more. It's an evolution not a change, and it encapsulates our former values while broadening our appeal in new ones."
John LaMarca
Source: Car
Write

a Comment
Fields with * are required