All-new

Hyundai i30 revealed in full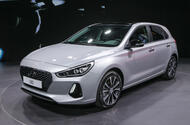 'Redefined' Hyundai i30 will offer three petrol units and one diesel unit from launch, first cars will arrive at the start of 2017
Hyundai has revealed its all-new, third-generation Hyundai i30. The five-door hatchback will go on sale in the UK early next year.
The firm claims it has completely "redefined" the i30, and even borrows some lines from Volkswagen's history in referring to it as "the people's car", which is "accessible, appealing in design and great to drive". 
Read about this year's Paris motor show here
The i30 will become a family of vehicles, topped by a long-awaited, high-performance N hot hatchback version, which will be Hyundai's first attempt at such a car and also the first driver's car to come from the company's development centre at the Nurburgring.
Read more: Hyundai RN30 concept previews i30N at the Paris motor show
Hyundai also revealed that the car was benchmarked against every model in its segment, picking out the attributes of competitors that it wanted to focus and improve on.
The new i30 features a new look, with Hyundai aiming to make its cars more stylish and desirable as its growth in Europe continues. It claims the number one reason for purchase of the previous i30 was design, and Peter Schreyer, the man behind Kia's revitalisation, now oversees the firm's designs as it seeks to give its cars greater visual appeal.
The car sports Hyundai's new 'Cascading Grille' at the front, which will be introduced across all of its models from the i10 to Santa Fe in the future.
The car has been developed in Europe and is built on a a completely overhauled version of the existing architecture. It uses MacPherson struts at the front and multi-link suspension as standard at the rear, with 'performance-orientated' dampers. Hyundai claims the i30 has "very agile and responsive handling", as well as a "dynamic ride". The steering has been made faster and directness has been increased by a claimed 10%, and the brakes have also been beefed up.
Axel Honisch, general manager of Hyundai Technical Centre Europe, said: "It's a good balance between ride and handling. The ride comfort was at a good level from before, we aim to increase the dynamism, gain some more agility and make it more fun to drive."
Read more: the Hyundai i30 will spawn a family of models
The body is made of 53% advanced high-strength steel, which is manufactured by Hyundai itself and double the amount of the material used in the previous model. As a result the body-in-white is some 28kg lighter than that of its predecessor and rigidity has been increased by 22%.
The new i30 is 4340mm long, 1795mm wide, and 1455mm high, with a wheelbase of 2650mm. This means it's marginally longer and wider than the current model, but also lower, while the wheelbase remains the same. It weighs 1316kg in its lightest form, which is slightly more than the 1306kg of the current i30 despite the lighter body, although equipment levels have increased.
Hyundai is offering the i30 with three petrol engines and one diesel from launch, including a new 138bhp, 178lb ft 1.4-litre turbocharged petrol engine. Also in the petrol range is a base non-turbocharged 99bhp 1.4 petrol and a turbocharged 118bhp 1.0 three-cylinder unit.
The diesel is a 1.6-litre turbo with 94bhp, 108bhp or 131bhp. Emissions of CO2 are as low as 89g/km in the most frugal version of the i30. Transmissions include a standard six-speed manual, and an optional seven-speed dual-clutch automatic on the two most potent diesels and the turbo 1.4 petrol.
The turbo 1.4 petrol provides power for the fastest-accelerating version of the i30, with a 0-62mph time of 8.9sec and a top speed of 130mph.
Later in 2017 comes the performance N version, with a 2.0-litre turbocharged petrol engine with more than 260bhp and a top speed of around 155mph. This model is understood to be called RN30, as indicated by a trademark application made by Hyundai last month.
Hyundai has equipped the i30's interior with reduced switchgear and an optional 8in 'floating' touchscreen atop the centre console (a 5in screen is standard) to control infotainment and other functions. The new car is compatible with both Apple CarPlay and Android Auto for smartphone integration, there's a wireless charging mat for smartphones and the TomTom-sourced navigation system comes with a seven-year subscription to TomTom Live, which offers real-time traffic updates among other functions.
Interior space is claimed to be class-leading, with the feeling of roominess being further enhanced by an optional panoramic sunroof which can tilt or slide open. Boot space is rated at 395 litres, rising to a maximum of 1301 litres with the rear seats folded.
Hyundai has also fitted an extensive suite of safety features to the new i30. Included are autonomous emergency braking and radar cruise control systems and a system that scans for danger when reversing out of places with reduced rear visibility.
Prices have yet to be announced, but expect a small increase over the £15,295 of the current base model. 
Read our review of a Hyundai i30 pre-production prototype here.
Keep up with all the latest Paris motor show news, with all the latest reveals and details here
Source: Car
Write

a Comment
Fields with * are required