Alpine

A120 sports car leaked on video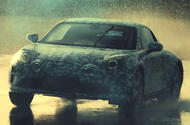 Renault's upcoming mid-engined sports car has been revealed ahead of its official debut date, albeit in camouflaged form
Renault's Alpine A120 has been revealed early in a leak which has set the car's reveal site live earlier than scheduled.
Alpine's site also reveals that a special Premier Edition car will be made in 1955 units – available in 12 European countries first, before being extended to the UK and Japan some months later. Alpine says that further countries will be added after this initial 14.
Autocar understands the engine will be a 1.8-litre unit derived from the turbocharged 1.6-litre used in the Renault Clio RS, although this is also yet to be confirmed. 250bhp is expected, but a 300bhp performance variant is also on the cards, as is a convertible. What we do know is that the car reaches 62mph from a standstill in 4.5sec. 
A deposit of €2000 (around £1700) secures one of the first cars, and prospective buyers will need a bespoke Alpine app to choose their car. Three cars are shown, each with different wheels, suggesting more than one variant will be offered. The car will also be offered in three colours: black, white and blue. 
The prototype cars appear to be the same as the example we spotted testing earlier this year, which closely resembled the original Alpine concept, which was revealed at the start of the year.
Alpine's inaugural car is expected to take the A120 name in homage to the high-performance Alpine A110 model of the 1960s and 1970s, although this is yet to be confirmed.
What is clear to see from the video on the Alpine site is that the cars use rear-wheel drive, and have a vent on the rear hatch beneath the rear glass; confirming that the car will be mid-engined. 
The video's finishing tag line "Alpine is back!", as well as the video's uploader as Alpine rather than Renault further suggest that the cars will be produced under a separate brand than badged Renault. 
Following the launch of the Alpine sports car, it's expected that the brand will launch further models, including a Porsche Macan-rivalling SUV. The site says that the car will be priced between €55,000 and €60,000 (between £46,750 and £51,000), so the A120 will be a direct rival to the Porsche Cayman. 
Source: Car
Write

a Comment
Fields with * are required