Alpine

A120 to be first of several high-performance models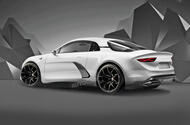 Alpine A120, imagined by Autocar
Mid-engined A120 coupé will be joined by convertible and more powerful versions
Renault is planning to launch an expanded range of Alpine sports models once its first two-seat coupé, strongly tipped to be called A120, has begun a new era for the marque early next year.
The transverse mid-engined A120 is likely to cost around £50,000 and is expected to be followed by a convertible and a more performance-focused coupé variant, both of which are already well advanced. Alpine bosses are keen to offer a range of cars as soon as possible but say later models must share the original architecture.
The coupé will be revealed at the beginning of next year at a dedicated launch event, according to Alpine managing director Michael van der Sande, who arrived at the French firm from Aston Martin earlier this year.
The first production cars will be delivered to customers next summer.
The A120 is powered by a high-performance version of a Renault-Nissan Alliance four-cylinder engine not yet in production but believed to be imminent. It is likely to be a turbocharged 1.8-litre unit shared with Renault Sport, with close to 300bhp and driving through a revised version of the Renault Clio RS's six-speed dual-clutch automatic gearbox. The 0-62mph time will be below 4.5sec insiders say.
At around 4.2 metres long, the A120 has styling similar to that of the concept shown in Monaco at the beginning of the year when group boss Carlos Ghosn gave the project its green light. Begun as a co-operative deal with Caterham that subsequently collapsed, the Alpine project has had several false starts while Renault established a valid business case.
Van der Sande said the A120, like all future Alpines, will trade on its low weight and agility. He revealed little about the car's construction but did say "there won't be a lot of plastics", despite the Dieppe manufacturing plant specialising in plastic-clad, steel-chassis models in the past. That would suggest aluminium for the outer skin.
Weight isn't specified but is said to be "low". Alpine will hope to do better than the A120's most obvious competitor, the Alfa Romeo 4C, which is said to tip the scales at under 1000kg.
The new coupé will be more expensive than any other performance-orientated Renault, with prices tipped to be around £50,000 to £55,000. It will be sold by 60 hand-picked dealers across
Europe. Initial sales volume is expected to be "single thousands", with 5000 to 7000 annually being a good estimate. Van der Sande said the further iterations will help to build profitability.
Open-top and higher-performance versions are therefore logical, but there won't be Renault-bodied Alpines, even though they exist in Alpine's history. That territory is now the preserve of Renault Sport, said van der Sande.
Although the new A120 will trade heavily on its relationship with the ultra-low classic A110, van der Sande said the new model will be comfortable and reasonably spacious, with entry and egress carefully designed to suit today's larger drivers. More information, including construction details, will be available "within a couple of months", he added.
Source: Car
Write

a Comment
Fields with * are required