Apple

'in talks with McLaren over takeover'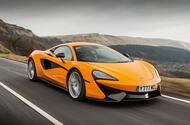 California tech giant has reportedly been negotiating a deal for months
Apple is poised to purchase McLaren following months of negotiations, according to the Financial Times.
However, a spokesman for the British car manufacturer has denied reports of extra investment, saying "we are not in discussion with Apple in respect of any potential investment".
The news suggests California's technology giant is making moves towards producing its first production car model, which has been in the making for several years.
Thanks to its Formula 1 team and technology division, McLaren is an expert in exotic car production, advanced engineering and data, likely making it an attractive proposition for a brand like Apple that is new to cars.
Apple's so-called 'iCar' has been the subject of much speculation since rumours of the tech giant's interest in producing a car first surfaced in 2014. Initially dubbed 'Project Titan', it is as yet unclear whether Apple intends to launch its own model or partner with another car maker to bring new technology and connectivity options to the market.
According to Bloomberg, McLaren is likely to be valued at around £1.5 billion, which would make the company Apple's biggest purchase since it bought Beats Electronics in 2014 for $3 billion (about £2.3 billion). Apple is said to be particularly interested in McLaren's extensive patent lists, as well as the company's engineering expertise and technology.
The challenges Apple would face in bringing its own bespoke model to market have been well-documented, so partnering with a manufacturer like McLaren would help to give Apple vital experience of the car industry. Choosing a premium brand also fits with Apple's ethos of making desirable, high-end products. Those known to have held talks with Apple over the past year include executives from Audi, BMW, Fiat-Chrysler Automobiles, Ford, General Motors and Mercedes-Benz.
McLaren has big ambitions to scale up its operations and increase production, with a replacement for the current McLaren 650S being the next car due to launch from the British manufacturer. The company sold 1654 cars in 2015 and wants that number to triple by the end of 2020, and a strategic partnership with Apple would seem to be the perfect avenue to secure McLaren's growth well into the next decade.
If the suggested takeover goes ahead, it is not yet known if Apple would immediately impose its own software and technology on McLaren's models, or use the venture to gather experience of the market prior to launching its own standalone car. McLaren is one of the few mainstream car makers not to offer functionality for Apple's CarPlay infotainment system.
So why is Apple interested in McLaren?
It's important to differentiate between McLaren's car operations and McLaren Technology Group. The technology side of the business uses innovations derived from McLaren's Formula 1 operations for a variety of purposes, including data collection and analysis, performance engineering and electronic control systems. The kind of data analysis McLaren provides could be crucial to bringing an electric car to market – for example, predicting traffic flow for an autonomous driving system and simulating how such technology would work in practice.
Having key experience in Formula 1, where updates and technologies must be applied in weeks rather than months or years, will also be a key asset of McLaren Technology Group. Whereas most car makers update their products every seven years, Apple updates its technology offerings every year. Having an automotive company that can move in the sort of timescales Apple is used to, therefore, would be a bonus.
McLaren Technology Group encompasses McLaren Racing, McLaren Automotive and McLaren Applied Technologies, but it's the last of those three that Apple is understood to be most interested in.
Dozens of staff were reportedly let go from Apple's car project last week, prompting rumours that the company was abandoning its electric car ambitions. That move may now be seen as the company preparing to acquire McLaren.
The Apple iCar – what do we know?
Apple's planned bespoke model will focus on so-called 'disruptive technologies' – meaning it will feature systems and ideas that radically change the face of modern motoring. As such, it's expected to be fully electric, come with an advanced autonomous driving system, have a big focus on connectivity and feature the kind of artificial intelligence on which Apple's current Siri personal assistant is based.
The iCar is expected to feature a highly contemporary design, with a premium look inside and out. Expect plenty of high-quality materials to adorn the interior, with a big focus on intelligent and innovative infotainment systems. Advanced voice recognition and gesture controls are likely. 
Apple is expected to develop its own lithium ion battery for the iCar, allowing it to precisely control the vehicle's range. Apple's batteries are claimed to provide increased energy density due to unique cooling properties, which would likely be used in combination with new-generation electric motors currently being developed by the company.
Current rumours suggest that the iCar – or at least the first iteration of the vehicle – will take the shape of a one-box MPV-style car with similar proportions to VW's Budd-e concept – another model which placed significant importance on digitisation and autonomous driving.
This story will be updated as more information is released.
Read more:
How the Apple iCar could crack the automotive industry 
Opinion – why Apple would want to buy McLaren 
Source: Car
Write

a Comment
Fields with * are required