Aston

Martin DB11 Volante primed for 2018 launch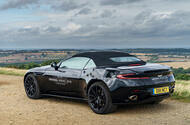 Drop-top uses same 5.2-litre V12 as the coupé, making 600bhp and 516lb ft of torque
The Aston Martin DB11 Volante has been revealed ahead of going on sale in spring 2018. 
Described as a "lightly disguised engineering car", the convertible version of the recently launched DB11 will use the same twin-turbo 5.2-litre V12 as the coupé, making 600bhp at 6500rpm and 516lb ft between 1500 and 5000rpm.
The DB11 Volante could also launch with a twin-turbo 4.0-litre V8 from Mercedes-AMG, which is due to be introduced to the Aston Martin range next year in the successor to the V8 Vantage. Producing between 500 and 550bhp, the engine is currently used in the Mercedes-AMG GT.
The aluminium-bodied DB11 Volante will be slightly heavier than the coupé due to the addition of the roof mechanism and chassis strengthening. With an inherently strong body and chassis, expect only a subtle increase in weight – a spokesman told Autocar the Volante is aiming to match the coupé's 0-62mph time of 3.9sec.
A sound-deadening multi-layer fabric roof will keep noise down in the cabin, and Aston Martin is likely to make subtle changes to the driving dynamics, including a slightly softer suspension set-up than the hardtop.
With four-seater convertible rivals including the Bentley GT Speed Convertible and Ferrari California T, as well as additions like the S63 AMG Convertible, the DB11 Volante will launch with a price-tag of around £155,000, £10,000 more than the hard-top.
The 2018 DB11 Volante is just one part of Aston Martin's plan for the next five years, which, in the near future, includes replacements for the V8 Vantage and Vanquish, as well as a new all-electric version of the Rapide, called the RapidE. The Aston Martin AM RB-001 hypercar will go on sale in 2018, while the DBX crossover – the first car to be produced at Aston's St. Athans, Wales plant – will arrive in 2020.
Source: Car
Write

a Comment
Fields with * are required