Audi

R8 (2007-2014): used buying guide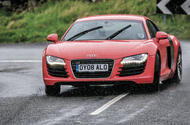 The R8 has democratised the supercar experience for the common man. We've revelled in the affordable used performance icon
The mid-noughties were a golden age for Audi.
In 2006 we had the B7 RS4, followed a year later by this, the R8. The model was an immediate hit thanks to its low weight, rear mid-mounted 4.2-litre V8 and rear-biased quattro driveline. And, of course, the feeling that because it was bas ed on the Gallardo, it was a kind of Mondeo man's Lamborghini: useable, reliable and great to drive. Today, with used R8s starting within £5000 of the most expensive Mondeo Vignale, that impression is almost a reality.
But banish thoughts of sales reps and Ecoboost engines, because what we have in the two-seat R8 is bags of Technik and extremely rapid Vorsprung. How about 0-62mph in 4.6sec and a top speed of 187mph? That's the manual version, the pick of the first-gen line-up. The R tronic auto takes more getting used to.
The R8's body, chassis and double wishbone suspension are aluminium for lightness, although the car still tips the scales at 1565kg. The quattro system sends 70% of the car's 415bhp output to the rear wheels, the balance going to the fronts.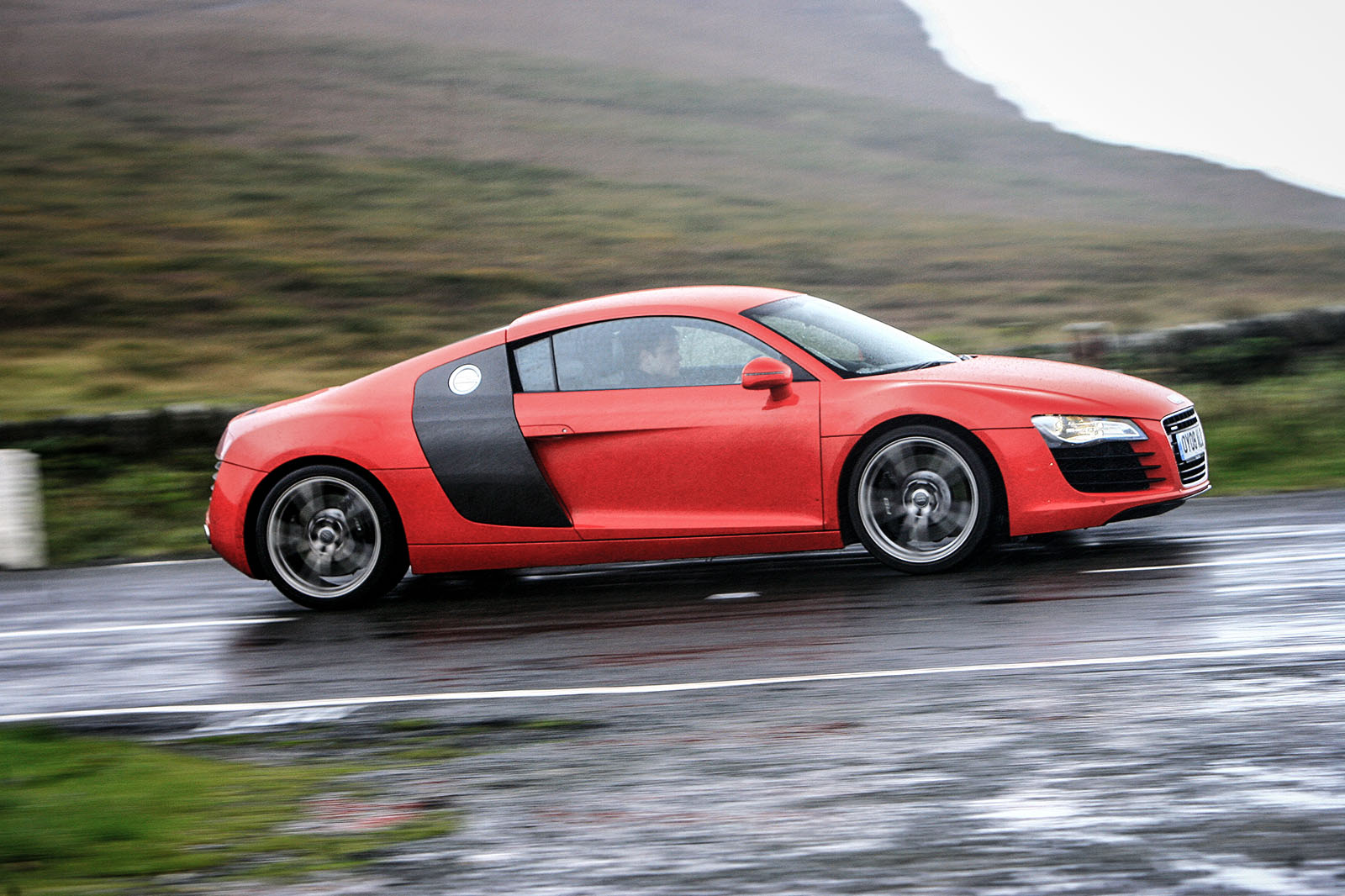 Standard equipment includes 19in alloys, xenon headlights and leather seats. Be wary of the optional magnetic ride system. There are enough reports of it failing expensively in later life to make the standard set-up the smarter choice.
In late 2008 Audi dipped its hands into Lamborghini's parts bin again and brought out the Gallardo's 5.2-litre V10, detuned to 517bhp. Thus fitted, the R8's 0-62mph sprint plunged to 3.9sec (for the manual version) and the top speed soared to 196mph. Magnetic ride suspension is standard, as are LED headlights. The R8 was having a ball, and to prove it, Audi raised the roof to create the V10 Spyder the following year. Next, in 2010, came the rare, stripped-out, 552bhp V10 GT coupé with R tronic automatic gearbox and a 0-62mph time of 3.6sec.
Then, when everyone thought Audi had forgotten about the V8, in came a revised version with 424bhp, a 0-62mph time of 4.5sec and a new energy recuperation system to help it secure EU5 emissions sign-off. A Spyder version appeared at the same time, followed by the Spyder GT.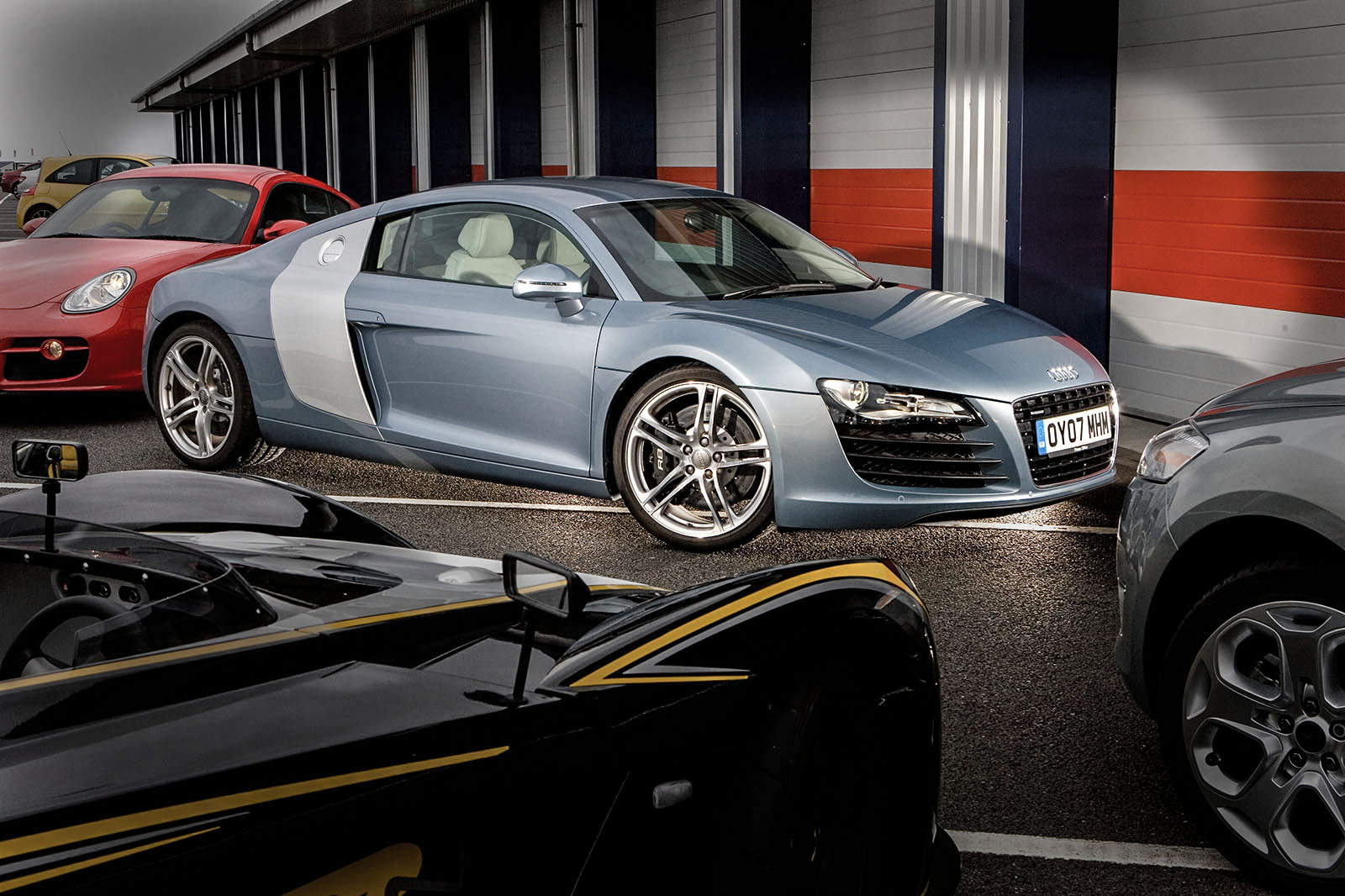 It was all change in 2012 with the arrival of the refreshed R8. Out went the optional R tronic transmission, replaced by the infinitely superior seven-speed S tronic dual-clutch auto. New LED lights across the range, a restyled exhaust, new grille, sat-nav and Bluetooth took care of the nice bits. The V8 and V10 engines remained the same, but the lighter, more compact S tronic 'box helped to reduce CO2 emissions (VED is still £515 for all versions, though).
At the same time, the new R8 V10 Plus, offering 535bhp and a 0-62mph time of 3.5sec in S tronic form, became the flagship of the range, at least until the 562bhp V10 LMX special edition arrived in 2014. Nice – but not as sweet as a well-bought 2007 V8 manual for £39,000. 
An expert's view…
SAM HOWELL, PRESTIGE CARS KENT
"R8s are are quick, easy to drive, reliable and reasonably cheap to run. We sold one recently with a £1000 annual servicing and warranty package. That's good value for a supercar. We'll buy any age, any mileage, any spec. The V8 is really strong. We've just bought a V10 Spyder. The engine sounds glorious, but I reckon that's its only advantage over the V8. It's certainly no quicker in the real world. An early V8 manual is the best buy and a future classic."
Buyer beware…
ENGINES
Generally bulletproof, but a few V8s suffered bottom-end bearing failure. Listen for noises. Oil lines to cooler, at rear left, can rust through. Beware cars with extended two-year/19k-mile service history; annual services best. Faulty ignition coils can cause misfires.
COOLING SYSTEM
Front outer radiators can leak at the seams after around six years.
GEARBOX
Expect around 20,000 miles from a clutch; budget £3500. R tronic robotised manual disliked for slow shifts; some reliability issues, too.
SUSPENSION
Steel nuts and bolts react with aluminium chassis and wishbones and seize. Lower rear wishbones can fail, requiring whole a new unit, with hub, at £3k for parts alone. Magnetic ride dampers fail on older cars, costing around £800 per corner. Replace in pairs or with high-quality coilovers. R8s are sensitive to worn tyres, shocks and suspension bushes. Listen for knocks and accelerate/decelerate hard to check pulling left or right.
BRAKES
Discs are around £300 each, so change pads at 50% worn to extend disc life.
BODY
Check for oxidation and galvanic corrosion where steel and aluminium react. Long doors vulnerable to knocks; panels expensive to replace.
INTERIOR
Not the most exciting cabin for a £100k car. Some early ones look very tired.
Also worth knowing… 
Regardless of age, but as long as it's under 100,000 miles, you can buy a 12-month Audi warranty. A 2007 R8 with 54k miles is £2326 (all parts covered, 10k miles, £250 excess).
How much to spend…
£38,000-£45,000
Early V8 manuals and R tronic autos, 50k miles, some with mag-ride shocks.
£46,000-£49,000
Low-mileage early V8s, some 2009 cars and even early V10s.
£50,000-£55,000
Average-mile, high-spec V8 models from 2009-2010.
£56,000-£60,000
More 2010-2011 V10s and V8s; cheapest Audi approved used R8s, including a 30k-mile 2011 V8 Spyder for £59k.
£61,000-£69,000
Low-mile 2010-2012 V8s/V10s. Some GTs and more 12-plate Audi approved used cars. Some 2013 S tronics.
£70,000 ON
Audi approved used 14-plate selection begins in earnest.
John Evans
Source: Car
Write

a Comment
Fields with * are required