Audi

R8 to gain 2.9-litre V6 entry model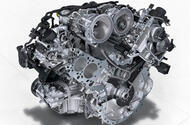 Recently revealed by Porsche in the new Panamera, Audi is set to introduce the new turbocharged V6 in four new performance cars, including a new R8 model
The Audi R8 will gain a new, entry-level version that'll use a twin-turbocharged 2.9-litre V6 petrol engine recently unveiled by Porsche in the latest Panamera.
The 90deg unit will also be used in the RS4, RS5 and soon-to-be-confirmed RS Q5 models. It has been developed in a joint venture by Audi and Porsche as part of a new modular engine family known under the working title KoVoMo.
The engine has been engineered for what Porsche engineers have called high-power applications from both car makers.
The new turbocharged V6 replaces Audi's older, naturally aspirated 4.2-litre V8 petrol engine. Audi's V8 has been discontinued because of what Ingolstadt officials describe as a combination of the high costs of updating it to meet future emissions standards and concerns in markets such as China, where road tax is linked to engine capacity.
In the latest Panamera 4S, the new engine delivers 434bhp at 5650rpm and 405lb ft of torque between 1750rpm and 5500rpm when running a relatively low 0.4bar of turbocharger boost pressure.
With subtle tweaks, including greater boost, the joint-venture engine is claimed to offer more than 500bhp and up to 500lb ft, although it has yet to be confirmed what output Audi has settled on for its quartet of new performance models.
In the most recent RS4 and RS5, Audi's naturally aspirated 4.2-litre V8 kicked out 444bhp and 314lb ft.
Audi officials contacted by Autocar have revealed that the new V6 will be offered in a range of outputs.
The new 2.9-litre engine destined for the RS4, RS5, RS Q5 and R8 differs in capacity from the slightly larger, 3.0-litre version of the joint-venture V6 recently launched by Audi in the new S4.
Further differentiation is found in the induction system, with the S4's engine using a single twin-scroll turbocharger and the 2.9-litre version getting twin turbochargers.
Source: Car
Write

a Comment
Fields with * are required