Bloodhound

SSC land speed record car moves into final preparation stages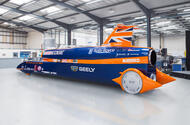 Preparations for the Bloodhound SSC's new outright land speed record attempt are now in full swing; Geely is confirmed as the "prime sponsor and official automotive partner"
The Bloodhound SSC land speed record car has moved into final stages of preperation ahead of its first high-speed run in 2017.
The car has returned to 3M's state-of-the-art Atherstone facility for its final paint job, where a top coat that will have to survive supersonic speeds is being applied.
Work on Bloodhound's upper chassis began on 19 December, after Volvo's parent company and China's seventh largest car maker, Geely, provided funding as the project's "prime sponsor and official automotive partner". The project aims to set a new outright land speed record of over 1000mph on a specially prepared track in South Africa in 2017 and 2018.
The deal, which was signed in August and runs for three years, is a godsend for Bristol-based Bloodhound. The project has been practically mothballed about a year ago when its principals announced that previously laid testing plans were on hold — with the car about 85 percent built — because of a lack of finance.
The Geely deal
The actual size of Geely's new financial contribution is not being disclosed, but it is understood to be worth millions.
Bloodhound's project director Richard Noble, welcomed Geely as "a company with tremendous vision and capability that shares our passion for innovation and education" and said the Bloodhound team would be able to proceed with long-planned UK shakedown trials at Newquay airport in 2017, then proceed straight to its ready-prepared 11-mile track at Hakskeen Pan, South Africa, to try to reach 800mph.
"We showed Bloodhound SSC at Canary Wharf earlier this year," said Noble. "For that, we did what is known as a dry build. About 90% of the components were in place but the car wasn't yet in a condition to run. It will take us about nine months to get to a running condition, then we'll go to Newquay airport next July, first to do tie-down tests and then to run the car up to 200mph.
"After that we'll go straight to Hakskeen Pan in South Africa, hoping to be on site in September, with the aim of achieving 800mph before the rains come in December. We'll come straight back to the UK, because we'll have a lot of supersonic running data to compare with our research forecasts, and because we'll need to modify the back-end of the car quite a lot to take the three Nammo rocket motors that will get us to 1000mph."
If that goes well, the team will return to South Africa in 2018 to fulfil its dream of exceeding 1000mph.  
"Our relationship with Geely is terrific," added Noble. "They have the same kind of ambitions about innovation and science-based education as we do. I can't say exactly what funds they're contributing, but I can tell you Bloodhound now has 70% of its budget for 2016 to 2017 in place, which is amazing. In eight years, we've we've never been in that position before."
Bloodhound is the brainchild of entrepreneur Richard Noble and fast jet pilot-cum-driver, Andy Green, who have held the land speed record in turn and locked out all other bidders since 1983. They are the only men ever to have "gone supersonic", which they achieved in Thrust SSC at Black Rock, Nevada, in 1997, when Green set the current record of 763.035mph.
"It's driving in a straight line, which can't be that hard," joked Green about his record attempt. "I sometimes think it's quite a bit easier than coping with London traffic. We're now in a state of preparedness where no land speed record effort has ever been before. We genuinely have technical solutions available to meet every problem.
Green went back to South Africa in the Autumn for a final inspection of the 12-mile track. "Three hundred people have worked for eight years, off and on, to get this place ready," he said before the visit. "They've picked up 16,000 tons of stones, mostly by hand. We're going to do some dummy runs in ordinary vehicles, with the FIA present, to make sure the helicopters and drones can do their work, and that our communications network works as well as we need it to."
According to insiders, Geely's financial contribution to the project is "far and away" the largest Bloodhound has ever had and comes with a strong desire from Geely to have a significant technical input in the land speed project, details of which are still being worked out.
"[The Geely deal] happened via Peter Horbury – Volvo design boss – who brought Bloodshound to the notice of our chairman, Li Shufu, quite a while ago," explained Ash Sutcliffe. Geely's public relations boss. "The chairman took some time to learn about the project, but he came to see that Geely's objectives and Bloodhound's had a lot of similarities. We'll be integrating some electrical systems into the car, we'll do some work to make the cockpit more comfortable for Andy Green, and we'll build some chase vehicles, probably saloons, capable of at least 150mph. We'll be heavily involved." 
Geely will also help with the science and technology education side of the Bloodhound project, already highly successful across large parts of the globe, by bringing it to greater notice among school children in China, potentially a vast new audience."
Though Geely faces challenges from ambitious in rivals its domestic car market, it is alone among Chinese domestic car makers in having an impressive reputation for investing in European automotive companies and running them wisely. The company already owns Volvo and London Taxi, and has set ambitious new targets for both while guarding their brand values and heritage.
"We are proud and excited to be part of this extraordinary Bloodhound team," said Geely's founder and chairman, Li Shufu. "We share their challenging spirit and passion for pushing technological barriers."
Source: Car
Write

a Comment
Fields with * are required