BMW

and IBM partner to develop artificial intelligence car tech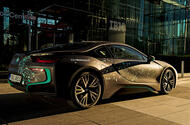 BMW is supplying four i8s to run prototype artificial intelligence technology
Car maker joins forces with technology giant to develop machine learning for future car models; Continental and Oxford Uni working on similar tech
BMW is working with American technology giant IBM to co-develop artificial intelligent technology that will one day be featured in road cars.
Researchers and engineers form BMW are working at IBM's Munich headquarters for its Watson Internet of Things (IoT) technology. They'll help develop IBM's Watson cognitive system, which can learn from and pass back intelligence into the physical world, for integration into automotive products.
BMW is providing the IBM site with four i8s to be used as prototypes for these new artificial intelligence systems. The systems will run on IBM's Bluemix cloud platform, which IBM said will enable Watson technology to heighten a driver's connection with their car.
The technology uses machine learning to enable a car to improve its understanding of its driver, so it can cater its systems and cabin experience to suit their preferences. Complex voice control technology will also allow drivers to issue commands using conventional conversation, rather than set phrases, which is often the case with today's voice control technology.
"Watson is transforming how people interact with the physical world – helping to create safer, more efficient and personal experiences at home, at work and on the road," said Harriet Green, global head of IBM's Watson IoT business.
"With this agreement, our companies will work together to lay the foundations so that BMW's drivers can benefit from Watson's conversational and machine learning capabilities. Our insight shows that while the car will remain a fixture in personal transportation, the driving experience will change more over the next decade than at any other time of the automobile's existence," continued Green.
IBM's studies predict that the car will become increasingly able to self-heal, diagnosing and fixing its own faults and even fixing other vehicles, as well as better at connecting with other cars to share information.
This will help to improve the self-driving ability of autonomous cars, and also make the cars more integrated with the IoT, which connects all devices including housing appliances and phones together so they can share information and offer streamlined services.
Continental and Oxford University
BMW and IBM's partnership is not the first of its kind. Continental and Oxford University are also co-working on the development of artificially intelligent technology for use in road cars.
Continental's head of artificial intelligence & robotics, Demetrio Aiello, told Autocar "A seamless mobility experience can minimise stress caused by planning activities like scheduling and ticketing. In an ideal mobility world we can imagine that users doesn't need to express any travel request, they only need to enter and exit vehicles, trains, planes or other transportation facilities according to a schedule which is constantly kept up to date."
"I love the idea that one day new services will enable reliable mobility, and that users will be relieved from maintenance because vehicles will fuel or charge on their own and go to the workshop automatically, when a visit is required," Aiello said.
Source: Car
Write

a Comment
Fields with * are required