Britain's

Best Driver's Cars – on video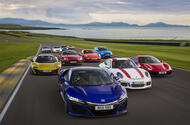 All of Britain's Best Driver's Cars on video in one place. This is your one-stop shop for all the action, detail and the verdict in glorious high-definition video
Every autumn we set out to name Britain's Best Driver's Car in our annual new sports car extravaganza. Last year the Ferrari 488 GTB saw off all comers to gain the title. 
This year the 488 GTB is invited back as reigning champion and goes up against 10 all-new sports cars including the Porsche 911 R, Aston Martin GT8, Honda NSX, and McLaren 675 LT. Watch the following to find out what we think of each competitor. Feel free to leave your opinion below, too.
PART 1 – Ferrari 488 GTB
Watch as we put the Ferrari 488 GTB through its paces. It's a year older now, so the competition should be stronger. Will it maintain its title?
PART 2 – Honda NSX
The Honda NSX is back, and has come to stake its claim on the Britain's Best Driver's Car title. You'll have to watch the video to find out what we think of it, but its appearance here means it's made quite an impression.
PART 3 – Porsche 718 Cayman S
A change of name betrays the fact that the Porsche Cayman has kept its best attribute – it's a hoot to drive. It has a deliciously good chassis, but these days only a four-cylinder engine. How will it get on?
PART 4 – McLaren 570S
The 570S is McLaren's idea of an approachable sports car, although it's still one that has 563bhp and a carbon fibre tub. Has this mid-engined marvel got what it takes to be our favourite car of the year?
PART 5 – BMW M2
This is the BMW M2. It has a sweet front-engined balance and a brawny six-cylinder engine under its shapely bonnet. Will that be enough to make it our favourite driver's car of the year?
PART 6 – Aston Martin Vantage GT8
This is the Aston Martin GT8, which has a spectacular naturally-aspirated V8 engine that makes a noise to die for. We recommend turning this one up. Is there a better-sounding production V8?
Keep track of this page, as the complete set of Britain's Best Driver's Car videos will appear here. 
Source: Car
Write

a Comment
Fields with * are required