BTCC

2016: Honda's Gordon Shedden storms to the BTCC title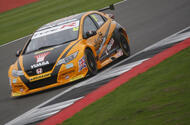 Honda's Gordon Shedden has successfully defended his Dunlop MSA British Touring Car Championship in a thrilling Brands Hatch showdown
Honda's Gordon Shedden has successfully defended his Dunlop MSA British Touring Car Championship crown after a thrilling final-day fight at Brands Hatch today.
The Scot finished ahead of rival Sam Tordoff in the final race of the season to become the first man to claim back-to-back championship wins since Fabrizio Giovanardi for Vauxhall in 2007/08.
Earlier in the day, Subaru Levorg driver Colin Turkington had charged back into contention for the British Touring Car Championship crown by winning the first and second races of the showdown weekend.
No fewer than eight drivers came to the Kent circuit's Grand Prix layout with a mathematical chance of winning the tin-top title, although former champion Turkington's hopes looked fairly slim on paper. His strong start to his weekend, allied to some of his chief rivals struggling with the effects of success ballast on the race pace of their cars, has given him a more realistic chance of the crown.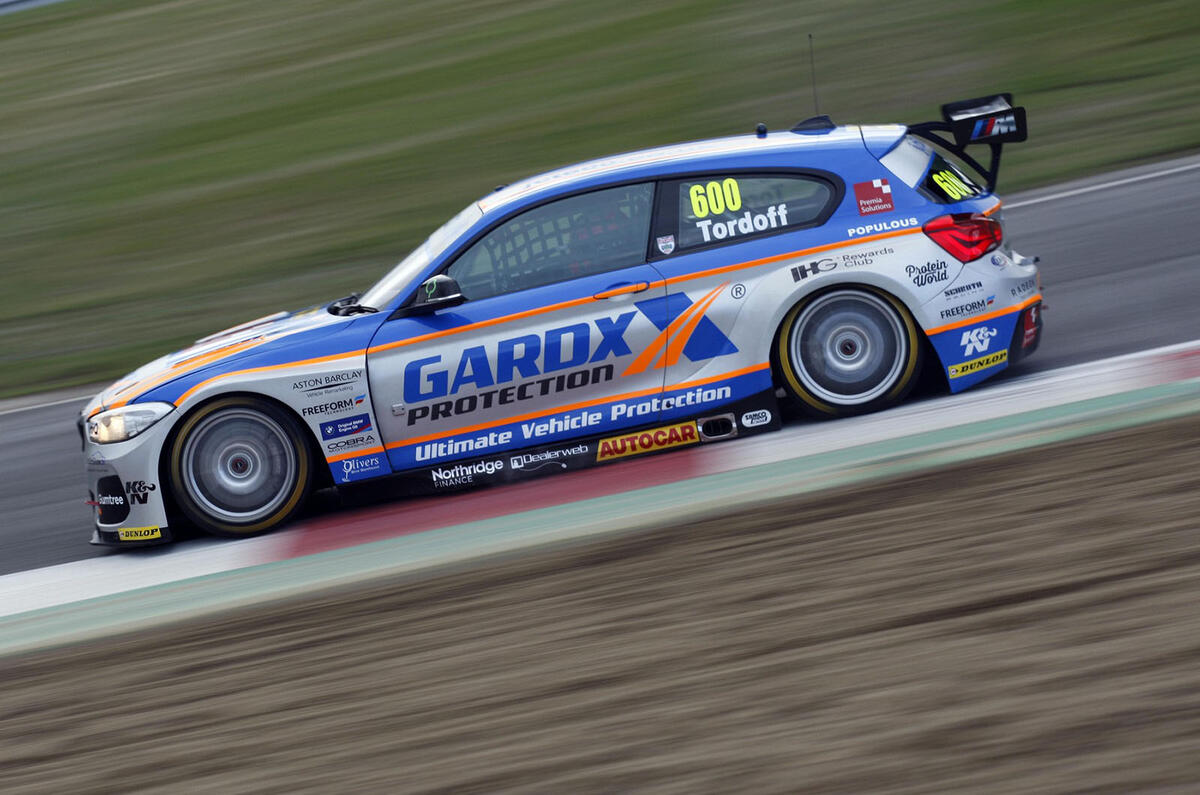 On Saturday Turkington claimed pole position after the Silverline Subaru BMR Racing driver produced an incredible lap time in an incident-packed wet-dry qualifying session.
Read more about Subaru's BTCC campaign
Tom Ingram qualified second but his Toyota Avensis failed ride-height checks and he was banished to the back of the grid. That left Rob Austin second on the grid in another Avensis, with Turkington's Subaru Levorg team-mate Jason Plato in third. 
Of the other title protagonists, Gordon Shedden lined up seventh in his Honda Civic Type R, Sam Tordoff (BMW 125i M Sport) tenth, Matt Neal (Civic Type R) 11th, Rob Collard 12th (BMW 125i M Sport), Andrew Jordan (Ford Focus) 13th and Mat Jackson (Ford Focus) 19th.
As the first of three races got underway on dry track on Sunday morning, Turkington resisted a lap one attack from Austin to retain the lead, with Plato slotting in to third. 
Further back, Jordan was the first of the championship hopefuls to hit trouble. On the second lap he struck Hunter Abbott's stricken Chevrolet Cruze, which had been turned into a spin by Neal at Druids. Jordan's Ford Focus was out on the spot, as was Abbott's car, scuppering his hopes of a positive finish after qualifying a strong fourth.
Turkington pulled comfortably clear with a flurry of fastest laps, pulling out a five-second advantage over his rivals and then controlling the race.
"All credit to the team for giving me a car like that, when it is hooked up I can deliver. We haven't had much dry running this weekend, just four or five laps, so for the Subaru's set-up to be that good was really impressive," said Turkington.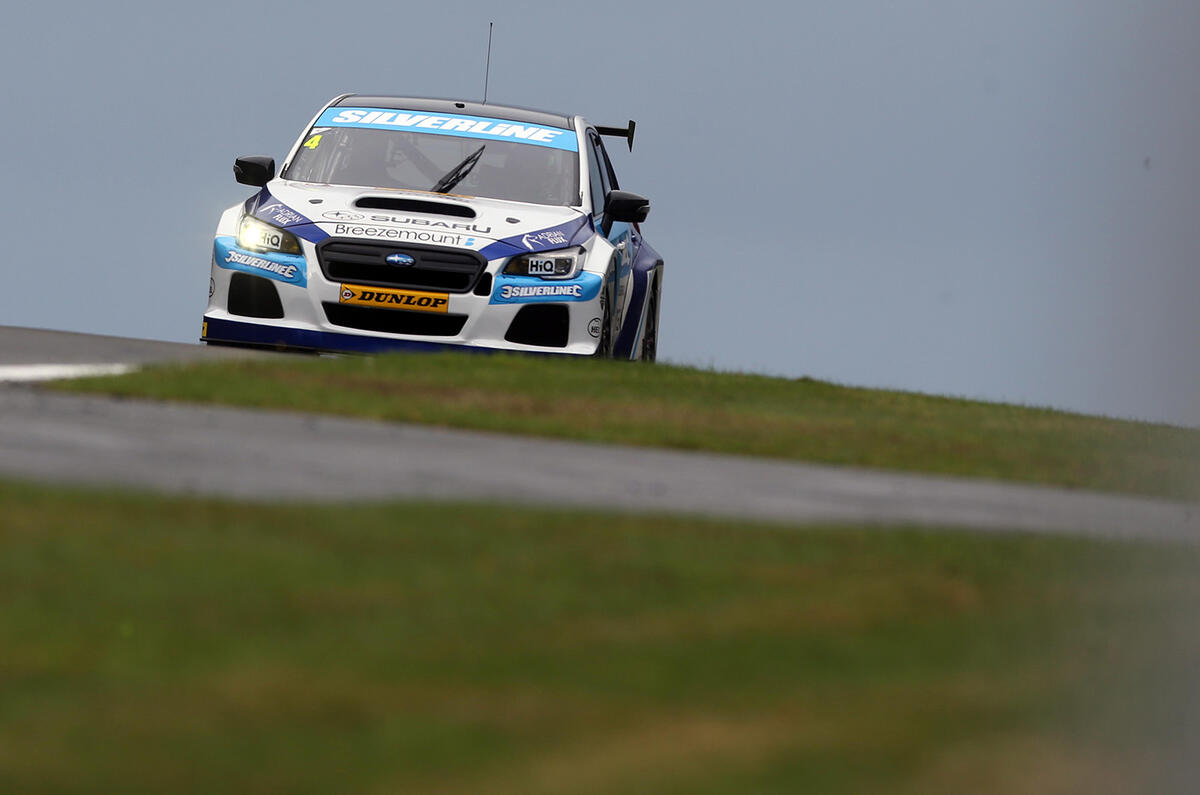 Austin came under increasing pressure from Plato and Cook, with the trio circulating one second apart in the closing laps. While Austin kept cool for his best finish of the season, Cook stole the final podium spot from Plato at the final corner by forcing his MG 6 GT up the inside of the Subaru in a opportunist move.
Honda Civic Type R BTCC car driven by Autocar
Shedden muscled his way up to fifth ahead of Adam Morgan and Matt Neal. Ash Sutton drove a strong race in his MG to finish ninth ahead of championship leader Sam Tordoff, who found his points lead slashed to just six points over Shedden.
Ford Focus racer Mat Jackson made good progress from his lowly qualifying position in the early stages of the races and ended up 11th, ahead of Collard was briefly slowed in the aftermath of the Neal/Abbott clash.
The results of race one made it mathematically impossible for Plato to win the title, leaving seven protagonists to duke it out in races two and three.
Race two – Turkington triumphs again
Turkington's Subaru was laden with 75kg of success ballast for the second race, with Austin collecting 66kg and Cook 57kg. Both of the front-row starters opted to use Dunlop's softer tyre compound for the encounter, as did Plato, qualifying on the outside of the second row  in his Levorg with 48kg of ballast on board.
Turkington made another great getaway, while Austin was sluggish off the line and nearly came under serious pressure from a fast-starting Plato as they charged into Paddock Hill Bend. Cook slotted into fourth ahead of Shedden, Neal and Tordoff.
On lap four, Matt Neal slowed when the engine of his Civic Type R cut out due to a suspected electrical issue as he came out of Paddock Hill Bend. Then, as he limped around Druids at a reduced speed, he touched the MG of Ashley Sutton and was catapulted hard into the barriers, necessitating a safety car period.
Upon the restart, Shedden sliced past Cook at Paddock Hill Bend for fourth and set about chasing down the top three.
On lap eight, Plato grabbed second place by overtaking Austin at Surtees. Shedden took advantage of Austin's lack of momentum out of the corner to steal third place on the ensuing straight.
Plato stormed up to the back of Turkington at an astonishing rate and on lap 12 made a feint down the inside at Paddock Hill Bend. With Plato out of the title running, however, he eventually opted to play spoiler for his Subaru team-mate, protecting Turkington from title rival Shedden and the chasing pack.
On lap 15 Cook barged his way past Austin at Paddock Hill Bend for fourth and Austin fell further back as he took a trip through the gravel and dropped behind Tordoff, Moffat, Jackson, Morgan and Ingram. On the next lap Austin limped into the pits and retirement.
Turkington was overjoyed with his fifth win of the season, with Plato and Shedden joining him on the podium. 
The result leaves three drivers in contention for the title ahead of the final race of the season. Tordoff, fifth in race two, still leads the way on 295 points, just two points ahead of Shedden and ten points clear of Turkington.
Neal is mathematically in the hunt despite his accident, but has been ruled out of the showdown due to slight concussion.
Race three – Jackson wins, Shedden storms 
The random reversed grid for round 30 handed pole position to Jackson, who had finished seventh in race two in his Ford Focus.
Moffat was alongside him in a Mercedes-Benz A-Class, with points leader Tordoff third ahead of Cook, Plato and Turkington. The Subaru man had a full 75kg of success ballast, with Shedden on 57kg and Tordoff on 39kg.
Jackson and Moffat lined up on soft Dunlop rubber, but each of the championship protagonists had the standard compound on their cars.
Jackson made a good getaway to seize the lead, with Tordoff trailing Moffatt and Cook fourth. At Druids Shedden muscled his way past Plato, with Turkington dropping to ninth on the opening lap.
By the end of the lap Morgan, running on soft tyres, grabbed sixth from Plato, with Ingram ahead of Turkington, who dropped behind Collard to tenth on lap two. Turkington never really featured after that as he struggled with his heavily ballasted Subaru.
On lap five Shedden squeezed his Civic inside Cook's MG under braking for Druids for fourth place and set about hunting down Tordoff, just as the safety car was deployed to recover Warren Scott's beached Subaru at Sheene Curve, where it had come to rest after being hit by Dan Welch.
At the restart, Shedden was right with Tordoff and he took third position with ease through Clearways at the end of the lap. Shedden put the hammer down and pulled clear.
Tordoff fell back a further place when Morgan deposed him at Druids, and although the Mercedes-Benz driver put serious pressure on Shedden in the closing stages, the Scot resisted sternly to finish third and secure the title by just two points.
Shedden, 37, said: "Boy am I happy! I thought it was all going pear-shaped ten yards into the race because Jason Plato cut across in front and squeezed me up against the pit wall.
"The Honda Civic was just incredible. I'm so chuffed. Matt Neal did the double in 2005/06 and Fabrizio Giovanardi did it in 07/08, but there aren't too many people who have taken back-to-backs in the modern era. I've driven my heart out all season and did just enough.
"There have been lots of times during the year when I thought it was getting away from me, but I always said I wouldn't give up until the very end and to do it in the final race of the season is unbelievable."
Jackson led the final race from pole position to chequered flag to equal Turkington's haul of five race wins for the 2016 season.
Source: Car
Write

a Comment
Fields with * are required