Car

critics and the buying public – why don't they agree?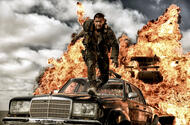 Mad Max doesn't actually achieve much in Fury Road
Much like the opinion of film critics, the advice of car experts is rarely followed by the average British motorist
The critics have spoken. They – 177 of them – have compiled a list of the 21st century's greatest films and have decided that the best feature flick is Mulholland Drive.
Fair? I've really no idea. I haven't seen the 2001 neo-noir (whatever that means) flick and, given it only took $20 million at the box office, the chances are that neither have you.
The list, commissioned by BBC Culture, is a line-up of curiously rare grooves – not uncommon for something contributed to by art experts. Watching them all back to back would be like listening to a radio station that only broadcast Radio 4's Front Row. Oh, I don't doubt that by the end of it you'd consider your cultural appetites well and truly sated and you'd feel artistically smug to levels way above self-satisfaction. But by gum you'd be bored stiff.
I like Lost In Translation (21st) and Mad Max: Fury Road (19th), but even I'll admit that, at the end of them, it's hard to shake the feeling that precisely nothing of any great consequence has happened. Not once in this apparent top 100 has anyone thrown these motherflippin' snakes off this motherflippin' plane, nor has anyone tried to repair to the Winchester until this all blows over.
But more than that, with the odd exception, it's almost as if the chances of doing well on the critics' list is inversely proportional to a film making a shedload of money. The weirder, more obscure and less watched the film, the better. Scroll through the top 100 and you'll not find a hobbit, a pirate, a Mark Wahlberg (with or without teddy bear), nor a lanky, pacifist blue alien construct controlled by a paraplegic US marine among them. Not until 33 on the list do you find a film that is one of the 50 highestgrossing (The Dark Night). I care not for Avatar, but I will shed a tear for how the omission might hurt Ted's feelings.
Which brings me, belatedly I'll admit, to cars. Were 177 noteworthy vehicle critics, assuming you could find that many, asked to choose the top 100 cars of the 21st century, clearly we wouldn't be so completely out of touch with the car-buying public. Or would we?
In the early 1990s, when the terrible Mk4 Ford Escort was Britain's best-selling car, the motoring press wet itself over the Alpine A610, yet the great British carbuying public took to it in quantities of around half a dozen a year. Deeper into the 1990s, the Honda NSX was still winning 'car of the year' competitions back to back. And yet end-of-year sales figures would show that more Jaguar XJ220s were still belatedly being registered than NSXs were finding buyers.
Since then we've championed the Toyota GT86 and Subaru BRZ. And once I made an Infiniti G35 beat both a BMW 3-Series coupé and an Audi A5 in a group test. And last saw an example of each… well, never mind.
Lastly, a decade ago I came back a bit puzzled from the launch of a new car that I couldn't quite see the point of. You might have heard of it. It was called the Nissan Qashqai, now sometimes the second-best-selling car in the country. Finger on the pulse as ever. Maybe it's time to pop down to Blockbuster Video and rent a copy of Avatar.
Source: Car
Write

a Comment
Fields with * are required