Chancellor

to announce £1.3 billion for UK roads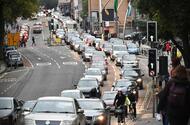 Philip Hammond will use this week's Autumn Statement to announce funding for road improvements, as well as new projects
The chancellor, Philip Hammond, will use Wednesday's Autumn Statement to announce £1.3 billion for the UK road network.
A total of £1.1 billion will be freed up to reduce congestion and improve and repair local roads, while £220 million will be used to tackle pinch points on motorways and A-roads run by Highways England. In addition, a £27 million expressway linking Milton Keynes with Cambridge and Oxford has been given the green light.
The funding is part of a wider infrastructure investment intended to shore up the UK economy against the impact of Brexit, and it marks a departure from the approach of Hammond's predecessor, George Osborne, who favoured cuts to public spending. However, Mr Hammond is expected to reiterate that efforts to reduce spending must continue.
The treasury says road congestion costs £13 billion every year.
Car tax: everything you need to know about Vehicle Excise Duty
Labour responded to the news by pointing out that many previously announced schemes have yet to be built. A £15bn programme of improvements was announced by the coalition government in 2014, but many of the schemes haven't come to fruition. Shadow chancellor John McDonnell said the government "has not been meeting its own promises", while Andy Burnham warned that northern motorways are reaching "saturation point".
Motoring groups welcomed the expected announcement, but said the investment should represent only the beginning.
James MacColl, head of campaigns at the Campaign for Better Transport, said there should be more focus on public transport to tackle congestion. "It's about time the Government recognised the dire state of our local road surfaces," he said. "There's a £12 billion repairs backlog, while government money has gone on new roads in recent years. The measures announced by the Government so far will do nothing to solve congestion in the long run, nor will building new roads, which just moves the traffic jams somewhere else. If the Government really wants to solve congestion people need genuine alternatives with better and cheaper public transport.
"We now expect the Government to back up this announcement with a 'fix it first' approach across the board, improving the local transport that those people who are just about managing rely on every day."
London Mayor calls for Volkswagen to pay Dieselgate compensation
A spokesman for the AA said: "The Local Government Association says it would take £12 billion to fill the current backlog of potholes and repairs to roads, so while it's a start, we still need significant investment in improving the road infrastructure across the country."
The AA is also calling on the chancellor to abandon plans to change the Vehicle Excise Duty system from April next year. The organisation says the new system removes much of the incentive to buy low-emission cars.
Edmund King, the AA's president, said: "For more than 15 years, drivers' car buying behaviour has been influenced by graduated Vehicle Excise Duty, which signposted cars that produce less CO2. As CO2 and fuel economy are directly related, it was also a quick way of spotting a car that was going to save an owner money – not just on the tax."
"The current VED system has been incredibly effective in encouraging drivers to choose the more fuel-efficient models. Removing those incentives will mean some drivers will opt for the more gas guzzling models.
"We were surprised to see that principle of tax incentives for new cleaner-technology cars blown out of the window. We have been calling for the return of car tax rewards for people who invest in the latest green technology. The chancellor has a chance in Wednesday's Autumn Statement to revise the Government's thinking and give better incentives for cleaner cars."
Phill Tromans
Source: Car
Write

a Comment
Fields with * are required