Delta's

micro-turbine range extender will make production in a 2019 model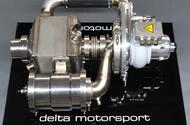 Ariel and Morgan have already signed up to Delta Motorsport's tech; it's claimed to be 50% lighter than a piston engine
Delta Motorsport has developed a micro-turbine engine that can act as an ultra-efficient range extender for electric vehicles, and it'll make production in a yet to be revealed model before the close of the decade.
Called the mirco turbine range extender (MiTRE), the prototype system comes in two power outputs, 23bhp and 47bhp, and is about 40% smaller and, at 50kg, about 50% lighter than an equivalent piston engine. The more powerful unit also has a thermal efficiency of about 30%, which matches the best piston engines, and both versions have very low emission outputs.
Delta says adding a larger heat exchanger can improve the unit's thermal efficiency to 35%, which ranks the unit alongside high-performance racing engines.
The first prototype system has been fitted into Delta's own E4 Coupé electric concept (pictured below), but a final version will be introduced in a production car in 2019.
"We will be entering into a partnership later this year to produce a motor for a production model," confirmed Delta engineering director Nick Carpenter. "I can't say with who, but it'll be produced in 2019 and arrive on roads in 2020."
Currently, only two car makers, Ariel and Morgan, have been confirmed as partners for Delta's technology. Both companies have recently expressed interest in electrification technology, with Morgan producing the EV3 and Ariel demonstrating electrically powered ground-effect tech earlier this week, but Carpenter suggested this first production model would be in a full EV from another car maker.
Carpenter believes turbine engines are the most efficient answer to improving the ranges of EVs. "There have been various attampts to introduce turbine engines into passenger cars, but those engines were directly driving the wheels," he said. "Electric vehicle sales are gaining traction now, but people who travel long distances still need more range, and this is where the range extender still provides the best answer."
Carpenter said adding more batteries to a car to increase its range had its limits due to the weight of battery cells, but a turbine range extender can drastically increase an EV's range for a tiny offset of emissions.
He also believes range extender technology can bring EVs to the masses. "How many people can live with a Nissan Leaf, and how many can afford a Tesla Model S?" Carpenter said. "Once production is up and running, the cost of our motor will be around £1000, so it's not expensive."
To keep costs down, Delta has avoided using exotic materials. "There were many fundamentnal decisions made in the early stages of the programme that have ensured we're keeping the production costs down," said Carpenter. "About 90% of the cost comes from production, so there's lots of opportunity to bring the price down once production picks up."
Carpenter said production makes up 10% of battery costs, meaning it's the physical materials that make up 90% of costs. It's for this reason he believes range extenders are the cost effective answer for now.
"I think there'll always be a place for range extenders," said Carpenter. "Even if the technology takes off and we have batteries that can offer 150 miles of motorway driving, it still won't be enough for long-distance drivers."
Carpenter believes that the mainstream manufacturers have been slow to take to electric, and makers of fully electric cars, such as Tesla, have limited their market to people who can run EVs. He says that range extenders, however, are the best of both worlds.
The turbine technology has been created in a £3.1 million collaborative research and development project that's been co-funded by the Office for Low Emission Vehicles (OLEV) and Innovate UK.
Source: Car
Write

a Comment
Fields with * are required