Entry-level

Alfa Romeo Stelvio revealed in patent images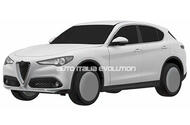 This is our best look yet at the mass-market version of the Stelvio after Alfa's first SUV was seen in hot Quadrifoglio form at the LA motor show
More details about the new Alfa Romeo Stelvio SUV have been revealed in a set of patent images.
Five images were lodged for patent by Alfa Romeo parent company Fiat Chrysler Automobiles and were picked up by Italian car site Auto Italia Evolution.
The base-spec Stelvio doesn't look drastically different from the hot Quadrifoglio range-topper, although much of the performance model's aggressive styling has been toned down.
Read about the Stelvio's LA motor show reveal here
At the rear of the more mainstream Stelvio are two large exhaust pipes and the front gets a split lower grille like that of the Giulia. Although the image doesn't reveal the alloy wheel design, the wheels fill the arches, which implies that large-diameter alloy wheels will be used on the bottom-spec car and throughout the rest of the range.
The engines in the Stelvio line-up will be the same as those in the Giulia's – a 2.0-litre petrol and 2.2-litre diesel for the majority of the range.
It's expected that a Veloce model will be introduced, too, given that Alfa has also revealed to Autocar that a 276bhp, 295lb ft version of the 2.0-litre petrol engine will be used – the same engine that appears in the Giulia Veloce.
Read about the Alfa Romeo Giulia Veloce here
The Stelvio's trim levels are likely to follow those of the Giulia, with the base-spec car taking the name Stelvio, and the range then rising to Stelvio Super, Technica, Speciale, Veloce and finally Quadrifoglio.
Pricing for the Stelvio hasn't been announced yet, but it's expected to start at around £40,000 for the lower-spec car seen in these latest images and the range-topping Quadrifoglio will be around £65,000.
Quadrifoglio-spec Stelvios are expected to be heavily outsold by the mainstream variants. 
Source: Car
Write

a Comment
Fields with * are required