Faraday

Future FF 91 orders exceed 64,000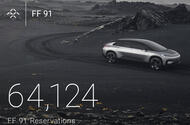 New all-electric four-door can out-accelerate the Tesla Model S and is larger than the Mercedes-Benz S-Class. It looks to be an early sales success, too
Faraday Future's FF 91 has accrued more than 64,000 orders since the model was revealed two days ago. 
The electric car maker's long campaign of previews seems to have paid off, as the car mimics the runaway success of the Tesla Model 3, albeit to a lesser degree – the Tesla accrued nearly 400,000 orders in the weeks following its reveal.
This does not necessarily mean that Faraday Future has secured over $320million (around £260million) in $5000 deposits; Jalopnik received communication from Faraday Future that only priority spots on the waiting list require a deposit, and the site explained that users are able to make more than one non-priority reservation. Faraday Future has not stated how many orders are paid, high-priority ones.
Nevertheless, Faraday Future is only currently accepting orders from the US, Canada and China, so this figure may rise once European and other areas of orders open. 
The FF 91, which was revealed earlier this week at the Consumer Electronics Show, is on course to be the quickest accelerating car on sale with a 0-60mph time of 2.39sec, which would beat the current record-holder, the Tesla Model S P100D, by 0.01sec.
The all-electric four-door SUV was revealed last night at a build-up event for the Consumer Electronics Show (CES), with reservations being taken now before production begins in 2018.
The car makes use of a multi-motor set-up to enable real-time torque vectoring to the rear wheels. This technology boosts traction and allows for rear-wheel steering. So far, the only output revealed for the drivetrain is peak power, at 1050bhp.
The FF 91 is powered by a 130kWh battery and uses Faraday Future's patented FF Echelon Inverter, which it says can transform more energy while using less space. The car can gain 500 miles worth of charge per hour and comes with a home charger that can fill the battery to 50% in less than 4.5 hours at 240V. Faraday Future says it predicts the car will offer a range of more than 435 miles on New European Driving Cycle (NEDC) tests.
The FF 91 is 5250mm long and 2283mm wide – 4mm longer and 383mm wider than a Mercedes-Benz S-Class – and 1589mm tall, which is 9mm shorter than a BMW X1. It features four automatically opening passenger doors that use sensors to prevent them from hitting surrounding obstacles.
The car's exterior design has been driven by aerodynamics, with drag reducing elements and stabilising features incorporated into the body. Included is a long list of technical features such as 13 long and short-range radars, 12 ultrasonic sensors, 10 high definition cameras and one 3D retractable Lidar laser sensor – marking the first time this technology will be available on a production car.
Combined, this technical system enables the car to drive autonomously and also park itself without a passenger onboard in a Driverless Valet mode. This mode also allows the car to be summoned upon the owner's return to the car park.
Inside, the FF 91 benefits from connected technology provided by Chinese firm LeEco, which is Faraday Future's biggest backer, that seamlessly integrates users' smartphones and digital lives into the car's online systems. The system also uses artificial intelligence (AI) to learn and improve itself according to its owner's preferences.
Additionally, the FF 91 gets a digital display instead of a rear-view mirror, and its rear, side and roof windows use PDLC (Polymer Dispersed Liquid Crystal) technology that tints to reduce penetrating sunlight when they are tapped.
The car also has rear seats that offer lower leg, lumbar, and upper back adjustments and support, as well as massage, heating, and cooling ventilation functions.
No pricing has been released but online reports suggest the FF 91 will be priced from $180,000 (about £147,000) when it goes on sale. Reservations cost $5000 (about £4075). Faraday Future said the first 300 customers would be invited to upgrade to a limited run Alliance Edition model.
This unveiling comes weeks after backer LeEco entered financial difficulty. Faraday Future also has ongoing issues with its Nevada production plant, which is yet to be completed, relating to late payments to the construction company. However, in late December, Faraday Future said it was close to securing  ¥10 billion Chinese yuan (about £1.17 billion) of investment.
Faraday Future EV supercar to use world's most energy dense batteries
Source: Car
Write

a Comment
Fields with * are required