Faraday

Future reveals pre-production prototype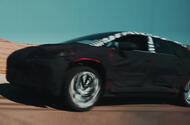 The troubled Tesla-rivalling electric car maker has revealed its production model, albeit under heavy disguise
Faraday Future has previewed the design of its first production model and shown the car in action on a closed circuit.
The first, as-yet-unnamed car will make its first appearance at the Consumer Electrics Show (CES) in Las Vegas, which takes place between 5 and 8 January 2017.
Typical of manufacturer previews of pre-reveal cars, little is given away in the previews Faraday Future has released, although the basic shape of the car can be seen.
Read more: Faraday Future may be in financial trouble, read more here
The car appears to follow the design of much-published design previews and publicity images released by the company, of a sleek SUV underpinned by the company's modular platform.
Faraday Future owner Jia Yueting recently admitted that the company, which also has ties with LeEco and Aston Martin, is experiencing financial problems, following its huge expansion but still pending a market entry into consumer cars. 
The first Faraday Future car we've seen is the FFZERO1 concept, which was revealed at this year's CES in January. The company then set up its own Formula E team with Dragon Racing, to aid the development of its EV technologies.
Read more: Tesla will build a European Gigafactory
FF's previous visual suggestions of its future models showed multiple model lines, including a hatchback, sports car and MPV, but the most frequently referenced car in the company's materials has been a rakish SUV. It's likely that this will be the company's first model, given the current popularity of SUVs.
Faraday Future's Variable Platform Architecture means the models could be released in quick succession as there would be no need to develop subsequent cars from scratch, although this would be unusual given that this will be FF's first road car.
We do know that the model will employ an LG Chem battery pack, which Faraday Future claims will use the most energy-dense lithium ion batteries on the market. 
Source: Car
Write

a Comment
Fields with * are required