Ford

Edge long-term test review: first report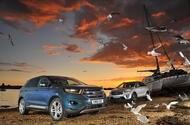 Ford's new SUV is being pitched as a rival to premium models, but does it have the depth of character to tempt BMW and Audi buyers?
Ford started 2016 by declaring that we should 'unlearn' what we believe the Blue Oval stands for and embrace the new direction it is taking.
Three cars are heading this brave new venture: the Focus RS mega-hatch, the GT supercar and what we have here, the new Edge. The arrival of Ford's large, rangetopping SUV has most likely come as unwelcome news to the existing players in the segment, with Ford's dealer network and market share giving it a strong position.
This isn't the first time Ford has imported a large SUV from the US. Previously, in the 1990s, it was the Explorer, which was put up against premium European rivals – although it's safe to say that particular venture didn't end in success. This time could be different,though, with the smaller Kuga already well established and topping our compact SUV segment ahead of the younger Volkswagen Tiguan and BMW X1.
The new Edge hasn't simply been built on American principles, with a thirsty petrol engine and little thought given to what Europe wants from a 4×4. Instead, Ford has made a big effort to give the Edge appeal to European buyers, using the same blueprint as the Mondeo and S-Max and giving it a familiar Euro-centric interior and installing a 2.0-litre diesel engine under the bonnet.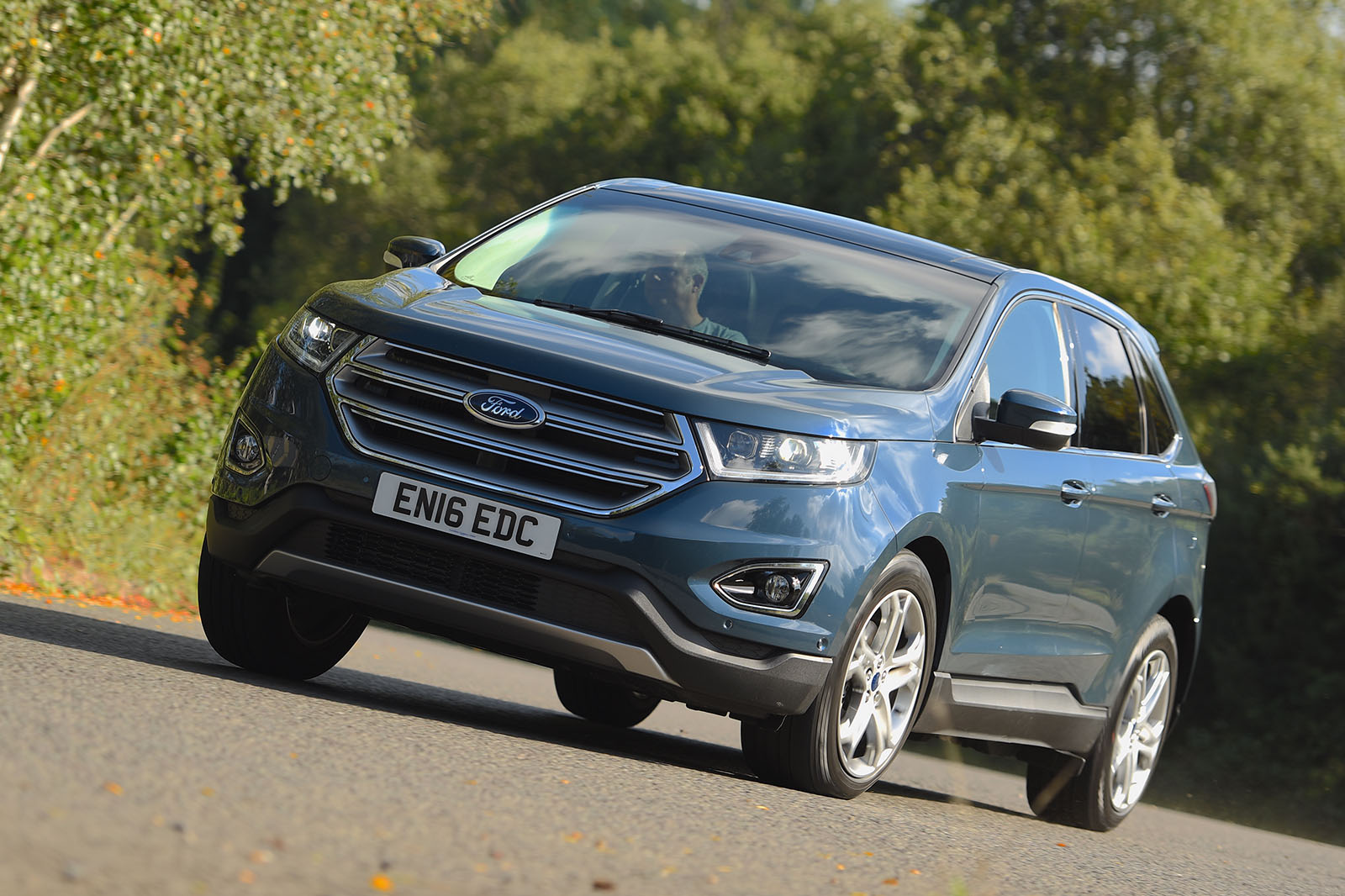 Ford has created a handsome SUV here, with sharp, angular looks, smart LED headlights and running lights and a dominating presence. Measuring a tad longer than a Touareg, the Edge is going to be a useful new member of our fleet, with a super-spacious cabin and a vast load bay that will make it a popular workhorse, if nothing else.
Ford has ambitiously aimed the Edge at the more affluent end of the market, placing it squarely in BMW X3 and Audi Q5 territory. Both German rivals remain popular but are long in the tooth, so now is the perfect opportunity for the Edge to gain a march on them before they are given a new lease of life.
A good test of the Edge's aspiring premium credentials is the cabin, and while there's more space in here than either the Q5 or X3 can offer, the interior and dashboard are rather dull. Ford's biggest crime, however, is the extensive use of cheap, scratchy plastics, which isn't something you would expect of a car costing, at least in our example's case, the best part of £40,000.
But it's not all bad news. The Edge comes crammed full of equipment, including front and rear parking sensors, a rear-view camera, acoustic glass, active noise control, heated front sports seats and Ford's Sync2 infotainment system with 8.0in touchscreen as standard.
Ford is confident that most Edge buyers will opt for the £2000 Lux Pack, which also requires parting with an extra £450 to get the Sony audio and nav system. The additional pack, fitted to our car, adds a number of nice-to-have luxuries such as electrically adjustable, heated and cooled leather front seats, heated rear seats and a panoramic sunroof.
While these options certainly add more luxury, the price of the Lux Pack does seem a bit on the steep side, so over the coming months we'll see whether they are worth paying the extra for. Even with the extras, the Edge doesn't feel in the same league as either its Audi or BMW equivalents, both of which are swathed in soft-touch materials and feel better put together. However, by using the S-Max's interior blueprint, Ford has at least ensured that it's all easy enough to use.
The Edge is certainly nice and comfortable to waft around in, with the 207bhp twin-turbo diesel engine barely audible and the dual-clutch automatic gearbox going quietly about its business. Others have said the 'box feels a bit lethargic and holds onto gears for too long, but I haven't found that to be the case so far.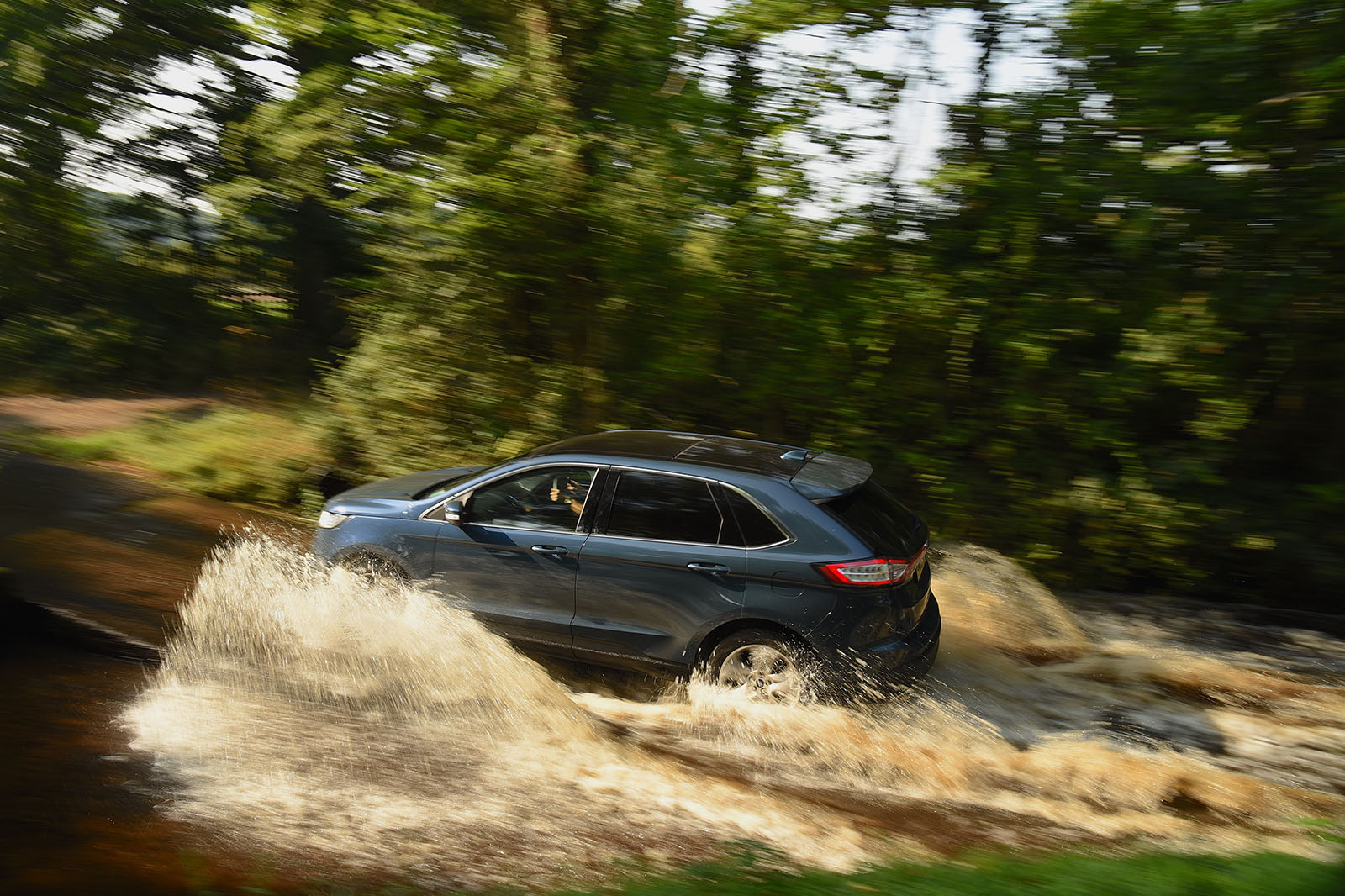 The ride is comfortable and composed, which should make the Edge the ideal vehicle for taking on the UK's broken roads. We'll also be stretching its legs to see if it can match the confidence-inspiring dynamic ability of the smaller Kuga when the roads get twisty.
The most impressive thing about the Edge so far is that while it feels huge inside, driving and manoeuvring it couldn't be easier. It is easy to place on the road and equally simple to park, although its overall length – all 4.8 metres of it – means you have be a little bit careful when choosing on-street parking spaces.
These are early days with Ford's new SUV, and while it has its plus and minus points, there's no denying that it's a likeable car underpinned by solid fundamentals.
Whether it can maintain its appeal against the established upmarket allure of the X3 and Q5 is still up for debate. Over the next six months we're going to see whether the Edge has the mettle to compete with those rivals while holding its own as a functional, practical and comfortable addition to the fleet.
FORD EDGE TITANIUM 2.0 TDCI AWD POWERSHIFT AUTO
Price £34,495 Price as tested £39,215 Options Lux Pack (including leather seats, variable climate-controlled front seats, rear heated seats, panoramic sunroof, electrically adjustable front seats and power-folding mirrors) £2000, adaptive LED headlights £1075, Nautilus Blue paint £545, adaptive cruise control £500, Sony premium audio and satellite navigation system £450, active park assist £150 Economy 38.7mpg Faults None Expenses None
John Bradshaw
Source: Car
Write

a Comment
Fields with * are required