Ford

Mustang performance kits released for V8 and Ecoboost models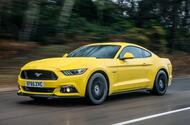 Ford has revealed four performance kits for the Mustang, one of which can add 25bhp to the Ecoboost-engined version
The Ford Mustang now has a range of performance enhancing kits, available for the 2.3-litre Ecoboost and 5.0-litre V8 variants in the US.
Ford's performance pack for the Ecoboost Mustang brings its total power up to 335bhp from 310bhp, but the biggest gain is the 70lb ft leap in torque – with the pack fitted, the Mustang will have 390lb ft on tap. 
Gains at specific points within the Ecoboost engine's powerband are more substantial, with an extra 100bhp now available at 6,000rpm. On average, there's 40bhp more with the pack fitted, and 60lb ft-plus extra between 2,500 and 5,000rpm.
Meanwhile, the 5.0 V8 Mustang GT gets three different performance kits. The mildest of these adds 13bhp and 16lb ft, and the mid-range pack provides 21bhp and 24lb ft. The most potent kit provides a power hike of 37bhp and 5lb ft, and extends the engine's redline to 7,500rpm.
The most basic kit for the V8 engine costs from $599, which is about £487. The most comprehensive of the V8's power kits consists of upgraded air filters, cold air intake, throttle body and an intake adapter from the Shelby Mustang GT350, and costs $2,395 – about £1946.
"Ford Performance Parts is a key part of our product strategy," said Doug White, Ford Performance parts manager. "Mustang is all about performance, and we know our customers look to us for performance options that are both 50-state-compliant and warranty-friendly."
There's no word as to whether the kit will be made available to British Mustang owners. An insider said that even if Ford does decide to launch it here, it likely won't reach the UK market for many more months.
Interestingly, as Ford Performance product development boss Raj Nair predicted back in April, sales of the 2.3-litre engined Mustang are catching up with the V8. In Britain, the Ecoboost model now accounts for around 40% of sales. Nair said he expected global sales to be split 50/50.
Demand slumps for Mustang
The Detroit News has reported that demand for the Mustang has fallen, calling for the Flat Rock Assembly Plant to halt production for a week. 
Mustang sales have been promising in Europe; the car has been successful in the sports car market despite instability in its segment, although the report also claims that Ford has an 89-day supply of Mustangs, where usually it would aim for closer to a 60-day supply, further suggesting that demand isn't matching supply. 
Ford recently reduced its investment in its Bridgend plant – read more here
It's not yet known how the factory's stoppage will affect the UK's supply of Mustangs. Autocar has reached to Ford spokesmen for further comment on the matter.
Source: Car
Write

a Comment
Fields with * are required