Futuristic

Rinspeed Oasis concept revealed ahead of 2017 CES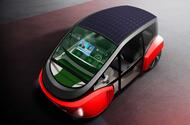 A new self-driving concept that can rotate on the spot will be demonstrated in Las Vegas next year
An autonomous car that can rotate on the spot will be revealed at the Consumer Electronics Show in Las Vegas next year.
The Rinspeed Oasis is a compact, two-seat city car that features solar panels. It's been designed to demonstrate a less conventional method of transport for the future.
The front wheels can turn on their own axis, enabling the car to navigate incredibly tight turns and rotate on the spot to squeeze into parking spaces.
The car's windscreen features virtual and augmented reality technology, where illustrations and data can be virtually placed beside and on objects outside.
Rinspeed boss Frank Rinderknecht has designed the Oasis with car sharing in mind. It features functionality that allows it to be a commute car, a cargo-carrying vehicle for urban parcel services – hence the fitment of a temperature-controlled and code-protected drawer in the rear – and also a pizza delivery car.
There's even a green space for growing flowers or radishes on the dashtop.
More information will be released when the car is revealed at the CES in January 2017.
Read more:
Rinspeed Etos autonomous car revealed at CES 2015
Source: Car
Write

a Comment
Fields with * are required