GKN's

integrated electric drive systems could transform the EV market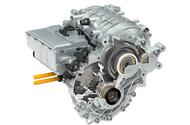 Company's first integrated drive system produces up to 1475lb ft of torque and will make production in 2019
The company that created the all-wheel-drive systems of the BMW i8 and Porsche 918 has produced an innovative electric drive system that can produce up to 1475lb ft of torque.
GKN Driveline, a British engineering firm that can also lay claim to co-developing the Ford Focus RS's drive system, has managed to tightly integrate parts to create a better-optimised, more efficient system.
It's claimed to improve performance and offer better packaging and assembly options for manufacturers.
The first system (pictured) has been developed for plug-in hybrids and will reach the market in a yet to be confirmed production model. It uses a water-cooled electric motor that sends drive through a single speed eAxle that drives the rear wheels.
The system produces up to 87bhp and a substantial 1475lb ft of torque, while measuring in at just 300mm high and 325mm wide, enabling tight packaging within a car's chassis.
It also weighs just 54kg, something GKN claims is around 2.5kg lighter than other comparable drivelines.
"The key reason for its development is cost," said Theo Gassman, GKN's director of advanced engineering and eDrive systems, in an exclusive Autocar interview. "Our system eliminates the connector and the cable between the electronic power and the motor, saving you significant cost."
Gassman explained that other positive knock-on effects include significant improvements to performance and increased modularity.
"[Manufacturers] are pushing for higher levels of integration, and want to have the motor integrated in with the transmission in one housing," he said. "This allows for deeper mechanical integration, but also is important for fuel saving – you can reduce the weight and get better performance, so specific kilowatt per kilo output is better."
Gassman revealed that while these types of systems are being developed in house, they make use of a wide range of parts provided by different suppliers.
"The systems are not just connected to one car, they're each a building block that allows you to have multiple applications," he said. "This [type of adaptable system] is more complex to produce, but the overall development cost is down when more manufacturers use it."
Gassman said that these modular drivelines can be produced for multiple manufacturers wanting a variety of layouts, including rear, front and all-wheel-drive.
"The more functionality you develop into the system, the more you can power it up and support the downsizing of combustion engines," he added. "You can use shared parts in a front-wheel-drive city car and a rear-wheel-drive sports car."
GKN's drivelines will not only be adaptable for multiple applications, they'll also be adjustable to offer different characteristics. "Some cars aren't all about performance," continued Gassman. "They're about fun; they engage with the enthusiasts."
To be as efficient with each driveline as possible, GKN therefore wants to create systems that can be adjusted for both efficiency-focused machines and exciting drivers' cars. "We can make use of limited-slip differentials and torque vectoring to improve the fun," added Gassman.
GKN's track record is impressive, so it suggests Gassman's confidence in this upcoming GKN technology is warranted. The brand is looking to a future where multiple car manufacturers buy different variations of its adaptable driveline. It wants to produce them so car makers can simply integrate them into models with minimum adaptation.
"This technology will directly drive down the price of electric cars," emphasised Gassman. "We are now seeing the second wave of demand for electric cars, so there is a proper business plan and the manufacturers need a clear strategy."
This, concluded Gassman, is where GKN comes in.
Source: Car
Write

a Comment
Fields with * are required