Honda

NSX vs BMW i8 vs McLaren 570S: supercars compared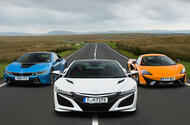 The Honda NSX has been reborn as a hard-hitting hybrid, but can it match the technical brilliance of the BMW i8 or the dynamic prowess of the McLaren 570S?
Here we have it, the Honda NSX, BMW i8 and McLaren's 570S compared.
Animals. That's what's missing from this test. There are three badges on display here and there is not a horse or a bull among them. A decade ago, it would have been all but unthinkable to have what is, let's be clear, one of the most exciting supercar tests of the year without the presence of a Porsche, Ferrari or Lamborghini. I'll grant you that the entry price to this test is lower than many supercar group tests, but know one thing before the reckoning starts: it's none the worse, and no less exciting, for the absence of the traditional establishment.
The Honda NSX, then, is back. And everyone, apparently, knows it. I wouldn't normally mention stuff like this, because it feels self-indulgent and in no way scientific, but in (cough)-teen years of doing this gig, I've never known three cars to garner such a positive reaction. When driving a Ferrari or a hot Porsche 911 for a few days, I'd expect to be called a knob half a dozen times or more. But in spite of, or perhaps because of, the fact that there are no cars here from manufacturers who are traditional targets of resentment and jealousy, during two days in Wales the interest – and positivity – was stratospheric. Put it this way: I have never before been followed for five miles by four lads in a Vauxhall Corsa all to film a Honda.
Maybe it's because two of these badges don't have barriers. If you can afford a banger, a battered old Civic or 3 Series Compact is within your reach. Although a McLaren wouldn't be, and although it will be familiar to you, dear reader, and to me, McLaren still feels very 'new' to the public. 
Besides, it's British and this one is orange, which always helps. It's a 570S, which is one of McLaren's increasing range of entry-level supercars. Costing £143,250, it's only a tad more expensive than the £137,950 NSX, and the similarities don't end there. The 570S's twin-turbocharged, mid-mounted 3.8-litre V8 engine gets 563bhp. The NSX's total output is a not-too-dissimilar 573bhp, although it goes about it in a different way. A mid-mounted twin-turbo 3.5-litre V6 accounts for 500bhp of its total, while a 48bhp electric motor assists at the rear and two 37bhp motors help out at the front. Not all make peak power is made at the same time, hence 573bhp, not 622bhp.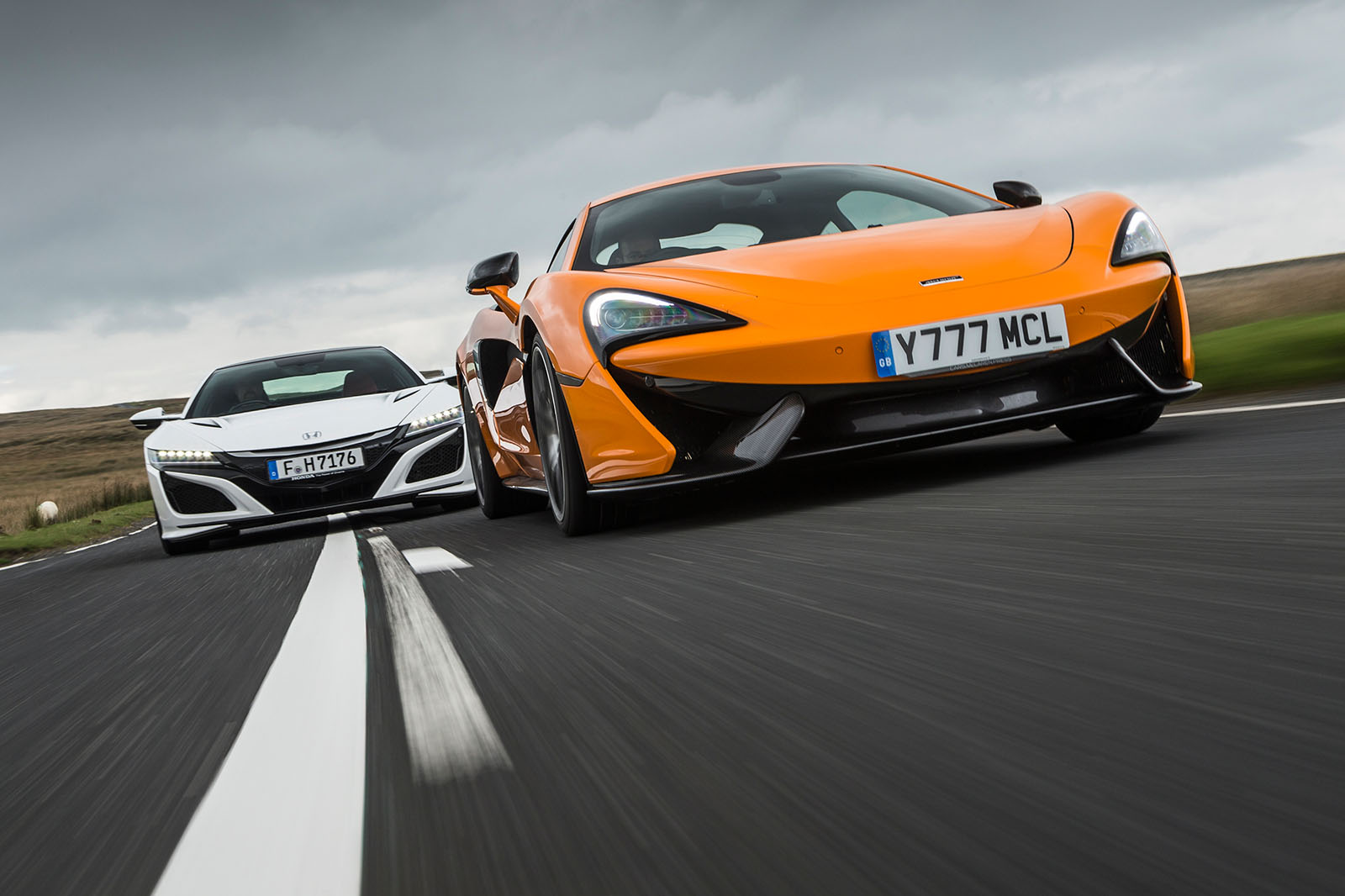 If all of that complexity sounds weighty, it is. The NSX, despite having only two seats and composite bodywork over its aluminium chassis, weighs a claimed 1725kg. The carbonfibre-tubbed McLaren, with mostly aluminium bodywork, tipped our road test scales earlier this year at 1445kg.
And that's without the NSX's battery having the same level of reserves as that of the BMW i8, which is the car most unlike the other two here. In fact, calling it a supercar is misleading – both overselling and underselling it in equal measure. The £104,540 BMW is a plug-in hybrid GT/sports car. On electric power alone, it has a range of about 20 miles. The Honda rarely goes 20 seconds on electric power only; its motors are there for performance enhancement. But even with a 7.1kWh battery to haul around, the BMW weighed just 1575kg when we stuck it on our scales, despite having +2 rear seats, which the other two do not.
That weight is partly because both the i8's body and tub are of carbonfibre composite, and partly because instead of having a grunty V6 or V8 in its middle, it has a 1.5-litre three-cylinder engine from a Mini. That develops 228bhp and drives the rear wheels, and it is augmented by a 129bhp electric motor driving the front wheels. As a result, it develops 'only' 357bhp and appears undernourished in this company. However, given that everyone has a smartphone or dashcam and a YouTube account these days, there's hardly a time on the road when 357bhp is not plenty to be getting on with.
Besides, there's so much more to the i8 than simply its performance set-up. As we concluded in our road test in 2014, there is not a more interesting car on sale today. At least, there wasn't then; the NSX here might change that. The i8 is a fine GT car, with a steady ride quality and a dead-straight seating position inside a cabin that's ensconcing and futuristic yet reassuringly familiar from other BMWs, with great ergonomics and an easy-to-use infotainment system.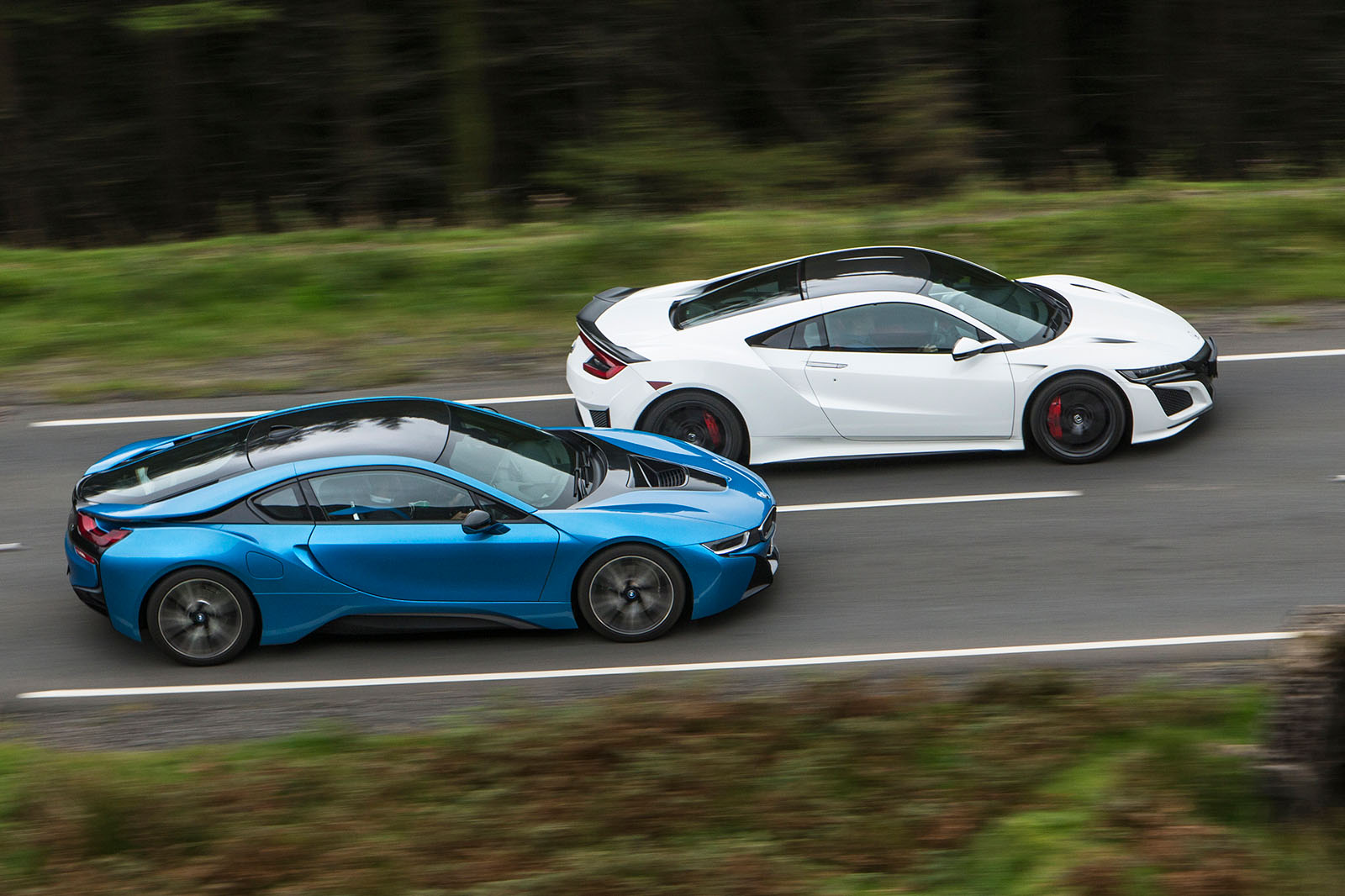 It all serves to make the i8 a fabulous everyday sports car. Its steering is light and remote by sports car standards, but oily smooth and deadly responsive and accurate. The noise of its heavily boosted turbocharged engine is augmented through the speakers, so it sounds gruntier than a three-pot, and it responds that way, too – because as soon as you ask for acceleration, the electric motor at the front provides it while the turbo engine at the back spools. And yet despite all of this electronic smoke and mirrors, the i8 still feels organically involving and natural. As a way to make electric propulsion feel not just completely integrated but genuinely enjoyable, BMW ranks alongside Tesla as an industry benchmark.
McLaren did it pretty well, too, mind, but the P1 cost nearly a million quid. Conveniently for the 570S, it looks a bit like the P1, so passing punters frequently mistake it for a far more expensive car than it is. No, you explain, it only has its 8000rpm petrol engine to be getting along with, but this is no great hardship.
And it isn't. McLaren puts the 570S into its Sports rather than Super Series of cars, but there's nothing un-supercar about it. Even its idle is loud and angry, and although its low-speed ride has a more than acceptable level of compliance, and visibility and the driving position are spot on, you're always aware of the 570S's latent purpose. Even around town, the steering, still hydraulically rather than electrically assisted, bristles with lovely, subtly filtered information. The (optional) fixedback bucket seats this example came with hold you upright and grip you firmly, and the steering wheel can be brought rally-car close.
Given that it weighs so much less than the Honda, it's no surprise that in this company the 570S feels the most agile and is the most responsive to steering inputs, even though, at 2.5 turns lock to lock, it wants more than half a turn more than the Honda to go from one stop to the other. On country roads, it rides bumps and cambers with firmness but no harshness, and with phenomenal levels of body control. The 570S does without the fancy hydraulically linked suspension of the more expensive 650S but still breathes easily. I'd love to see how quickly the wheels work to hold the body this flat. When crests, dips, bumps and tree roots finally upset the road to the extent that it troubles the McLaren's traction, in any of its chassis/ powertrain modes (there are various and they remain too complicated to access) the 570S's traction and stability control is a model of discretion. Crucially, all the while, it feels like a supercar. It goes like one, stops like one, sounds like one and, by gum, it corners like one. It's an invigorating, honest, immersive, analogue experience.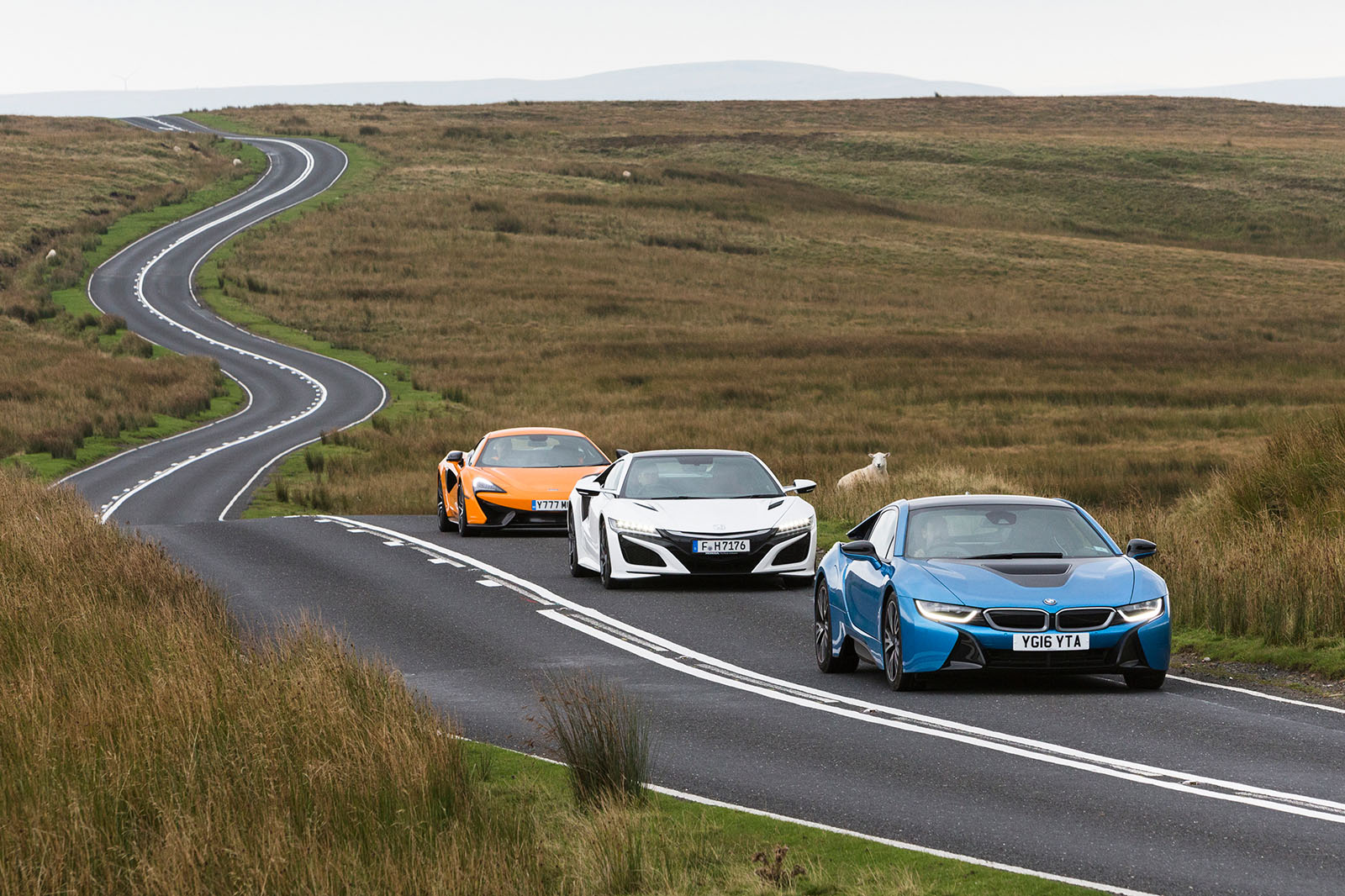 Is it unfair to expect the Honda to be the same? This is a car designed mostly in the US and part of its remit is to appeal to the wealthy retired people of Palm Springs as transport from house to golf club. So it has conventional doors rather than dihedral ones like the other two cars, and low sills (but a low roof, too), and the widest, most accommodating seats of the three. You can see out well: it has a low scuttle, and although the mirrors make it extremely wide (2217mm), the 1940mm-wide body is only a bit bigger than the 1915mm 570S's, so it never feels unwieldy on the road.
The driving position is sound, although it's less racy than the McLaren's and more airy than the BMW's. Interior materials are fine, but the abundance of shiny plastics makes you aware there's more Japan/US than Europe in here. A big dial that would be better suited to assisting the hopeless infotainment touchscreen shifts between the drive modes. The NSX starts in Sport mode, but Sport+ and Track are a twist in one direction, Quiet in the other, altering between two damper settings, two steering weights and even more powertrain/ gearshift settings. The dual-clutch automatic gearbox has nine ratios to the McLaren's seven and BMW's six, but ninth is very long and first won't select until you're stationary, so really you get seven to punch along with.
Fail to use them all vigorously and the NSX just feels pleasingly brisk. Asking a 3.5-litre engine to produce 500bhp means there's some turbo lag, but the electric motors mask it well, to the extent that acceleration is linear and smooth. Aside from a little brittleness around town (and a dozen phones pointing at you at all times), the NSX makes a convincing daily supercar. Its steering, 1.9 turns between locks, is far less hyperactive than a Ferrari's rack of similar speed, and it's medium weighted with good self-centring. The brakes are by-wire (to regenerate charge in the batteries) but have a similarly reassuring, natural feel.
However, this is a supercar test, remember. So feel free to ask more of the NSX. If you do, it delivers. Honda's development team had surprisingly little experience of developing sports cars but, even so, they've done a magnificent job here. Neither suspension mode is too harsh for the road, but the softer setting is better on British back roads. Body control is terrific, and because there is torque going to both front and rear, traction is magnificent.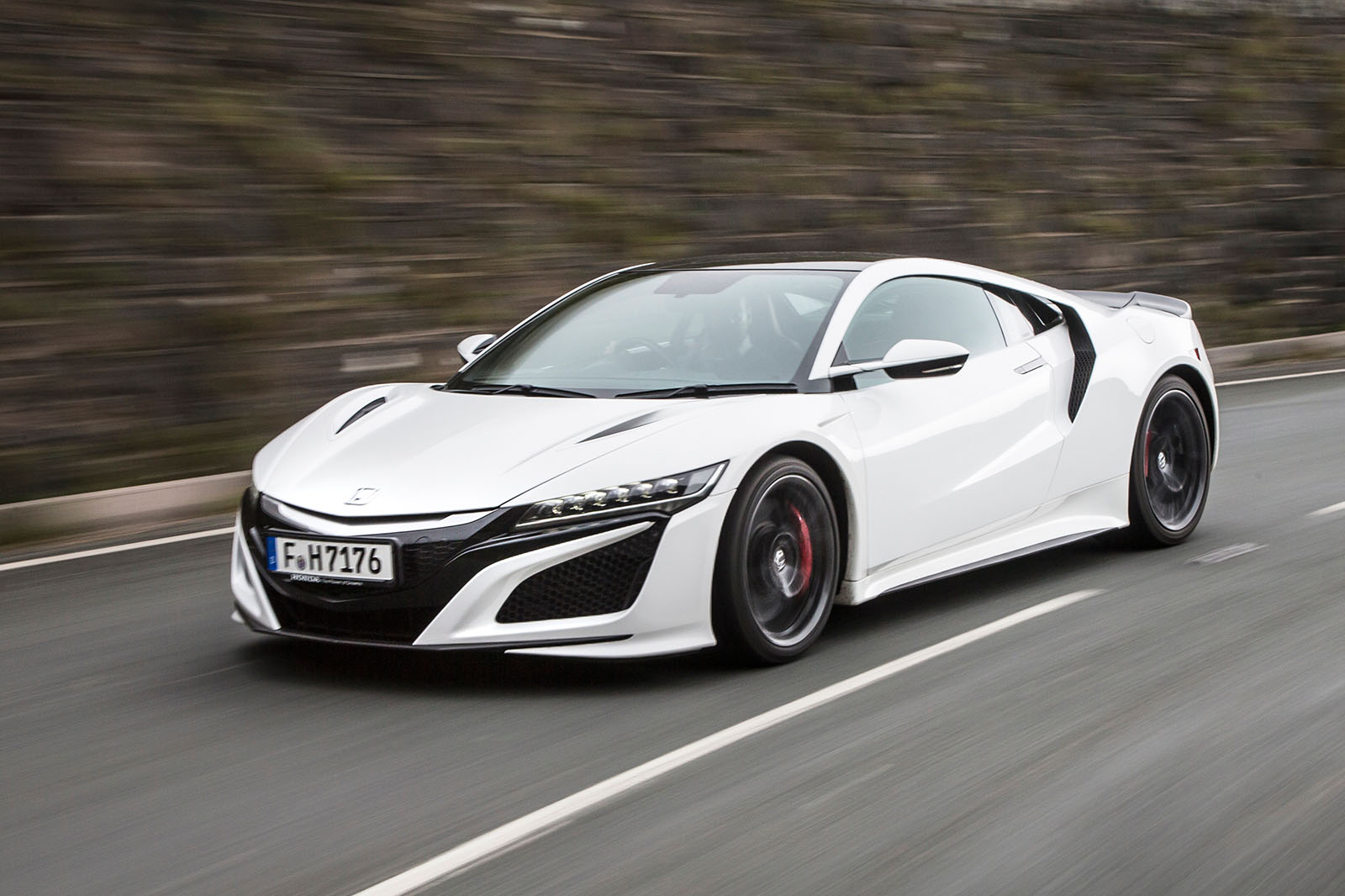 At lower revs, the Honda feels less urgent than the McLaren – blame the kerb weight for that one, I suspect – but if you get towards the V6's 7500rpm redline, it's eye-poppingly fast and manically responsive. There's moderate feel to the steering – more than the BMW gives, less than the McLaren – and handling that never strays beyond engaging and grippy, slightly rearbiased but never lurid like an Aston Martin or Mercedes-AMG might be. It's incisive and rewarding, and only unexpectedly fast throttle response on occasion (likely an electric motor giving you what it thinks you want) makes it feel anything less than natural and organic.
Where, ultimately, does it sit in this company, then? Both the 570S and NSX feel more serious driver's propositions than the BMW, but that's no criticism of the i8 in itself. The i8 is still a uniquely appealing, uniquely fascinating car, and cheaper to buy and run than both of the others. That it competes as a driver's car at all in this company, given that it has 20 miles of electric range to lug around with it, is a triumph.
But the Honda and McLaren are sports cars of the highest order. That, ultimately, the McLaren is more engaging, exciting, urgent and agile, that it feels more 'supercar' than the NSX, gives it the win in what is, after all, a sports car group test. But the gap is small and there are a lot of times when the NSX is at least as appealing. Times when you'd have a strop on a back road, a long cruise on a motorway, and get out at the end knowing you'd driven one of the most interesting, engaging and capable sports cars of modern times. You'd get out, look back and have not one iota of regret about the choice you've made. No question, the NSX is back.
Source: Car
Write

a Comment
Fields with * are required