Hot

Seat Ateca Cupra sighting suggests 300bhp model is on way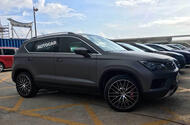 First sighting of a pepped-up Ateca development car suggests the Cupra will land next year
A hot Seat Ateca Cupra model is being developed for launch in 2017 if this sighting of a development car is anything to go by.
The pepped-up SUV, spotted by Autocar at a Seat facility, has Cupra wheels, large brakes, quad-exit exhausts and more aggressive bodywork. Despite the sighting, Seat is yet to confirm the model's existence, but sources are confident it's on the way and will be powered by the 286bhp 2.0-litre petrol engine used in the Leon Cupra.
It is not clear if this engine will be tweaked to deliver different performance characteristics. In the four-wheel-drive Volkswagen Golf R, for instance, the same engine makes 296bhp. A 0-62mph time of 6.5sec is expected for the Ateca Cupra. A glimpse of the car's rev counter suggests it'll have an 8000rpm redline.
The standard Ateca is on sale now and will be joined by a smaller SUV this time next year and potentially a seven-seat SUV around 2020. However, Seat's bosses were believed to be debating how to extend the reach of the Cupra brand. This latest sighting confirms the idea has progressed significantly.
The Ateca is expected to become the firm's best-selling model. With a mooted price of around £35,000, though, a Cupra version would become Seat's most expensive model.
"The fast SUV market is evolving quickly at the premium end, but in the mainstream, there is no real credible contender," said an insider. "That opens the opportunity for Seat to take leadership and to really differentiate itself from the opposition in the crowded SUV market. An Ateca Cupra could have a very significant halo effect for the rest of the brand."
The Ateca is thought to be the most likely of the three SUVs to be sold as a Cupra because it will vie for sales in the most hotly contested section of the SUV market.
Reports had suggested the Ateca Cupra could appear as soon as this year's Paris motor show, but it's thought that idea was binned in order to stop the Cupra from distracting from the mainstream model.
In addition, demand is said to be outstripping supply for the Ateca in Europe. This indicates there is no pressing need for a halo model to be launched. As a result, the Ateca Cupra is being mooted for an on-sale date in late 2017.
Source: Car
Write

a Comment
Fields with * are required