How

Flying Doctors repair Lamborghini Aventador monocoques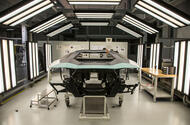 The Aventador uses an all-carbonfibre monocoque
The carbon tub is critical to the Aventador's structural integrity, so specially-trained engineers use a system inspired by aerospace to fix it
If you crash your Lamborghini Aventador, chances are the repair bill won't be cheap.
Not only is much of the bodywork made from carbonfibre, but the monocoque on which the whole car is built is made entirely from the stuff. Damage this and the structural integrity can be compromised, and in a 217mph supercar, this is bad.
But it turns out there are enough wealthy Aventador owners out there who occasionally fire their V12 supercar into walls, trees or shop fronts for Lamborghini to offer a special repair service to get these injured cars back on the road in short notice.
The company has six so-called Composite Repair Flying Cases (giant black boxes filled with essential tools for a carbonfibre repair job) located across the globe near key markets, as well as a team of carbonfibre repair specialists based in Italy but primed to fly out to wherever needed. The Middle East and Asia are, apparently, the most frequently visited regions.
Carbonfibre is notoriously complicated to make, and also rather expensive to produce, so repairing a tub made of the material on location is both difficult and costly. "Try doing it in the Sahara heat," one engineer says. "The work is mentally straining anywhere but especially so in 50 degrees."
To make the process slightly easier, Lamborghini has developed its own ISO approved system to examine damage, design a repair, apply it and then test it, so that it's practical and safe to carry out repairs in Lamborghini centres of far reaching locations with little more than a flying case of tools.
Lamborghini's repair engineers have also been trained by Boeing, which uses a similar process when repairing aerospace carbonfibre parts, and become genuine Flying Doctors – a label given to Boeing's qualified composite material repair specialists. Once at this level, Lamborghini's engineers have been able to fix an Aventador with a damaged tub in as little as 10 days.
How do they do it? Autocar joins the Flying Doctors at Lamborghini's Bologna base to find out.
First, the damage is analysed using a thermograph to look at the outer surface in detail and understand where the damage is. "We then use ultrasound to look as deep as 15mm beneath the surface to see how far reaching the damage is," our Flying Doctor explains.
He explains that if the damage can't be unrepaired in a small area, an entire section of the monocoque might need to be replaced, meaning it may have to go back to the firm's Bologna factory. "We recently cut an entire side section off of a car that had slid into a post," our doc continues. "It's amazing how much you can replace, but it's an expensive process."
A lucky escape for an Aventador owner would therefore enable an on-the-spot fix, where a repair can be made to a smaller area of carbon. To do this, the engineer will cut a hole in the centre of the damage and sand back the surrounding area so it's as thin as one layer.
They'll then add a layer of resin that's in a sticky but solid state to the surface, before applying eight layers of pre-pregnated carbonfibre laminates on top, one by one and each carefully to avoid any air being trapped beneath. While it sounds simple, this process takes a long time, and if the section of monocoque being repaired features tight angles and narrow openings, it can also be incredibly fiddly. This is what often makes repairing an Aventador more complicated than an aeroplane, so patience is key here.
"Even the smallest of repairs can take all day," another Flying Doctor says wearing a wry smile. "You must make sure you prepare everything carefully otherwise one small issue means you could have to start it all again…"
Patience is even more essential in the next part. The engineer will mount a metal plate on top of the repaired section, attach wires evenly across its surface and link them to a portable hot bonder. This heats the carbonfibre up to as much as 120 degrees on a pre-determined cycle, curing the resin and solidifying the repair. The engineer must monitor the repair and temperature gauges for two hours. Any mishap and here and, you guessed it, they'll have to start the whole repair again.
Do it successfully, however, and the repair is essentially complete, but often, excess resin needs to be cleaned up before the car can be rebuilt around the stripped section of monocoque again. No big deal on hidden sections, but areas that are still visible once the car is rebuilt take longer to do properly.
So there you have it. Repairing a damaged Lamborghini Aventador might be costly and complicated, but if carried out by a Flying Doctor it needn't injure the car for the long term. And if the seemingly endless supply of heavy-footed rich kids are anything to go by, Lamborghini's Flying Doctors will face no shortage of damaged Aventadors to patch in years to come.
Read more:
2017 Lamborghini Aventador S revealed with 740bhp
Source: Car
Write

a Comment
Fields with * are required