Jaguar

in Formula E: ready for the big leagues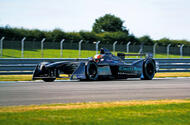 Jaguar's entry into Formula E didn't set the team off to the flying start that some may have hoped for, but an influx of mainstream manufacturers may be exactly what Formula E needs
Jaguar's entry into Formula E is arguably the biggest thing to happen to the championship – yet – as the series enters its third year of existence.
Riding the crest of Jaguar's international success in the road car market, its entry into Formula E as it readies its electric vehicle offensive has kicked off what looks to be an avalanche of large manufacturers into Formula E.
Read more about Audi's progress in Formula E here
It's very likely that this OEM influx into Formula E will also usher in a new fanbase, as brand fans from across the world tune in – myself included – as the all-electric race series comes into its own.
Jaguar's Mitch Evans and Adam Carroll climbed the table throughout the rac e, despite NextEV driver Piquet's dominance through the first half, ahead of the car changes the two looked almost certain to climb into a podium position.
Eking out every last percentage of power, both Jaguar drivers took it down to the last two percent before swapping, but Evans bombed out during his car switch. Carroll had climbed five places over the course of the race by the final quarter.
Will Mercedes join other manufacturers in Formula E? Find out here
Jaguar may not have entered the series in the blaze of glory and ferocious prowess that fans may have been hoping for, but its presence in Formula E certainly did not go unnoticed. This early on, Jaguar could have done far worse than it did (although Mitch Evans may disagree).
It's quite fair to argue that Formula E is the most relevant series in motorsport today. Feel free to disagree; comment below to tell me why I'm wrong.
BMW is also set to join the Formula E ranks – find out more
The most notable factor of this is the leaderboard, which as well as displaying race positions, shows the battery percentage of each car. It doesn't need repeating that battery range is the most discussed topic in the story of the electric vehicle, but if Formula E doesn't accelerate EVs' range at this crucial stage of their development, little else will.
Many may argue that it doesn't need the development kick which others are looking for with their Formula E efforts, but Tesla, uninvolved in a race series full of its upcoming rivals as well as what will soon be the rest of the premium segment, is conspicuous in its absence. 
Source: Car
Write

a Comment
Fields with * are required