Lamborghini

Urus SUV to be brand's first and only plug-in hybrid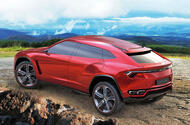 Lamborghini's R&D boss has confirmed its new SUV, on sale in 2018, will be the only plug-in hybrid across the company's range
The Lamborghini Urus SUV range will feature the brand's first plug-in hybrid, according to R&D chief Maurizio Reggiani. It will be the only hybrid in the Lamborghini line-up and be offered alongside a twin-turbo 4.0-litre V8 Urus.
Lamborghini's first SUV since the LM002 (1986-1993) is likely to make its first appearance next year and go on sale in 2018. Like the Audi Q7 and Bentley Bentayga with which it shares a platform, the Urus will also feature 48V-powered active anti-roll suspension.
"The design [of the Urus] is pure Lamborghini," said Reggiani. "It has evolved considerably since the [2015] concept and the finished car is much better inside and out. "Turbocharging will be "completely mandatory" for the Urus, he said, because as an SUV it needs huge torque.
"A supersports car is completely different; you need the responsiveness of the engine, to feel the spark of every cylinder. We will keep normally aspirated engines for our other models. They are still the best choice."
Reggiani said Lamborghini will concentrate its R&D efforts on power, weight and aerodynamics, because "handling is a function" of these. "We want to be a leader here and have a chance to change the rules of the game," he added, alluding to new, as yet undisclosed developments.
Reggiani said he sees a strong distinction between the firm's four-wheel-drive models and the growing number of rear-wheel-drive variants. A modern electronic chassis control system like that of the Huracán LP580-2 is no substitute for the ability of four-wheel drive to transfer power to the road, he explained. Therefore, Lamborghini will continue to offer both driveline systems. 
Source: Car
Write

a Comment
Fields with * are required