Lexus

prepares production UX and seven-seat Range Rover rival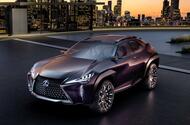 A UX entry-level SUV will come, as well as a seven-seat version of the RX, as patents are filed by parent company Toyota
The Lexus UX is on its way as a production car, patent files have shown.
A new entry-level SUV based on the Paris motor show's UX concept, which will share the same name, will replace the CT hatchback in the Lexus range, with a small SUV which will sit underneath the RX and NX SUVs.
Patents have been filed for a range of variants under the UX name, including the UX200, UX250 and UX250h. The small numbers signify the nature of the engine, and are of a similar range to the CT200h.
The styling of the production UX is expected to be less extreme than the concept, but will still maintain the spindle grille and angular styling which Lexus has adopted with its current generation of cars. Like the concept, the engine range suggests both traditional internal combustion engines as well as a range-topping hybrid.
Speaking at the Paris motor show, Johan Van Zyl, President and CEO of Toyota and Lexus in Europe, said: "This UX concept is all about anticipation and Lexus' unparalleled knowledge in the SUV market. We are ready for the next chapter of a bolder [looking] Lexus SUV – the UX concept."
Lexus is also looking to broaden its large SUV range with the seven-seat RX350L and RX450hL models. The niche is currently unexplored by Lexus, so these variants on the RX large SUV will provide a rival to the Volvo XC90, Mercedes-Benz GLS and upcoming BMW X7.
Toyota boss Karl Schlicht said: "We would see other SUV developments before we'd see another coupe – that's my guess. Once the coupes have done their job, we need to further refine the SUV range."
The RX L range is expected to be shown later this year, before going on sale in 2018. The UX is also expected within this timeframe, as Mercedes-Benz launches the facelifted GLA, which will be one of the UX's key rivals.
A Toyota spokesman could not comment on the patents, as per procedure at Toyota regarding all future products. 
Source: Car
Write

a Comment
Fields with * are required