McLaren

570GT vs Volkswagen Golf GTI vs Mercedes-Benz E-Class Estate: road test of the year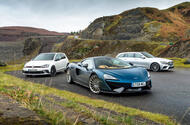 McLaren 570GT vs Volkswagen Golf GTI vs Mercedes-Benz E-Class Estate
Tasked with selecting their favourite car of 2016, our road testers each came up with something quite different, before heading to Wales to make their case
What a year for the car.
The past 12 months have produced a right-hand-drive Ford Mustang, a new, turbocharged generation of Porsche 911, the scandalously pretty Aston Martin DB11 and even an electrified –and electrifying – follow-up to the Honda NSX. What better way to celebrate 2016 than by simply picking our personal favourites and going for a two-day spin? We even found a Christmassy hook to hang it on, locating a Nasareth and Bethlehem, tiny villages both, at each end of Wales for the road test triumvirate to drive between.
In a year that variously featured the Ferrari 488 GTB, the Porsche 911 R, the quickest Tesla yet, the most powerful Caterham we've seen and the very first Bentley SUV, the contenders for such a pilgrimage were less than clear-cut. Naturally, we ignored all of the above, and thus we find ourselves in a car park on the foggy slopes of Snowdon with a Volkswagen Golf GTI minus its back seats, the spongier version of the McLaren 570S and probably the least popular variant of the new Mercedes-Benz E-Class Estate.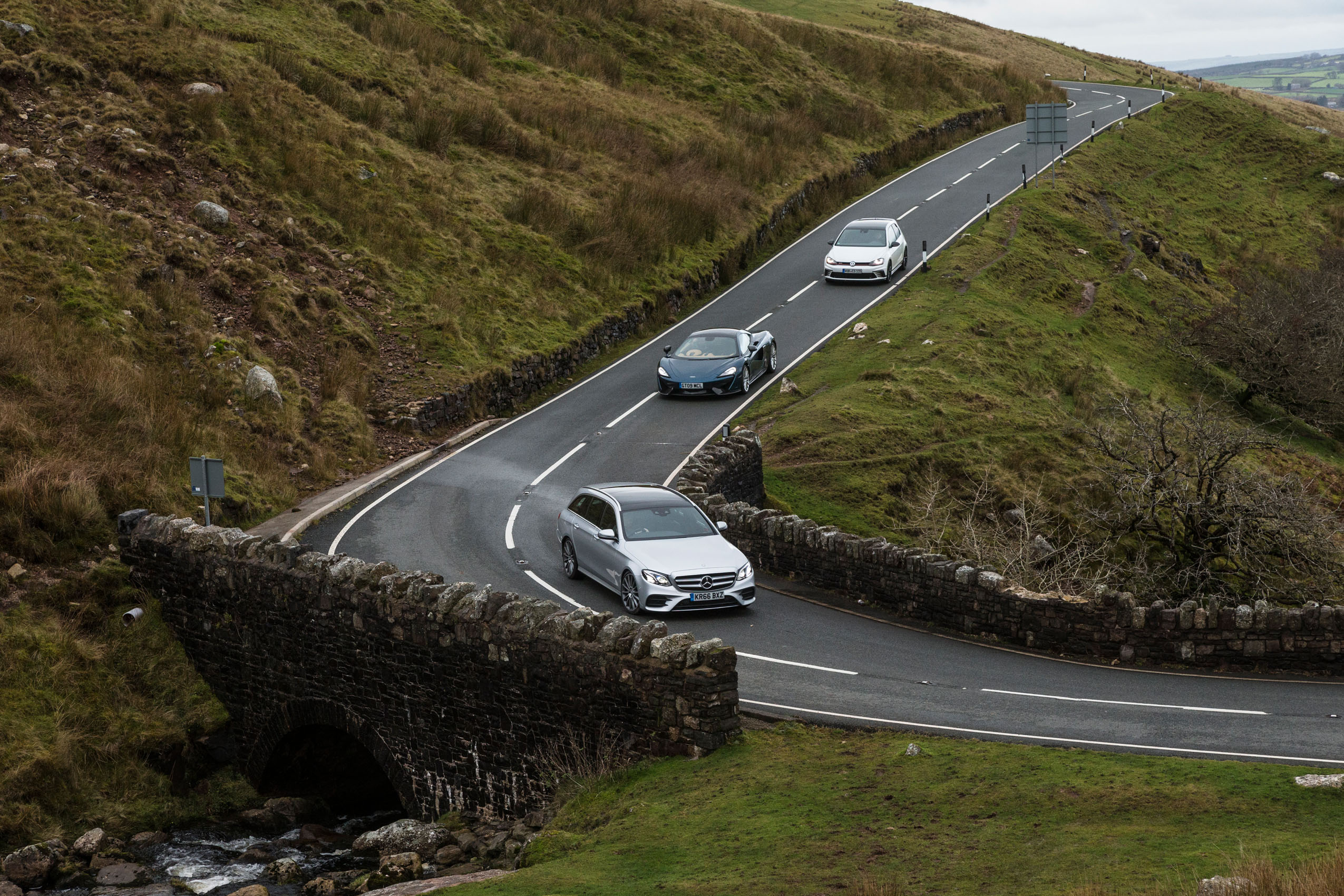 Wise? Well, possibly not so much. But we'll make up for it with pluck – which is a good thing, considering that our arrival in north Wales has coincided with Storm Angus, a torrential weather front so brutally in its swing that we've started shooting photos on Snowdonia's Pen-y-Pass in rain that is firing horizontal. I remain unconcerned, because I alone had the good sense to bring a car with a driven axle at the front – and one made by Volkswagen to boot, the firm second only to Land Rover at placing you in an apparently impenetrable bubble of dependability.
But to evoke that same sensation in a left-hand-drive Golf GTI with 306bhp on tap is no mean feat, and just one of the many reasons why the limited-edition Clubsport S was my personal favourite of 2016. The steering wheel's cock-eyed placement is temporary, of course; it's just that the first of 150 right-hand-drive examples bound for the UK were still to arrive when Nasareth beckoned.
Consequently, VW once again dispatched car 000 of 400 – the very machine we road tested back in August. Only the tyres have changed, Volkswagen wisely deducing that track-focused Michelin Pilot Sport Cup 2 rubber is probably the last thing you need at the fag end of the year in Wales. Consequently, our Golf now wears Pirelli P Zeros, and remarkably decent they are too – even when confronted by the 20mm of water that would be standing if it weren't being whipped away from a peak long since lost to low cloud.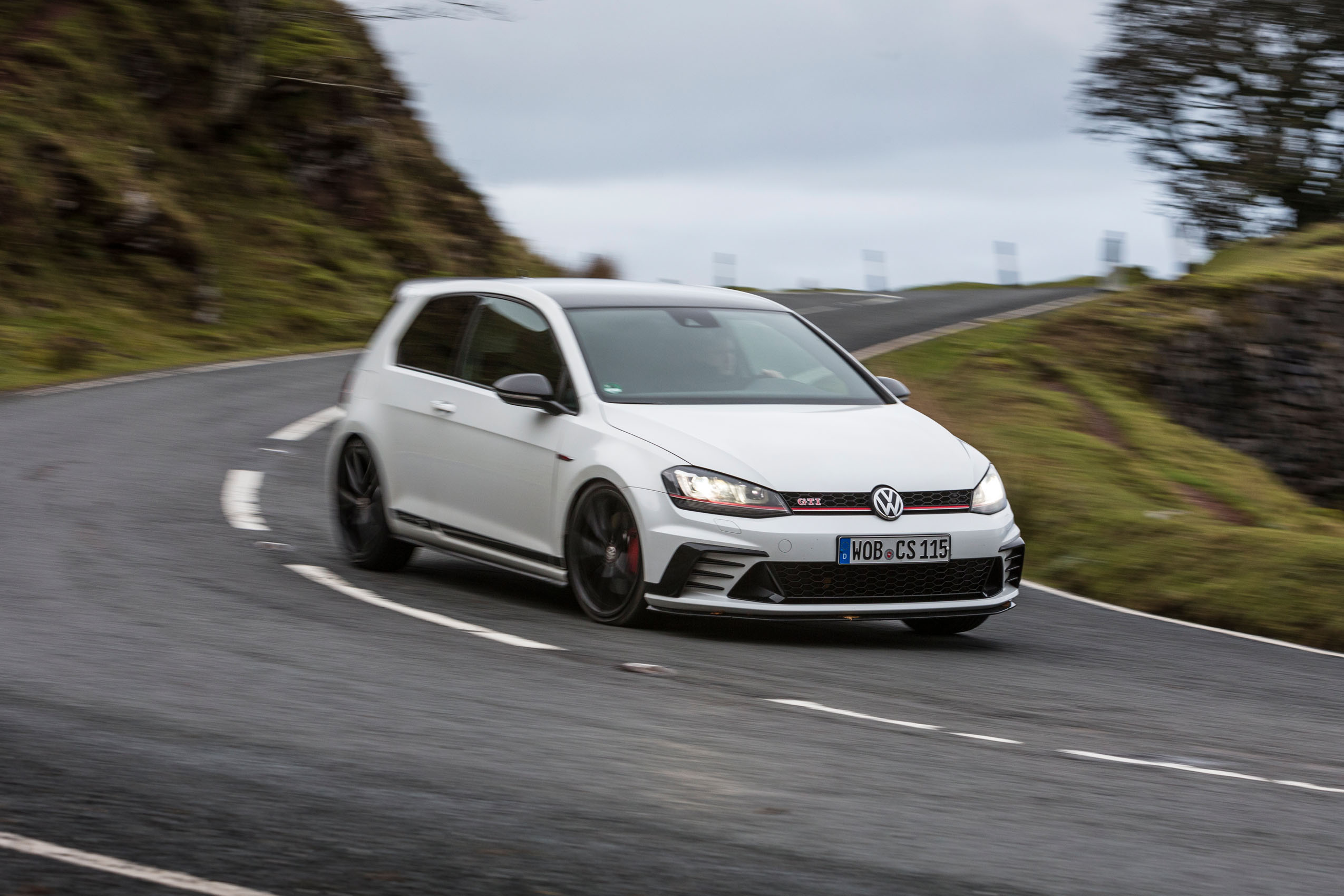 Dwelling on the tyres' interaction with the road becomes a constant in conditions such as these, but in the Clubsport S's case, that intimate relationship defines so much of what is extraordinarily good about the car. For a start, the way it deploys the 2.0-litre turbo engine's power – slightly more of it even than in the Golf R, which gets to share it between both axles – is near to revelatory. There's almost a total absence of torque steer, and when the wheels do occasionally spin under duress, it is in the cheerfully organic way they might if only 206bhp were being transmitted to the floor rather than the highest output yet fielded by a Golf GTI.
This facet alone, it being a product of the S's finely fettled front end, would make the model seem properly sorted. But of course it is simply one wholly developed characteristic among many, the net result being a hot hatch not only assuredly brilliant in the usual snatched moments of fevered activity but also captivating in the much more mediocre business of moving pleasantly and easily between A and remote B.
The five hours spent with the Golf prior to Snowdonia were testament enough to that, where it benignly conquered the M25, the whole of the M40, the M42, the M6 Toll and the M54 in the uncannily calm and crisp manner of any other powerful, high-spec Golf. Then, with the day called early due to snapper Luc's meteorological waterboarding and only the hotel to get to, some 70 miles south, the VW flicks a switch and immediately begins pummelling at the pleasure centres with throb and pop and clever gumption.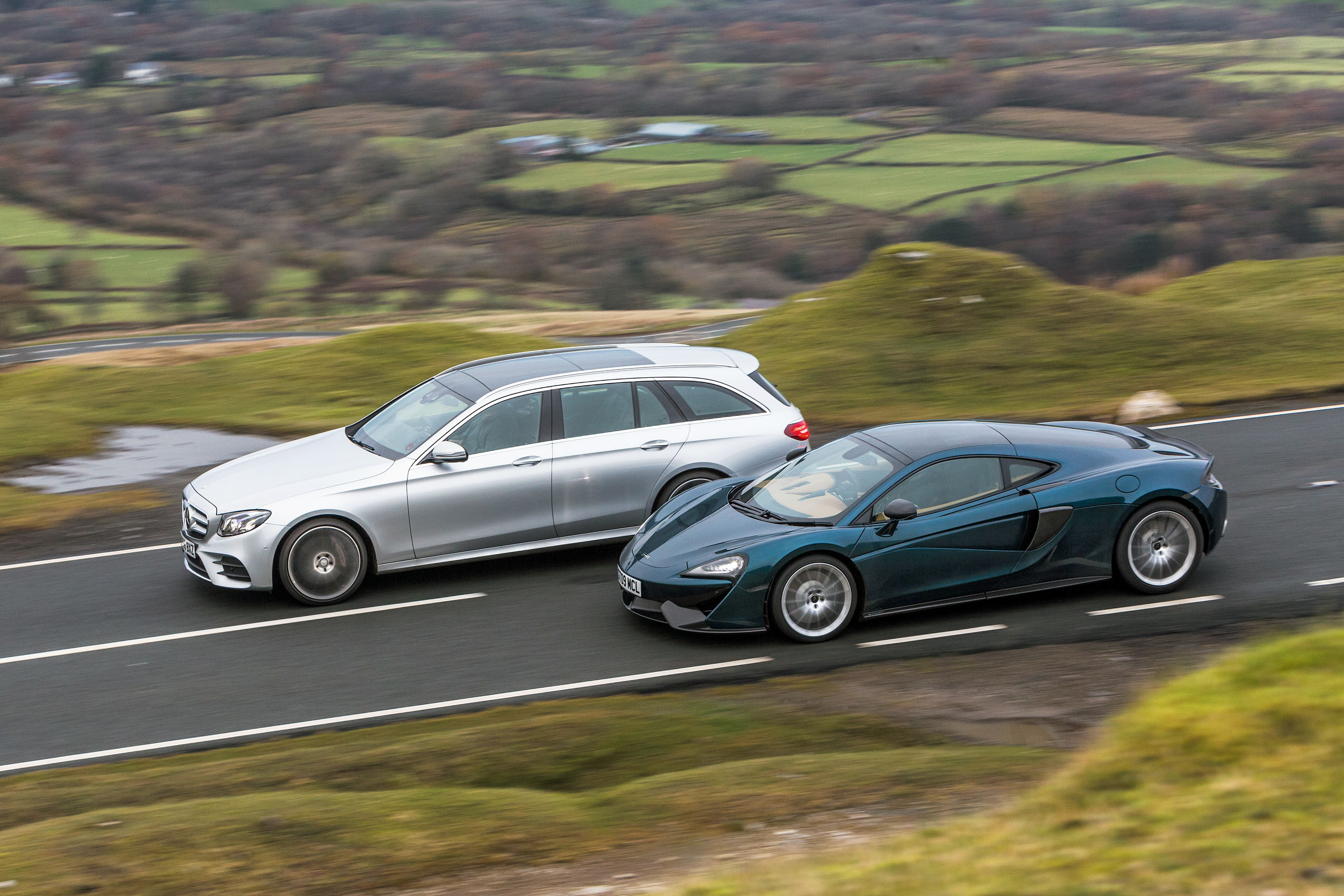 This occurs in a literal sense by engaging the car's 'Nordschleife' setting (coyly hidden under Individual among the usual drive modes), a special state of tune that combines the engine's maximum attack posture with the lithe steering and suspension set-up required to deal with the Nürburgring in record-breaking time. Unsurprisingly, this mixture of fizzing turbocharged four-pot spontaneity and terrifically supple wheel control proves to be just the thing for tackling 90 minutes of winding Welsh A and B-roads, and while the Clubsport S might not possess the tactility or virtuosity of the dearly departed Renault Mégane Cup S, it is more pliable, less reactive and probably a bit quicker for it.
The thing that clinched it for me, looking back over a year of driving the great and good, was that the car's innate Golf-ness remains so obviously intact. Yes, the back seats and spare wheel have gone in the name of weight loss, but once you've ticked the no-cost option of putting the climate control back, you've got yourself that perfect thing: a useable, comfortable, refined hatchback with a 2.0-litre rocket motor attached. 
By the end of the first day I'd spent nearly 11 hours in it, with another 12 to go the next, and none of them induced discomfort, fidget, boredom or a desperate compulsion to get out or even swap. By the time I gave it back, only the jealousy of not being one of the 150 souls on the waiting list endured. What a car.
LEG TWO – ABERYSTWYTH TO LLYN BRIANNE
Do you know what you're looking at when you're looking at the cars of Matt Saunders and Nic Cackett? You're looking at cars of men who order eggs Benedict for breakfast. That's a rampantly exciting breakfast, that is. That's a breakfast of exotic and expensive flavours. It involves cayenne pepper and lemon juice. It's a breakfast that says: "I'm going to sit in a conference hall today. I've got a European hatchback or estate car outside. And my life needs revving up a bit."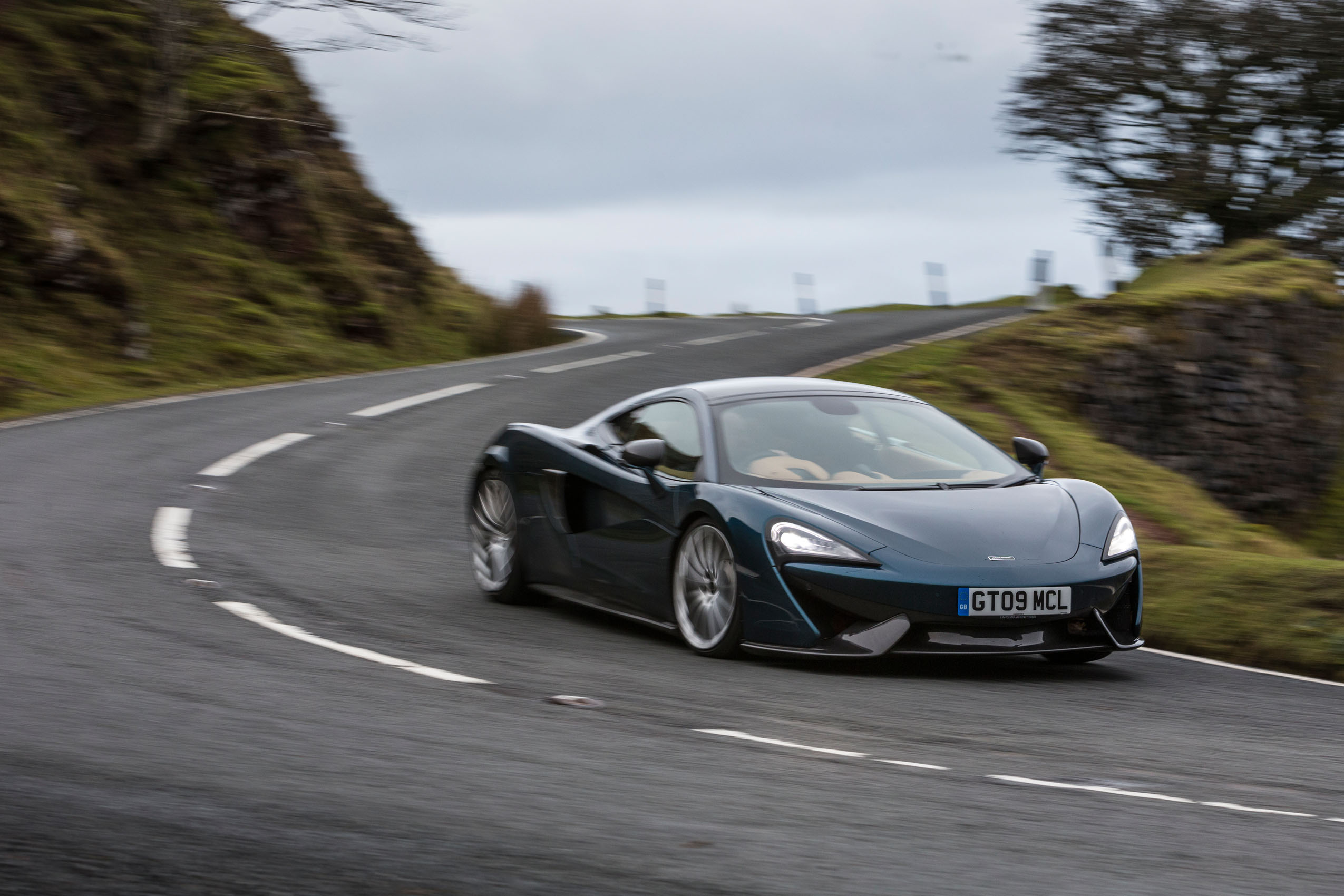 Me? I take porridge, because outside is a McLaren 570GT and I don't need an exciting breakfast to compensate, thank you very much; I just need one that slow feeds energy for a long trip ahead. You might think that a McLaren – even one wearing a GT badge – would be tiresome on a trip that, as Cackett has noted, will mean at least 12 hours behind the wheel for two consecutive days. And, yes, there are some cars, even GT cars, in which my back would agree with him – but the McLaren isn't one of them. I've always known the driving position is good in a McLaren, but only when you subject it to a non-stop five-hour commute do you realise precisely how good it is. It's dead straight, with a brake pedal that falls easily to either your left or right foot, as you prefer – and I don't think there's a car on sale with a more adjustable steering column (electrically so here).
The seats, electrically adjustable as standard and heated, obviously aren't as wide or armchair-like as those in a Mercedes-Benz E-Class, but the fact that I don't for one moment want to get out of the McLaren and into the refinement of the Mercedes tells you quite a lot about just how welcoming the 570GT is.
Unlike yesterday, today is – miraculously – pretty dry. It's still cruddy on the ground, but as we head to the coast, it almost looks like it's going to be a nice day. For Wales. In November. We cross a small bridge and drop down into a gravel car park overlooking the harbour. The drop would ground a lot of supercars, but there's a standard nose lifter and the GT eases in with no bother and without causing too much drama, thanks to an exhaust that's quieter than that of the 570S.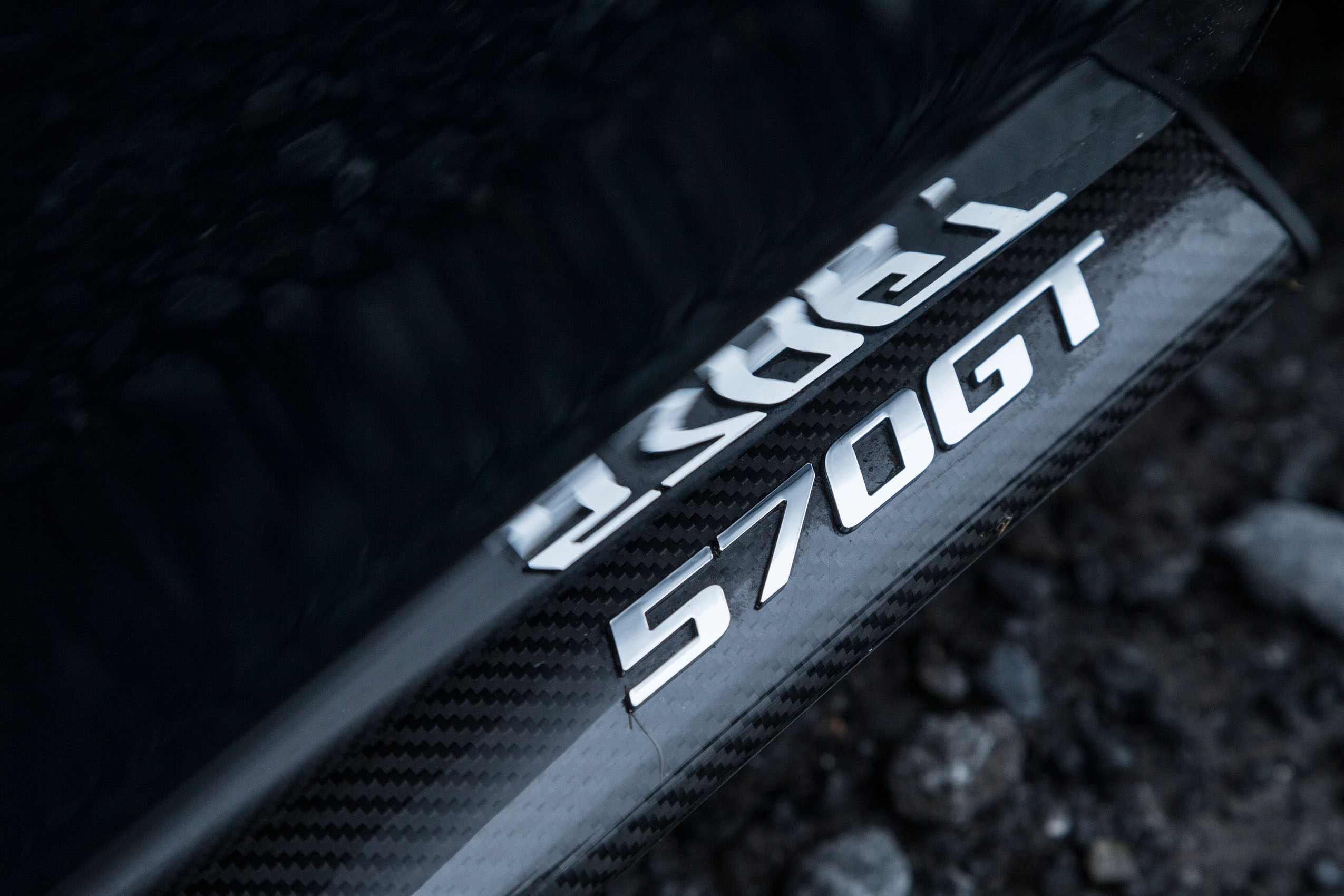 The thing about doing photo shoots in public places is that sometimes supercars can open doors for you and sometimes they just cheese people off with their noise and brightness, or their terrible visibility and turning circle, meaning you get in the way of farmers and locals on country roads. A discreet hatchback or estate can make your life easier if you don't want to draw attention to yourself, but the GT is exotic enough to interest those in the know, yet in this colour and making this little noise, it's subtle enough to pass under most radars.
What the McLaren doesn't have is a terribly intuitive sat-nav system, so after leaving Aberystwyth I follow Saunders towards Llyn Brianne dam, where we think there'll be the opportunity for a dramatic photograph. Cackett is meant to lead us, but he hares off, because the Golf is unable of going at anything other than Warp 10, but then he nearly runs out of fuel, so Saunders and I go in convoy along some single-track roads that are, to put it bluntly, atrocious.
They are not the ideal test of a McLaren, even this one, but with springing and damping that's 15% softer than in a 570S and steering that's two and a half rather than two turns between locks, you can make lovely, unruffled progress. Doubtless Saunders is feeling waftier and less involved in the E-Class, but the 570GT is sensationally smooth across poor surfaces yet has brilliant body control and composure, terrific steering and brakes and an engaging engine and gearshift. Plus enough space for a jacket.
As a piece of engineering, the McLaren is second only to one thing in this company – by which I mean the dam and reservoir at Llyn Brianne, a man-made lake that doesn't occupy a vast acreage by Lake District standards but, because of the vast peaks and drops around you, is just as impressive. It's up to 83 metres deep, holds 60 billion litres of water and houses turbines to power 6000 homes. Not even the McLaren generates that many kilowatts (although there's precisely no chance of using all it does have), but as we start our next leg, there's still no car I'd rather be in: the one that needs no added excitement.
LEG THREE – LLYN BRIANNE TO BETHLEHEM
There can't be much farther to go: 40 or 50 miles, tops. But here, in remote, single-track Wales, distances don't exactly fly past the side window quite like they might on a motorway.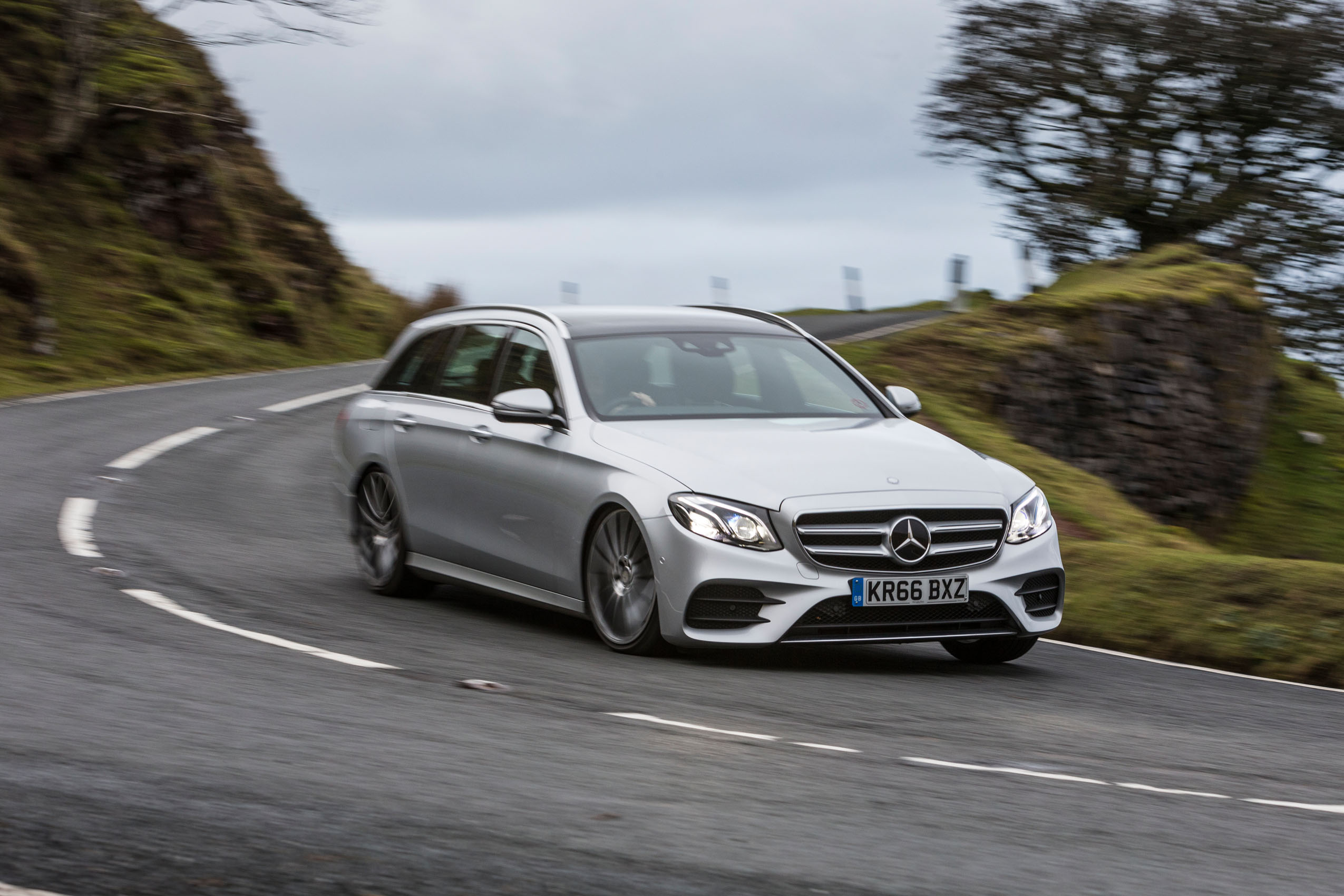 The road running south from Llyn Brianne isn't numbered. It ducks and dives along the bank of the river Towy, through places that seem to exist only on the E-Class's widescreen, high-definition sat-nav. Hamlets called things that you'd need to be a local, or perhaps a speaker of Elvish, to contemplate saying out loud – Ystradffin, Rhandirmwyn, Cilycwm, Minas Tirith – turn out, as we pass, to be little more than a farm or a terrace of cottages.
You seldom get much above 30mph on roads such as these. Sight lines are short and one of Carmarthenshire's conveyances of choice – an Isuzu Rodeo or Mitsubishi L200 – is often to be found lurking on the far side of the next hedge. And yesterday's storm has tossed a few pieces of the surrounding countryside onto the road – rocks, plenty of small and medium-sized branches, plus the odd firewood-grade bigger one.
Prior is claiming that all is fine in his lane-filling McLaren, but I reckon that's the waterproof trousers talking. If I were him, it certainly wouldn't take many bits of debris to swerve around, or run-ins with oncoming pick-up trucks, to make me wish I was driving something a bit less… vulnerable. The E350d Estate, by contrast, is so reassuringly versatile that you half expect to find a battery-operated chainsaw built into a boot compartment, perfect for clearing dead wood from your path should you need to.
At the outset, the other two thought I should apologise for bringing the Merc; it's too boring, apparently. But now we've had a bit of Welsh weather – and one of my colleagues has apparently come close to spearing his Golf GTI into the undergrowth (I bet he didn't write about that) while the other one nurses his front splitter with an air of concern – I think they've both become glad to have the Merc around. The E-Class has room for everybody and all of their gear, with space to spare. If it comes to it, 'boring' will ensure we all get home.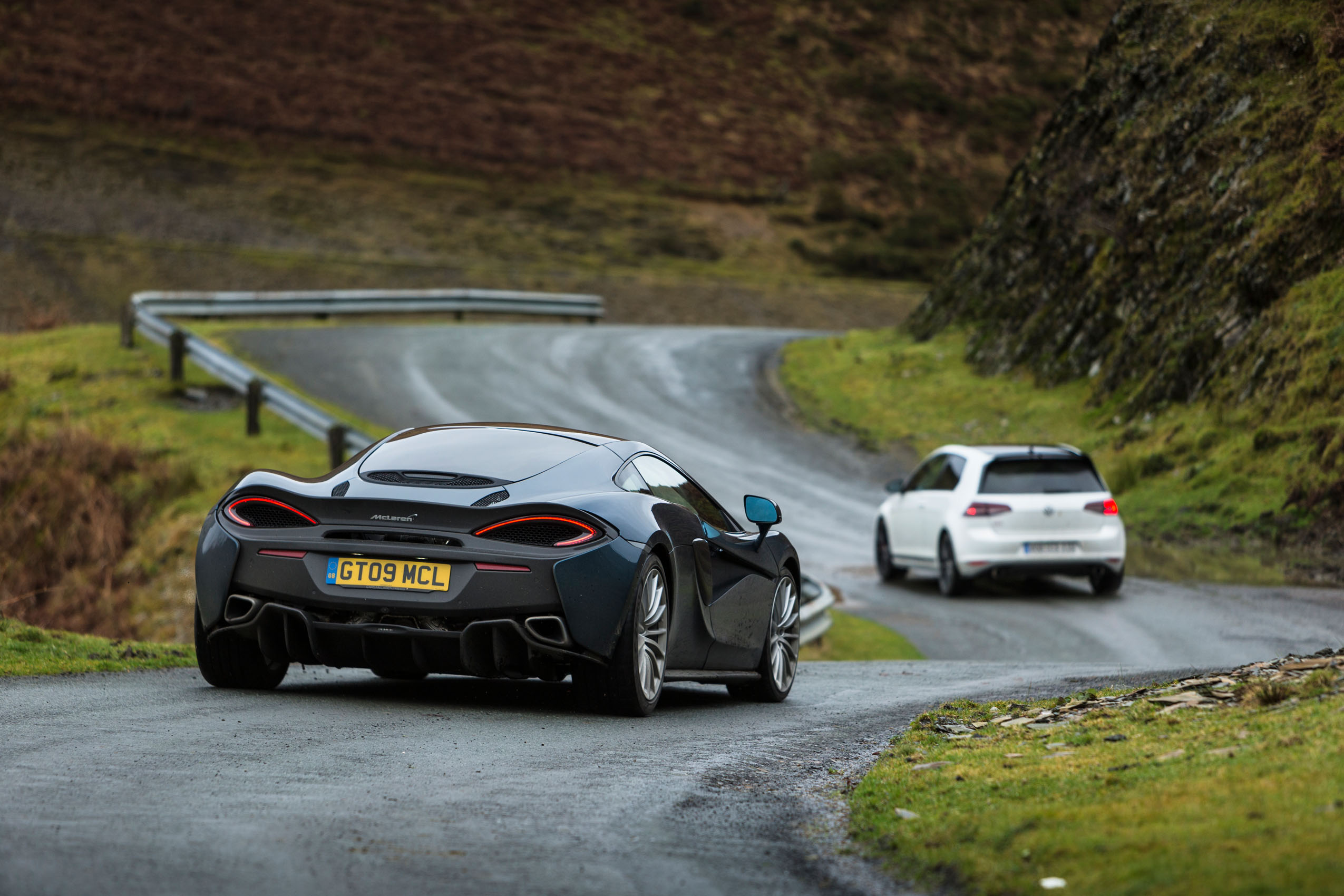 The E-Class is one of a handful of new cars I've driven this year that I could imagine owning. The E 350 d Estate does everything I'd ever really need of a family car, and do it with a rare and wonderfully enveloping blend of comfort, richness and luxury that happens to suit my purposes and tastes almost to the letter. The fact that it has also managed to keep up with a 300bhp hot hatchback and a 570bhp supercar these past 24 hours says plenty about its ability to sprint, grip and handle when the occasion calls for it.
At last: civilisation. Well, Llandovery, which is close enough. We refresh fuel tanks and stomachs and avail ourselves of the town's estimable jet wash. Then we turn towards the Black Mountains and roads we know better than most of those on which we've been travelling so far, to round off our road trip with some suitably epic photography.
Never have white lines been a more welcome sight on the asphalt. The lanes here still aren't wide, but at least there are two of them, and the path they take and visibility they grant allow us to throw off the constrained feel of the earlier afternoon's motoring and press on.
Here, for the first time, the E-Class begins to feel its size and heft. Its air suspension begins to nudge gently against its bump stops over crests and through dips, and thus you become aware that you've reached the edge of its dynamic comfort zone. On these roads, I'm fairly sure neither Cackett nor Prior is getting the same messages. Right now, they're definitely having more fun.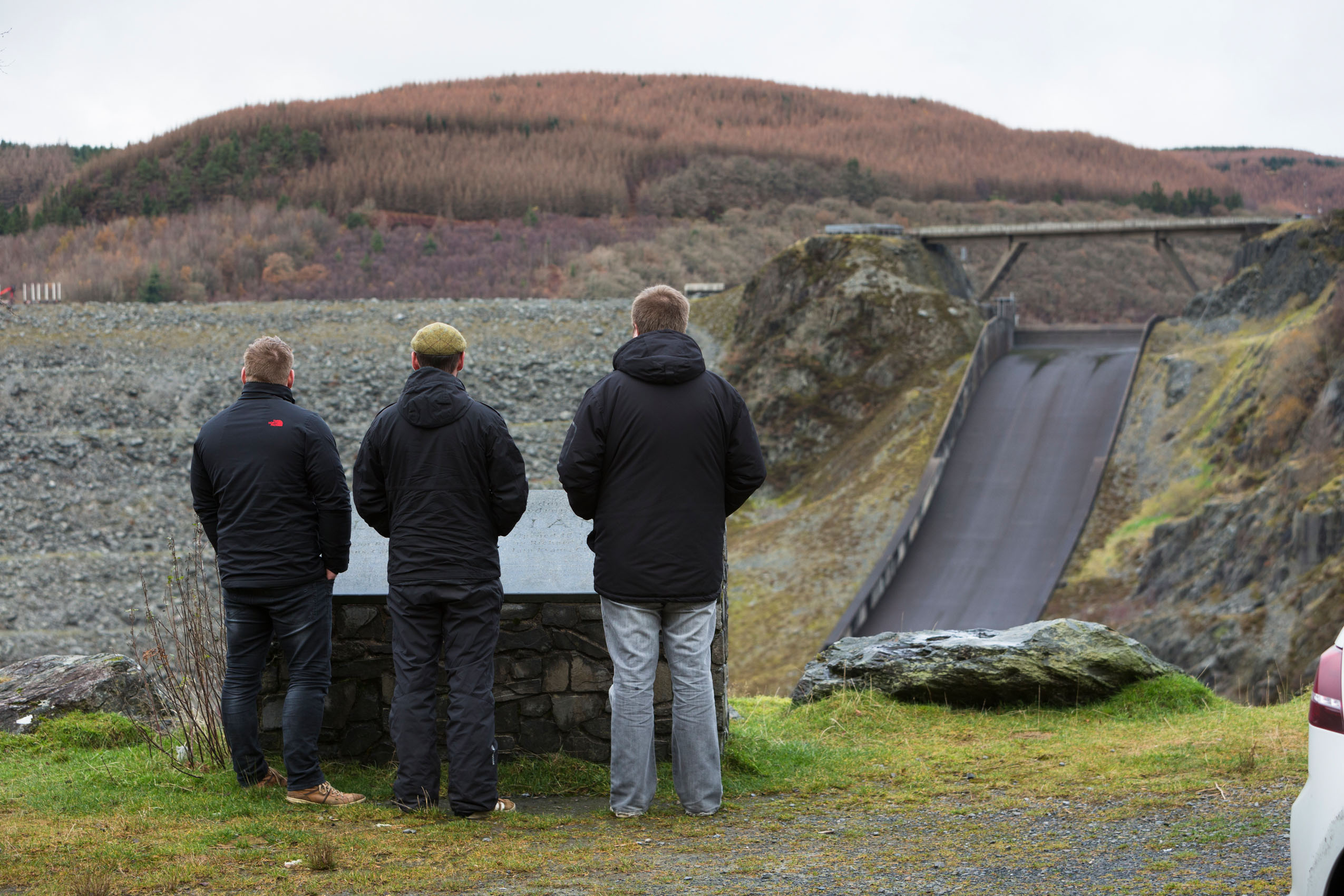 But would I swap with either of them? Are you kidding? Chuck in fibre optic broadband and a Netflix subscription and I'd move in here. With the prospect of a congested 200-mile motorway drive home at the end of a long couple of days, I'll take the comfy seats, the 600-mile tank and the radar cruise control, thanks. Call me boring if you like.
Fifteen miles later, we've made it. As darkness descends, Bethlehem welcomes our weary, mucky, grateful caravan. We take a few moments to scout around for a barn big enough for three cars, a heavily pregnant woman, a donkey and some creative flash photography. But, just like Nasareth, it turns out that Bethlehem has yet to open its Christmas-themed tourist attraction. Oh well, I guess they're everywhere else.
All that seems to matter is that we made it here – although, for the record, I'm not entirely sure all three of us would have done so without a three-pointed star to follow.
Nic Cackett, Matt Prior, Matt Saunders
Source: Car
Write

a Comment
Fields with * are required