McLaren

570S GT4 vs Aston Martin Vantage GT4, Porsche Cayman GT4 and Ginetta G55 track test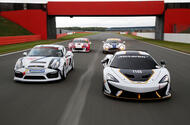 Woking's racer faces three other top models in our GT4 racing car special
You're doing a track day in your Porsche Cayman. It's the Silverstone Grand Prix circuit. Ahead, you catch a glimpse of a shard of automotive exotica.
As you power through Becketts, you pick out the shape of a LaFerrari. It disappears on the straight because you have 370bhp to its 950bhp, but by the time you've reached the exit of Stowe your windscreen is full of Ferrari once more. You nip by under braking for Vale and as you leave Club and look in the mirror again, it's gone.
This is not a fantasy. It may be that the Ferrari driver wasn't trying hard, but in a day spent driving the latest GT4 racers at a Silverstone track day populated not only by LaFerraris but also Radicals, BAC Monos, Ariel Atoms, Porsche 911 GT3 RSs and other apocalyptically fast road cars, nothing got a sniff of the exhausts of any of the GT4 race cars we had gathered to investigate and enjoy.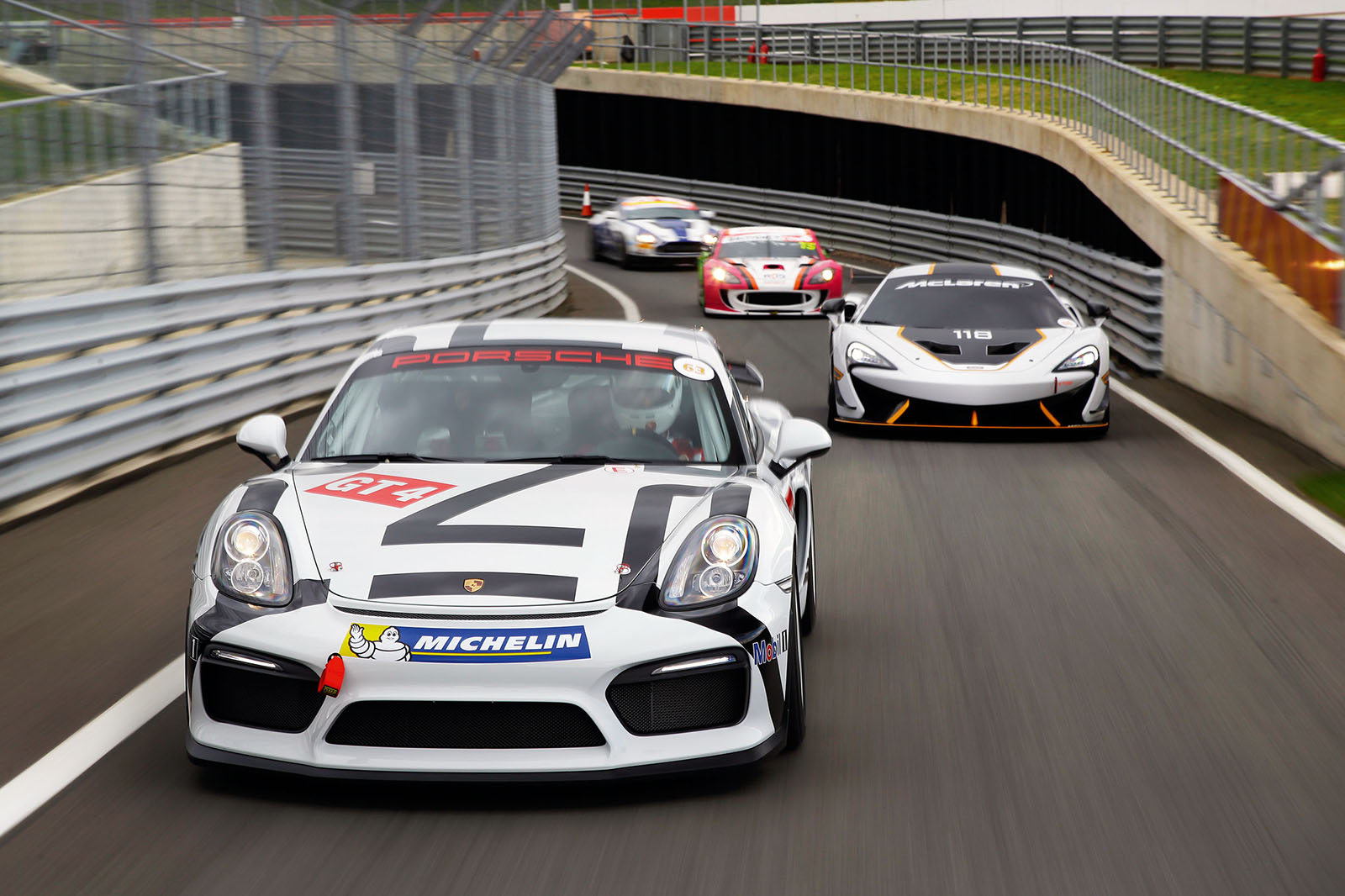 It seems odd that you can take a car like a Cayman, throw some race suspension, slick tyres and a bit of aero work at it and emerge with something that, over a lap, will humble the fastest street machines. But such is the magic of the GT4 car, an accessible and, for many, affordable formula which, along with the horrendous costs of modern GT3 racing, explains the interest it is currently enjoying around the world.
GT4 cars can be raced as part of the British GT Championship, in the Britcar championship and in a dizzying array of series and 24-hour races. Cars are mainly based on production road models with stripped interiors and the aforementioned suspension, tyres and aero. Crucially, performance between competitors is levelled by the authorities by many different Y means via the so-called Balance of Performance process, but it is usually done by limiting power through engine restrictors, adding ballast or clipping wings – which is how the McLaren 570S GT4 seen here should be no faster over a lap than the Cayman. Or that's the theory.
More manufacturers are joining GT4 all the time, and it's not hard to see why. Aston Martin has been in from the start and has now built 112 GT4 V8 Vantages, while there are expected to be up to 100 570Ss racing in GT4 next year.
I try the Aston first. It's the one with which I am very familiar, as I shared an almost identical car in the Silverstone 24 Hours event last year.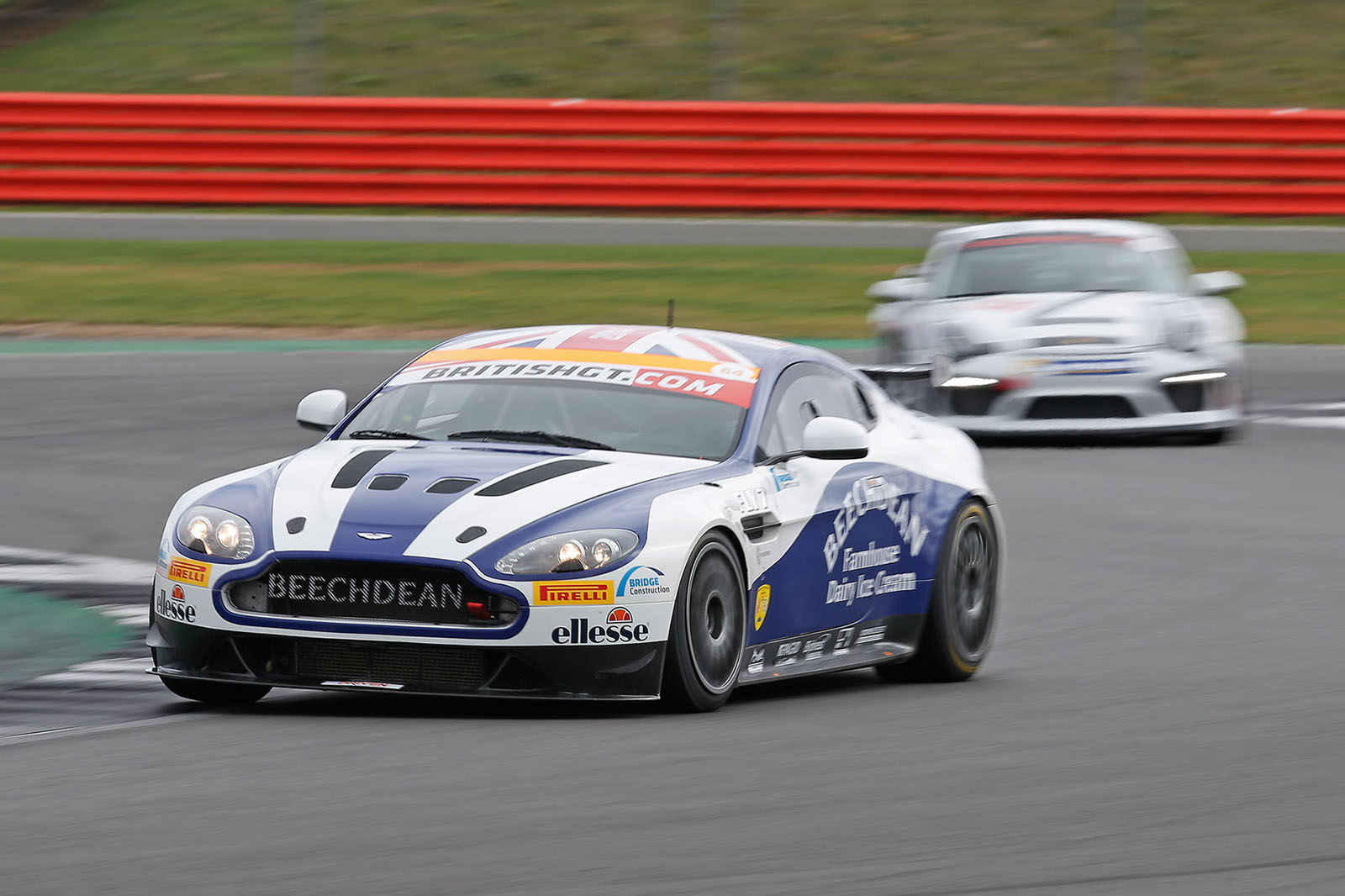 Everywhere you look are signs that this is a fully developed endurance racer, from the big stuff like a proper race-spec digital dashboard and the 12 different settings for the ABS and traction control, to the tiny details, such as the little hook on the roll cage on which to hang the detachable steering wheel. For last year's Silverstone race I was told only to look after myself, because the car could take anything we threw at it for 24 hours straight, and so it proved.
The big V8 is near enough standard and runs through the normal car's seven-speed automated manual gearbox, but with race exhausts it thunders into life. It's as easy to drive onto the circuit as its road-going equivalent, but until you've got some heat into its set of well-used slicks, it has no grip at all.
But Silverstone's GP circuit is perfect for cars that, by normal racer standards, are quite big and heavy. They need space and highspeed corners to feel their best and make the most of their small but significant levels of downforce. And here the Vantage is a riot. Its strength is not any one of its power grip or braking but the confidence it imbues. Many who race such cars are not professionals but competent amateurs who'll go faster in a car with viceless limit handling than in a technically quicker but trickier car. The Aston is that car. Even with tyres that made it understeer on entry and oversteer on exit, you never get the sense it's waiting to get away from you. And I remember from the race that on new slicks it made me feel like a superhero – and is that not what such cars should do for their owners?
The Porsche comes next, so I transition from the oldest to the newest GT4 car out there. Indeed, the Cayman GT4 ClubSport is so new that the full homologation version is not out yet, but when it does appear it will be 45kg lighter and far quicker. It feels like a more standard car; it retains the road car's dashboard and big stick shifter, and while the ABS is adjustable, the traction and stability control systems are only switchable on and off, just like the road car.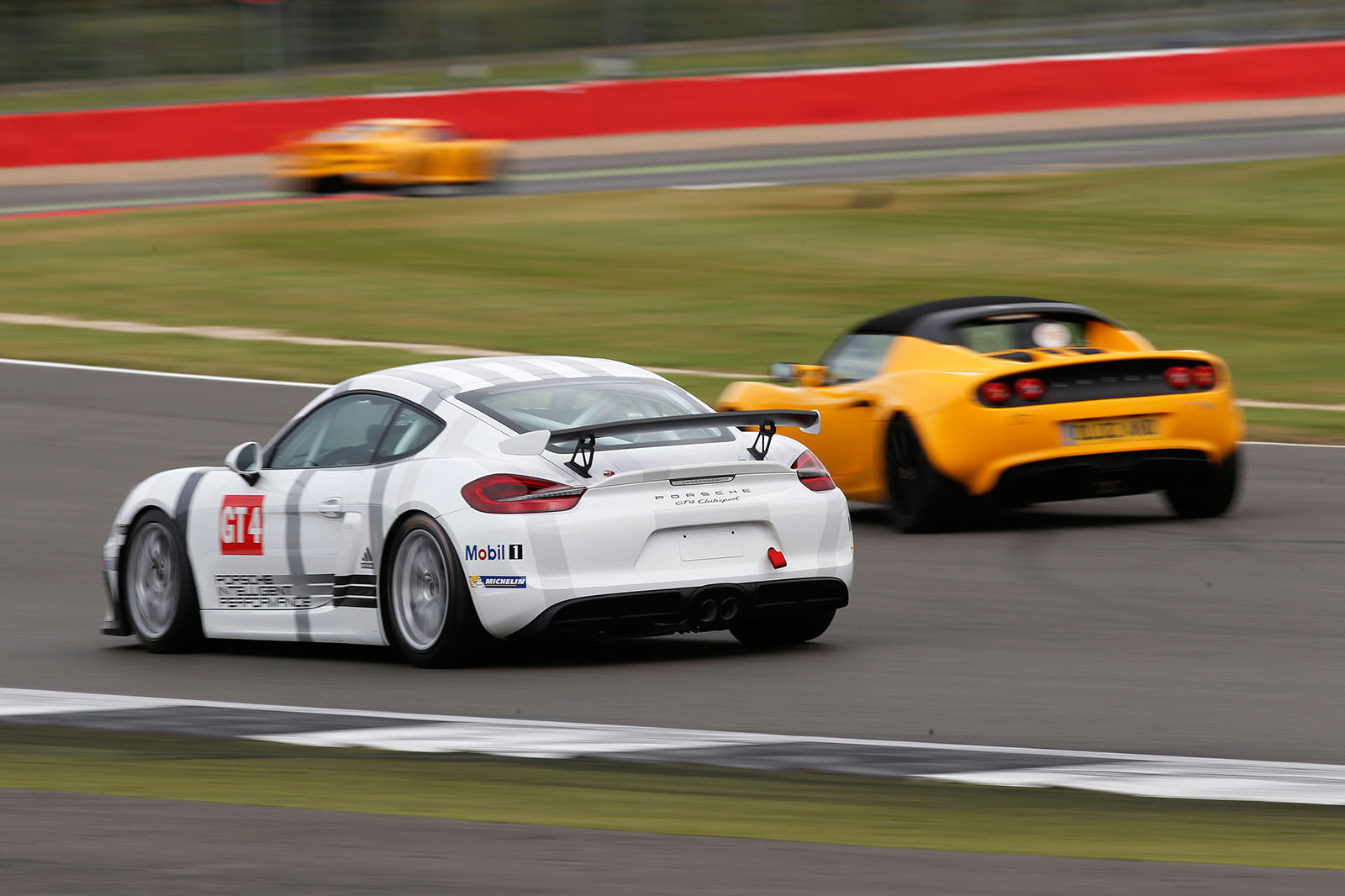 Actually, it's a little disappointing at first. It feels slower than the Aston under power, but of greater concern is that it doesn't feel that great under braking or in the corners. Happily, I have no shortage of laps in which to understand the problem, which is essentially one of damping control. The car porpoises under braking, causing unwelcome ABS intervention, and never quite settles down in the corners.
In time, however, it's easy to see what a fine race car the GT4 is going to make. It has all that Cayman agility, that talent for pivoting around its mid-point that will make it a demon on slower circuits, and on brand new slicks it offers such high apex speeds that it makes other cars on the track akin to motionless brick walls towards which you are driving at considerable speed. You brake for the right-hand curve at the end of the pit straight as much to get the nose into the apex as slow the car down, then the left that follows is easily flat. Whatever the teething troubles of this particular car, next year's fully developed Cayman is going to be an awesome device.
The Ginetta G55 is as different as can be. You'd scarcely believe it was in the same category, and there's a very good reason for that: it's a racing car. While all others here are developments of road cars, the G55 was only ever designed to race. It is lighter to the tune of some hundreds of kilos and, were it not for Balance of Performance rules keeping it in check, might prove not only the cheapest car here but also by some margin the quickest, despite the 355bhp of its 3.7-litre Ford V6 making it the least powerful of this quartet.
But there's a flipside to this. There's no cosy familiarity when you step inside, no beautifully assembled interior nor, more importantly, driver aids of any kind. ABS and traction control are provided by your right foot. Relative to the others, the car feels close and claustrophobic, and it is hellishly noisy, mainly because, unlike the others, it also has a straight-cut racing gearbox.
But my goodness, it's effective. Even though I expect it's not at its best in the wide open spaces of Silverstone, the G55 takes little time to show why it's such a force to be reckoned with in GT racing. You notice its low weight everywhere, but never more than under braking. It may not have ABS, but that doesn't stop it from being convincingly the best here at losing speed. You just brake later because there is less car to slow, which in race terms means that if you can get a decent tow down the straight from the more powerful car you're following, it'll be a sitting duck if there's a slow corner at the end. It's quite mobile in slow corners, but beautifully balanced. Short, staccato jabs of corrective lock come entirely naturally and completely in keeping with the pared back, no-nonsense, back-to-basics character of the car.
The McLaren not only looks like a spacecraft by comparison but feels like one, too. It's actually heavier than a standard 570S because the rules require it to have a full roll cage (which is nothing like as strong as the carbonfibre tub it's bolted to), but it still requires an engine detune from 562bhp to just 429bhp to stop it from disappearing into the distance. The interior is close to standard in a car that, like the Cayman, is brand new to GT4 racing.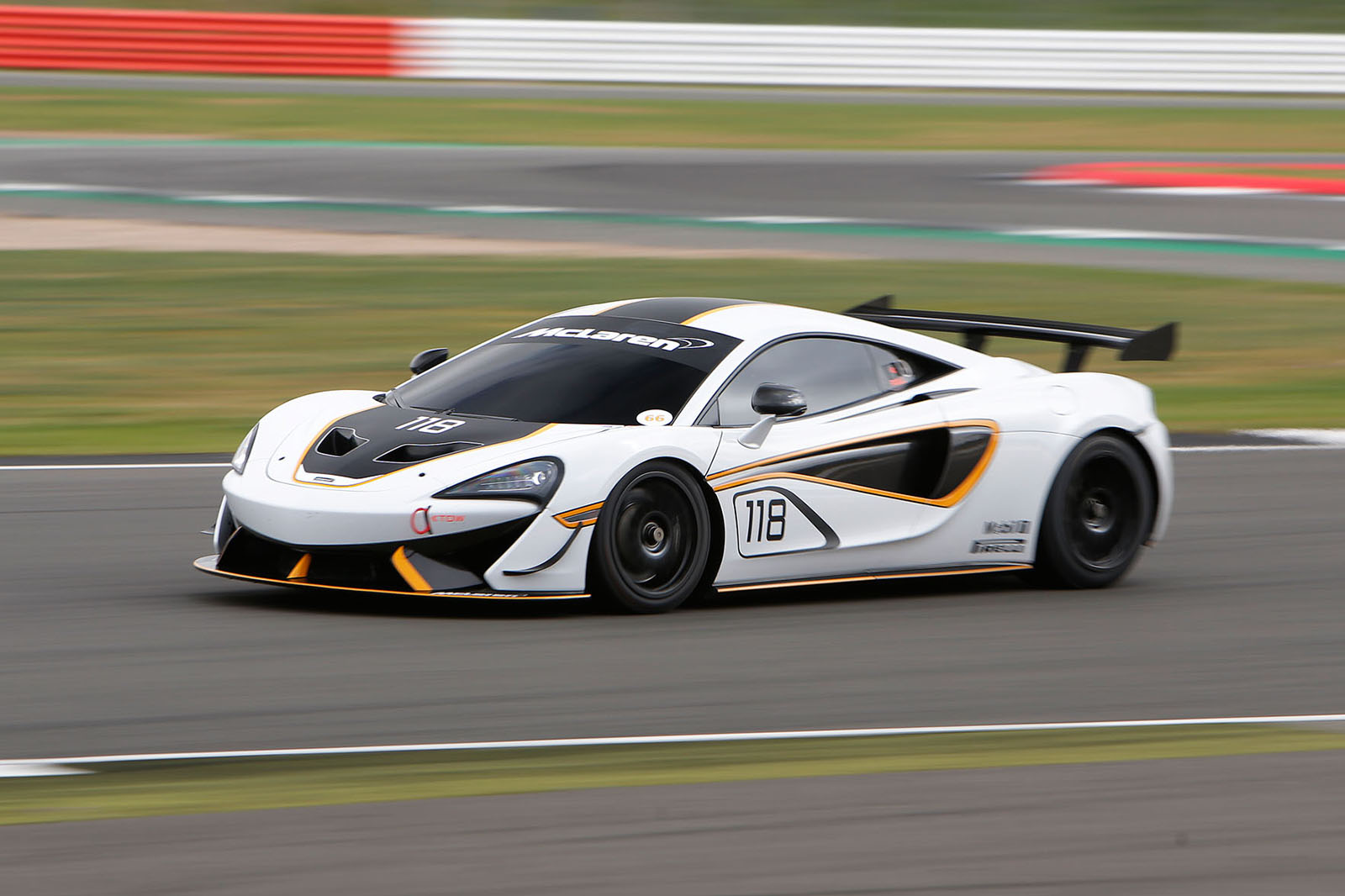 To a brain dialled in to that slightly insane, artillery shell acceleration that all McLaren road cars possess, the GT4 requires a little adjustment. My fear that it would feel slow on the straights proved unfounded, because it still retains massive midrange torque, but where the road car really takes off above 6000rpm, the race version's power delivery is more linear and less exciting. Less exciting, that is, until you reach a corner. For a car with, by ultimate standards, quite modest levels of downforce, its entry speeds are other-worldly and its stability as you brake deep into the curve simply extraordinary. And when you greedily grab a chunk of kerb at an apex, it rides over it like a Rolls-Royce.
There are bits of Silverstone's track margins I'd never normally go near but which the McLaren soaks up with ease, making the circuit wider and therefore quicker. It's the only car here that makes you think wizards have been at work on the chassis. It is also the one that would take the longest to get to know but which, even after only half a dozen laps, feels the most special.
There's no first to last ranking. These are racing cars, yet Balance of Performance seeks to create parity in lap times. Given this, I was astonished by how different each felt and how clearly its place in GT4 is defined.
The bargain is the Ginetta; for those wanting the most competitive car here for the least money, it should be the automatic choice. It won't look after you like the others and it's rough and ready by comparison but, boy, does it get the job done.
In many ways, the Cayman is the opposite. If you're bored with track days and want to step up to proper competition in a car that will not only prove fun and fast but also provide a safe transition from one world to the next, there is nothing better. It's good now and in next year's lighter, fully developed homologated form, I expect it will be brilliant.
The Aston? It's probably the one I enjoyed driving most. It has the look, it makes the noise and is lovely on the limit. And while I might be delighted to do a sprint race in any of the others, if I were to chose one with which to go twice around the clock, common sense says it should be the Vantage, because you'd near enough know it could do it with its eyes shut.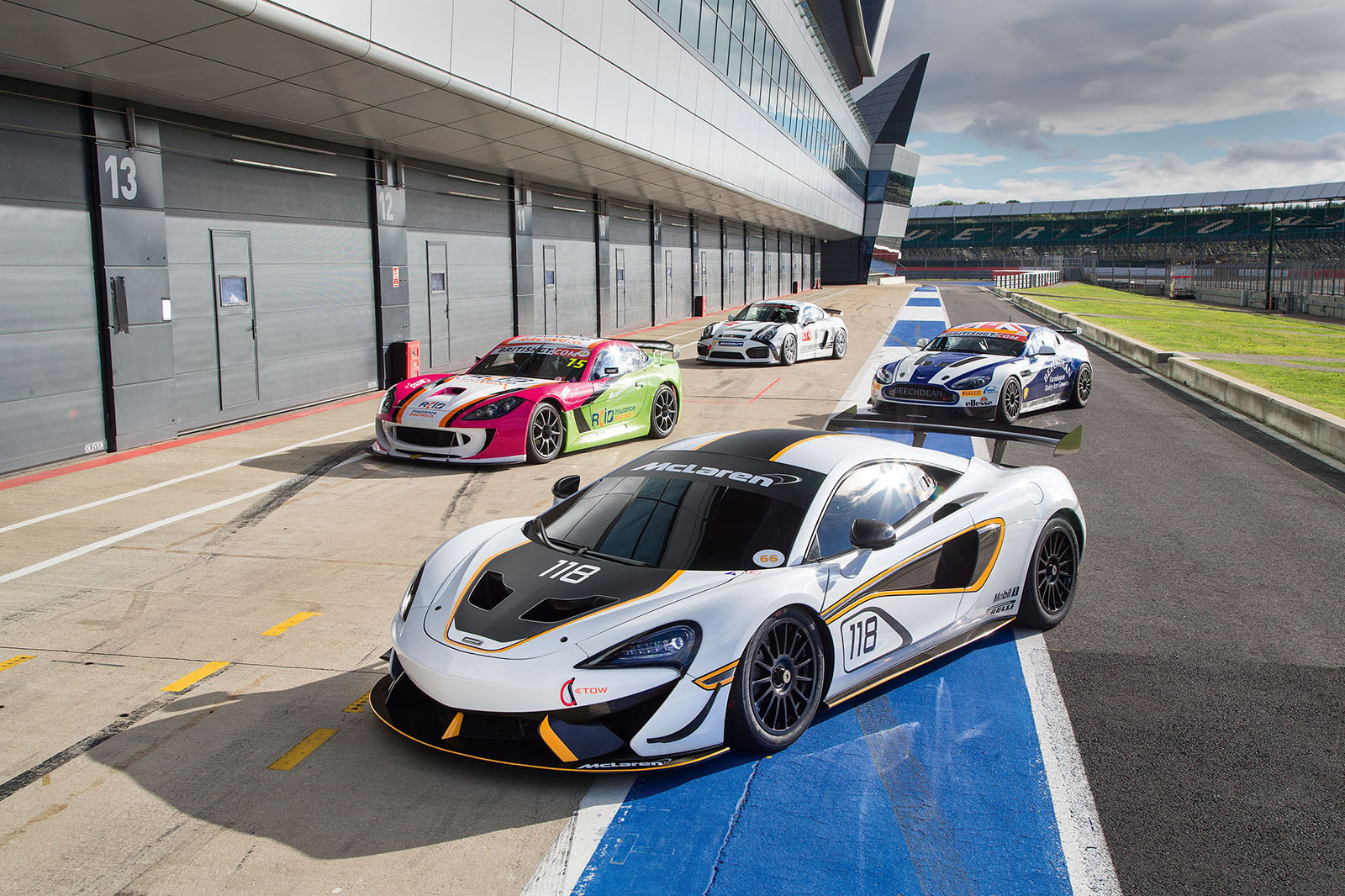 Which leaves the McLaren. Of them all, it's the one I'd most want to drive again. Artificial engine restriction is the only reason it does not possess performance on another level to the others; it grips like a ride in a NASA centrifuge. This is the car that feels most special and would take longest to learn but, I am sure, offer the greatest rewards in the end.
But I'm not here to crown a champion, simply to celebrate the emergence of a great new breed of racing car you don't need to be a professional to enjoy. And more are coming: BMW has already announced a GT4 version of the M4 for next year, and MercedesAMG has confirmed its AMG GT will spawn a GT4 version. Audi is known to be evaluating GT4, although probably with a version of its existing TT Cup car rather than the R8.
Which means if this is the first time you've heard of GT4 racing, it probably won't be the last, especially given that so many manufacturers are now getting stuck in and with such a variety of cars. For people trading up from track days or down from the ever-spiralling costs of GT3, GT4 offers the ideal home.
Source: Car
Write

a Comment
Fields with * are required