McLaren

P14 – 650S replacement spotted with 3.8-litre V8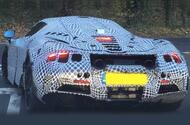 Known internally as the McLaren P14, the 650S's successor will arrive next year with even more extreme styling than that of the P1 hypercar
A McLaren P14 development car has been spotted by running with a turbocharged 3.8-litre V8 engine by YouTube user Petrol Ped (video below).
The P14, as it is called internally by McLaren, will eventually replace the 650S. No arrival date has been set, but it is expected to arrive next year.
Insurance database information for this latest development car suggests the production model will retain a V8 engine like its predecessor. Skip 2min 55sec into the video and the car's exhaust note can be heard.
This latest sighting near Chichester follows an earlier sighting made by our spy photographer in Southern Europe and another by Dutch website Auto Wereld.
Despite the camouflaging, the design of the P14 clearly takes influence from the P1 hypercar, but the brand's logo-shaped headlights seem to be gone, in favour of more conventional units, with ultra-powerful LEDs.
The new model forms part of the British manufacturer's commitment to launch a new model every year, including hybrid models for the first time.
The car will feature McLaren's carbonfibre tub – albeit in developed form – and its power output will be extended beyond the 641bhp of the 650S.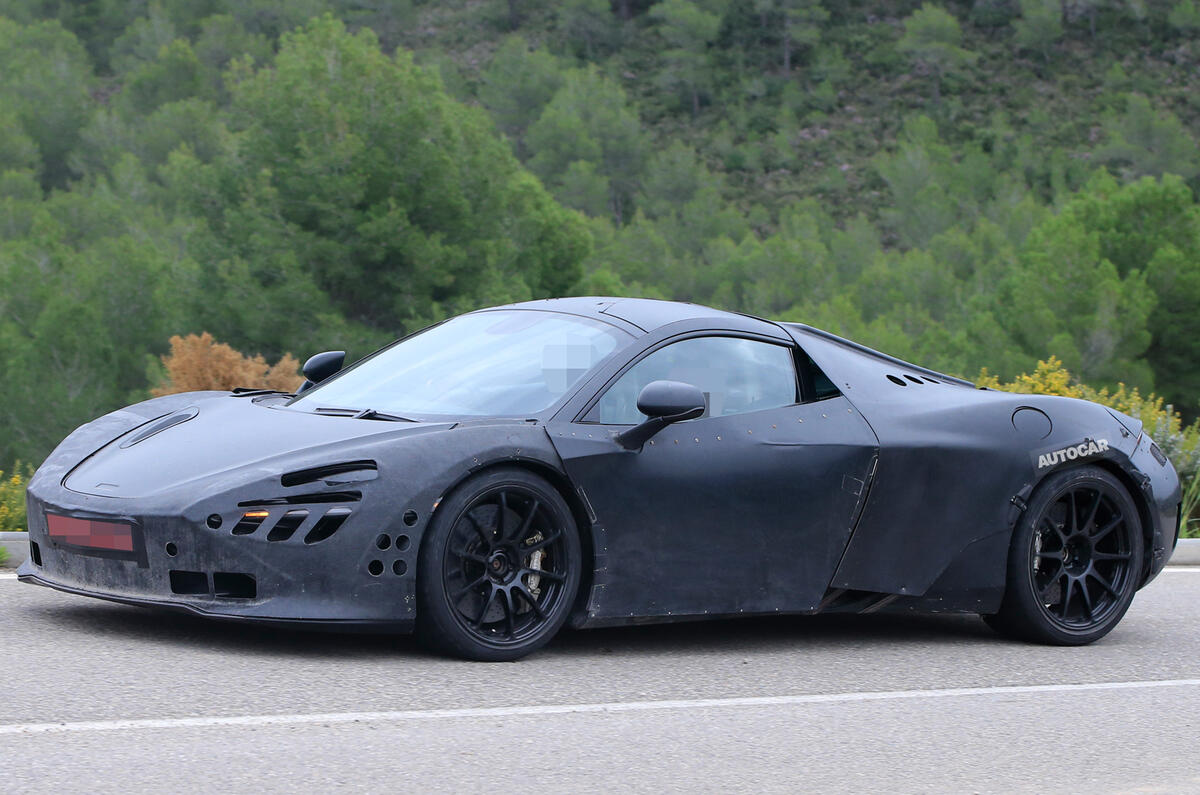 Peak power of 660bhp would match the P14's closest current rival, the Ferrari 488 GTB, and still allow the 675LT to top McLaren's Super Series range. However, because the 675LT is limited to just 500 units, McLaren may choose to surpass that car's 666bhp output as well.
To beat the Ferrari, McLaren will have to ensure the P14 can reach 62mph in less than 3.0sec and achieve a top speed of more than 205mph.
While the P14's styling has similarities with other McLaren models, it represents a big shift from the company's recent products and will set the design template for its next batch of models.
Autocar has previously contacted McLaren for comment on the sightings, and the Woking firm denied that it was a P14, instead saying "This is a prototype mule that's being used for testing and development for new technology".
However, our sources remain convinced this is a P14 prototype.
McLaren design director Frank Stephenson has already said the P14 will be "even crazier" than the P1 hypercar, and the company's established hallmarks, such as its distinctive side-mounted air intakes and front bumper design, look to have been ditched for a new design.
An open-top variant is also planned and, like today's 650S Spider, it will feature a folding hard-top roof. Although the 650S Spider was launched at the Geneva motor show in 2014 alongside the 650S Coupé, McLaren's current launch strategy means the convertible P14 is likely to be seen around a year after the coupé goes on sale.
Prices for the P14 are expected to rise over those of the current 650S, which is £198,000 in coupé form and £215,250 as a convertible.
Source: Car
Write

a Comment
Fields with * are required