McLaren

P14 Monocage II revealed ahead of Geneva debut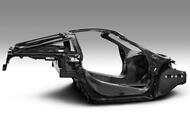 The first official image of McLaren's Monocage II
First image of new carbonfibre structure confirms upcoming Super Series model will feature dihedral doors in the style of original F1
McLaren's 650S replacement, codenamed P14 and due to be unveiled at the Geneva motor show in March, will feature dihedral doors that extend into the roof, like those of the iconic F1.
The P14's monocoque, called Monocage II, uses a T-bar-shaped roof structure that allows for the extended dihedral doors, along with a wider entrance and lower sills for better access.
The P14 will weigh 1283kg – almost 200g less than rival, the Ferrari 488 GTB, and 18kg less than its predecessor.
That weight reduction is largely due to the monocoque too, which uses carbon fibre to offer "an ultra-lightweight" and "immensely rigid" architecture, according to the supercar brand.
McLaren also claims the structure enables a lower centre of gravity "further sharpening the dynamic performance" of the Super Series model.
The car will also use a development of the firm's twin-turbocharged engine. It will remain a V8, but the current 3.8-litre unit's capacity could change and peak power will grow beyond the 641bhp output of the 650S.
McLaren boss Mike Flewitt said: "This is the first time we have replaced a product family. The new Super Series will be a revolutionary leap forward, both for our brand and the supercar segment.
"Super Series is the core of the McLaren business and personifies the blend of extreme performance, crafted luxury and unparalleled driver involvement that is the McLaren heartland," he added.
McLaren design director Frank Stephenson has previously said the P14 will be "even crazier" than the P1 hypercar. As shown by previous spy shots of a development car, the company's established hallmarks, such as the distinctive side-mounted air intakes and front bumper design, look to have been ditched for a new design, which makes use of LED headlight technology.
The cabin is also expected to be overhauled, with a new and more intuitive control system.
An open-top variant of the 650S successor is planned, and like today's 650S Spider, it will feature a folding hard-top roof, which is expected 12 months later.  
The production version of the P14 will be the first of the 15 new McLaren models due by 2022. The first of McLaren's vehicles ever to be replaced, it will be revealed at the Geneva motor show in March. 
Additional reporting by Sam Sheehan
Source: Car
Write

a Comment
Fields with * are required