Mercedes-AMG

hypercar shown in preview image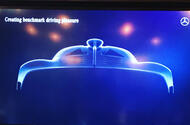 Mercedes-AMG's hypercar will have 1000bhp and challenge the Aston Martin AM-RB 001
Mercedes-AMG's first hypercar has been previewed in an image shown at the Consumer Electronics Show (CES) in Las Vegas. 
The image was accompanied by the strapline 'Creating benchmark driving pleasure', suggesting that the new model will focus on driver enjoyment rather than lap times. Despite this, it will be the best performing Mercedes-AMG car yet built and is set to develop around 1000bhp.
This first look at the car reveals a large roof scoop and louvre vents on the rear upper panel, confirming that it will be mid-engined. A wide stance is also evident, but no other details are visible.
Production of the hypercar will be limited to between 200 and 300 units, and a price of £3 million has been suggested. It has been confirmed that it will be powered by a Mercedes F1 hybrid-derived powertrain, but it's not known how or if it will be changed for the road car. Like the F1 engines, the road car's unit wil be engineered at Mercedes-AMG High Performance Powertrains in Brixworth, Northamptonshire.
The car is likely to use an all-carbonfibre construction, with an F1-style carbonfibre monocoque and F1-derived performance technology. The car's main rival, the forthcoming Aston Martin AM-RB 001, will also feature F1-derived tech and construction.
Read more: Aston Martin AM-RB 001 hypercar revealed
Read more: Mercedes-AMG hypercar to generate 1000bhp
Source: Car
Write

a Comment
Fields with * are required