Mercedes-Benz

GLT pick-up to benefit from Renault-Nissan partnership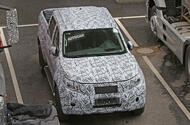 Mercedes' first pick-up truck will be made at Spanish and Argentinian plants alongside the Renault Alaskan and Nissan NP300 Navara
Mercedes-Benz's first pick-up truck will be built at Spanish and Argentinian plants owned by the Daimler and the Renault–Nissan Alliance.
Speaking at the Paris motor show, Carlos Ghosn, chairman and CEO of the Alliance, said: "The partnership between Daimler and the Alliance has grown and matured. By sharing development and production costs, we have been able to enter new segments and offer our customers more compelling vehicles with the latest technology and features at more competitive prices."
Mercedes' pick-up, which is expected to be called the GLT, will benefit from this business system, and will be constructed alongside Renault's Alaskan truck and its Nissan sister model, the NP300 Navara.
Despite the shared underpinnings, Mercedes is understood to be focusing on giving its version of the pick-up a distinctive character. As such, it'll get its own range of engines and its own suspension settings.
Earlier pictures of a development model, shown in the gallery, also suggest it'll sit lower and be slightly wider than its Renault and Nissan siblings. Mercedes' design language appears in the features, with the upswept appearance of the headlights visible in outline through the camouflage.
The Mercedes pick-up will most likely have a different interior to that of the Nissan too; the test GLT's dashboard and other interior components were also camouflaged.
Mercedes has remained tight-lipped on the model's specifications, but sources believe the introduction of a range-topping AMG version is almost inevitable.
The more premium interior and upmarket badge of the Mercedes mean it's likely that the GLT will be more expensive than its £22,000 Navara counterpart. The GLT will therefore occupy the upper end of the pick-up segment, rivalling the Volkswagen Amarok.
Previous reports have suggested that the GLT won't reach North America but would be sold in Europe, Australia, South Africa and Latin America.
Jimi Beckwith and Sam Sheehan
Source: Car
Write

a Comment
Fields with * are required