Mini

Cooper S: used buying guide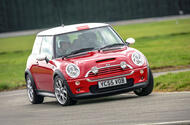 The first generation of BMW's reborn hot hatch is not only regarded as the best of the lot but is also quite affordable now
Like a hard-to-sell flat with potential, the Mini Cooper S is one of those cars whose glaring shortcomings – ridiculously cramped rear cabin, hard ride, twee interior – are best glossed over, your sights set instead on the bigger picture. Such as the fact that this supercharged, first-gen version of the reborn hatch (officially called the R53, pub quiz fans) is widely regarded as the best. Oh, and prices start at just £1750.
With quick and direct steering, a grippy chassis and a torquey, supercharged 1.6-litre engine, the model's trick is to take its promising ingredients and, like a Great British Bake Off finalist, combine them into one mouth-watering confection.
It was launched in 2002 with 163bhp, leaving owners of the standard 115bhp Cooper wishing they'd waited longer. With frontwheel drive, a choice of 16 or 17in wheels and run-flat tyres (the 17s gave an unacceptably harsh ride but looked better, while owners replaced the dynamically compromised run-flats with cheaper rubber), a quickfire six-speed manual gearbox and multi-link rear suspension (so budget for four-wheel alignment),the Cooper S was the real deal.
The 0-62mph sprint passed in an admittedly underwhelming 7.2sec, but a John Cooper Works tuning kit was swiftly offered that boosted power to 200bhp, bringing the 0-62mph time down to 6.4sec. From 2005 the kit's power rose to 210bhp, snipping a further 0.2sec off the time. In 2006 the JCW GP appeared – a hardcore two-seater boosted to 218bhp and prepared by Bertone in Italy. Just 2000 were built, 459 of them for the UK, making it a sought-after rarity.
Trim-wise, the standard Cooper S was fairly basic, which was why most buyers plumped for a Chili pack, with its leather steering wheel, half-leather seats, xenon headlights and air conditioning. Personalisation is a big thing with the Mini and no two cars are the same. The only thing to note is that the factory-fit decals have been known to crack on some cars. "Peel them off and replace," you say. It isn't that easy; it's actually an expensive job for a bodyshop, so give any decals a careful inspection.
Take the car for an extended test drive, too. Some reckon the Cooper S is more of a weekend blast than a daily driver, although they may be of the tall variety since the driver's seat has limited rearward travel. Otherwise it's a comfortable place to be, while the controls and interior fittings all look and feel top notch. But forget taking the kids: the rear cabin is barely bigger than the boot.
First owners will probably have opted for Mini's great-value TLC servicing package, which at least gave the little car a good start in life. The earliest models are now 12 years old, but there are still a surprising number around with a full service history, so settle for nothing less. That said, the car thrives on expert attention, so you want to see some main dealer or specialist stamps. 
HOW TO GET ONE IN YOUR GARAGE
An expert's view… 
JOHN CORNHILL, MASTERDRIVER
"My favourite R53 has a Chili pack, full leather and the panoramic roof. No two cars are the same, though, and in any case, all the options were so expensive that you're actually getting a bargain, because all the value has gone but they still look and go great. They can leak oil and the power steering has played up in the past, but there are no ugly surprises. Condition easily trumps age and mileage. I'd buy a 100,000-miler no worries; the niggles will have been ironed out long ago."
Buyer beware…
OIL LEAKS
The BMW/Chrysler Tritec engine can leak oil from the sump and timing chain cover. It's a gaskets issue. Otherwise, expect to add around 250ml of oil per 1000 miles, even on a healthy engine.
CRACKED CYLINDER HEAD
If the cooling fan thermostat fails, the engine can overheat and crack the head. Trouble is there's no temp gauge, so owners may not realise.
ENGINE MOUNTS
The combination of 17in wheels and stiff suspension can crack the engine mounts. All in, it's a £400 repair.
DRIVESHAFTS
Can be troublesome. Find a car park and do some slow, full-lock checks, listening for graunches.
SUPERCHARGER
It's pretty strong but can sound noisy with age. It's nothing to worry about.
STEERING PUMP
A common failure. A few were replaced under warranty, so fingers crossed. Watch for the steering going rock hard as you turn out of a junction.
SUSPENSION BUSHES
Not surprising, but they can wear out.
CHAIN TENSIONER NOISE
Some cars are immune to tensioner woes; the Cooper S isn't one of them.
TRACK ROD ENDS
Can seize, so prepare to buy new ones.
WATER LEAKS
Check the passenger footwell for damp; it plays havoc with the ECU located there. Also look for puddles in the boot.
HANDBRAKE
On early cars, the handbrake could twist and slip off the ratchet. It was a recall issue, so check it's been fixed. Also worth knowing Can't stretch to a John Cooper Works or you've found a mint standard car that could use a power tweak? Mini specialist Lohen can give your R53 a 15% power hike for £480 all in.
How much to spend…
£1750-£2500
Mix of early 2002-2004 cars with over 100k miles. Lots with 'full history', but don't expect many official Mini stamps.
£2600-£3400
Tidy 80,000-mile 2004-2005 cars with FSH, plus a few leggy '06s.
£3500 -£4000
The pick of the Cooper S line-up. Condition and mileage, rather than registration year, is what you're paying for here, so expect some goodcondition early cars in the mix.
£4100-PLUS
For the best 2004s with reasonable mileage and anything beyond.
Want to get in on the action? Take a look at some used examples of the Mini Cooper S here
John Evans
Source: Car
Write

a Comment
Fields with * are required