Mini

Paceman production to finish by the end of 2016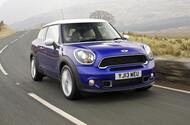 Prodcution of the new BMW 5 Series at the Graz plant means no more room for Mini's three-door crossover.
The Mini Paceman will cease production by the end of the year as Mini prunes back its model lineup.
The three-door crossover hatchback is currently built at parent company BMW's plant in Graz, Austria, which is run by Magna Steyr. Magna has just announced that it will build the new BMW 5 Series saloon in Graz from 2017, which will leave no room for the quirky Mini, or its cousin, the Countryman, which has been built there since 2010.
However, while a new Countryman will be revealed before the end of this year, BMW has said since the end of 2014 that the Paceman will be phased out.
Mini wants to establish five distinct lines of vehicle as it moves into the third generation of cars developed under BMW ownership, which will be more mature and rounded in contrast to the early vehicles' cartoonish personalities.
The hatchback, Clubman and Convertible form the first three lines, and the new, more upmarket Countryman will form the fourth. The fifth is likely to be a saloon, built to target the North American and Asian markets, although it will be sold globally.
The Paceman was introduced in 2012 and received a favourable, if not spectacular review from our road test team. However, BMW executives felt it sat too close to the Countryman in Mini's line-up and decided to axe it.
As well as the Paceman, the Mini Coupe and Roadster are also being phased out.
Phill Tromans
Mini saloon to fifth model in new-look range
Source: Car
Write

a Comment
Fields with * are required