Morgan

3 Wheeler, Caterham Seven 310R, Ariel Nomad: group test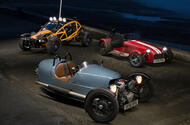 We've taken a bracing thrap through Wales in a trio of oddball Brits that are open to the elements – our hardy testers wrap up warm…
We're three grown men doing something that isn't considered to be very clever, such as driving three open-top cars – summer cars – several hundred miles in weather that you'd only walk the dog as far as the pub in. 
Testers Nic Cackett, Matt Saunders and I weren't meant to be making individual cases for the cars we're driving here, shouting to each other and, more importantly, to you about why we'd have one over the others. But call it Stockholm Syndrome. When you've spent 14 hours straight in a Morgan 3 Wheeler and can't feel your fingers any more, perhaps it's natural to look for reasons why you're happy you're not in a Caterham Seven or an Ariel Nomad.
Anyway, the road trip – ostensibly – starts at Cheddar Gorge and will finish on the Welsh coast, taking in some sights on the way. For why? Because they're the kinds of locations you could visit if, during the next week or so, you decide to whip the cover off whatever wheels are hiding currently unused in your garage. And trust me, you should. While this trip was meant to be unwise, the weather isn't so bad and the driving is superb. Handily, Cheddar isn't far from the Ariel factory in Crewkerne, Somerset, which is where Saunders has been to pick up the Nomad. Cackett has collected the Seven from Caterham's sales HQ in Surrey; I've come from the office in our long-term 3 Wheeler.
MORGAN 3 WHEELER – MATT PRIOR 
When we were The Autocar, there was another mag called The Motor. Eventually the two weekly titles were amalgamated, but back before they were, people used to motor to places, didn't they? They might motor down to the coast. I'm sure Bertie Wooster used to motor to visit his Aunt Dahlia. I'm quite a big fan of just driving to places, to be honest, because I like air conditioning and Bluetooth and Popmaster, but the Morgan has already required some motoring: a stop for a hot drink and a sandwich and to consult the map. And a readjustment of thermals because, although there are heated seats, the 3 Wheeler has no heater.
But the M3/A303 combination is not what the Morgan is best at. Around Cheddar it's lovely, though. Here, when the big, 2.0-litre V-twin engine shakes the entire body at idle, it no longer makes you worry for the structural rigidity of the chassis; instead, its noise reverberates gently off the hard surfaces of rock faces and your grin-exposed teeth.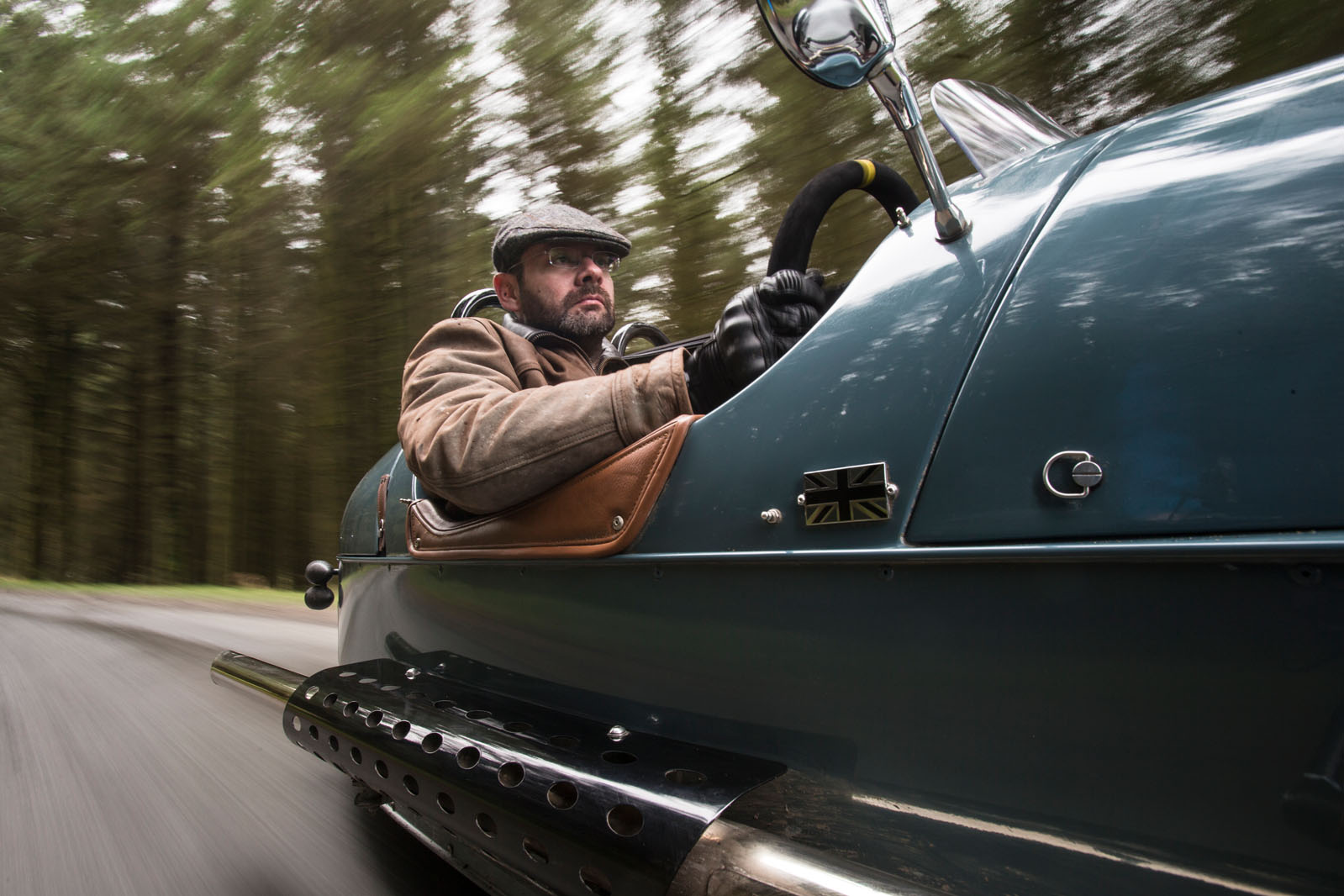 There's a lot else to smile about. There's the look of it, for a start. There's the driving position: straight and relaxed and low, like sitting in the bath (sometimes too literally, depending on the amount of rain that falls). There are the nicely spaced and weighted pedals, the sweet, responsive steering and the linear, positive response of that engine.
The Morgan's dynamics aren't shabby, either. No, it is not a sports car in the sense that the Caterham and Nomad are – and the Nomad is, dynamically, one of the most remarkable cars in the world – but its body control and ride are good, although the central rear wheel means there are some bumps and lumps you'll never be able to steer around. And it handles well, gently nudging towards understeer but with a rear wheel that, even though we've had a winter tyre fitted, is prepared to spin up at low speeds and shift the Morgan's line.
It's nice to imagine that this is all that happens on this feature drive: good driving. But usually we spend our time pottering around for pictures, with the odd thrap between locations thrown in.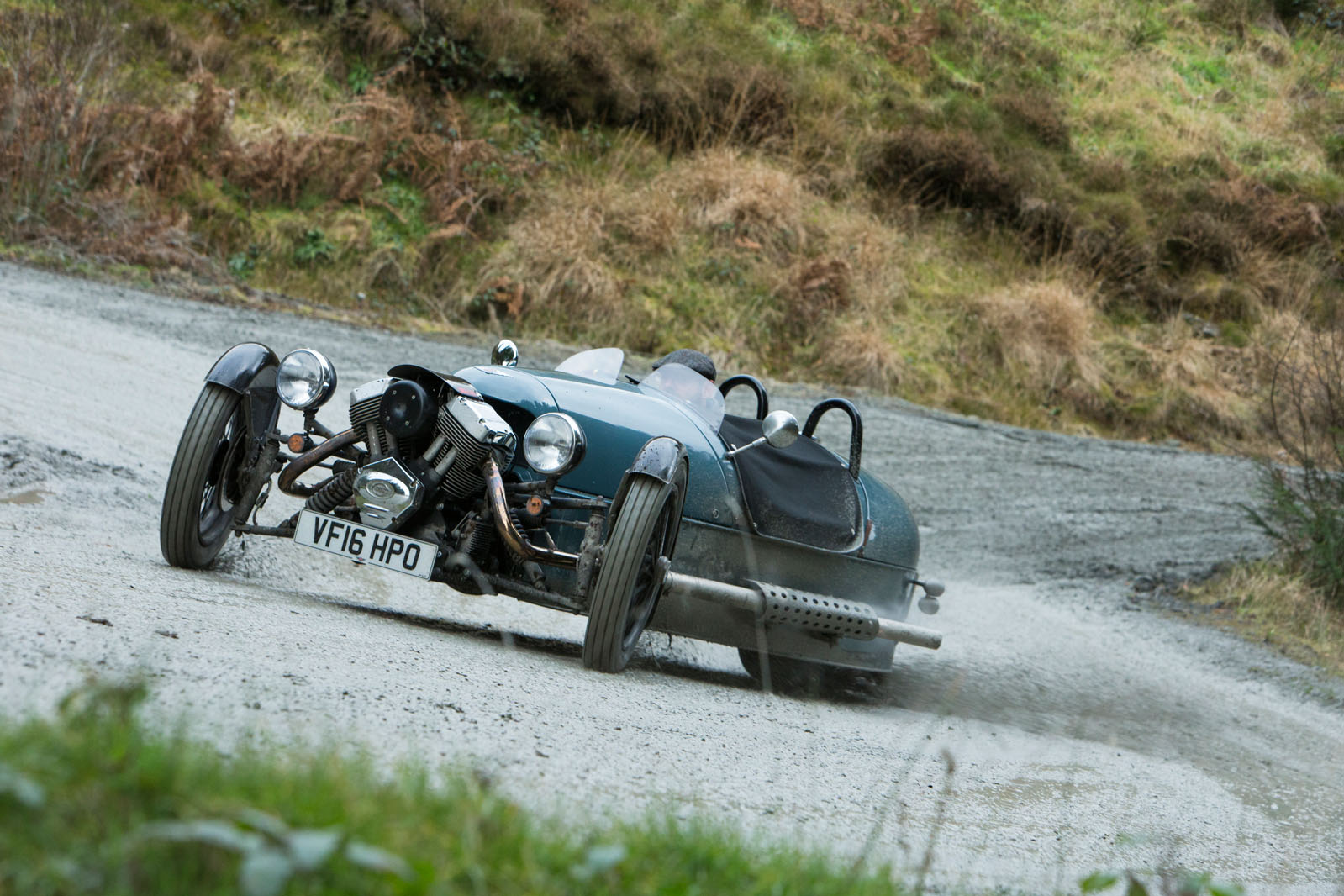 The latter comes, eventually, as we head from Somerset to Wales. We're on a deadline to get to a picturesque location in daylight. The Seven and Nomad clear off, but the Morgan is different. The weather is bad enough that I have to peer around the edge of the aeroscreen to get a decent view ahead. The roads are quiet, but the Morgan's limits are so low that 60mph isn't a limit, or even a target, but a seldom-achieved ambition.
And it's not just sights, sounds and feel that get you, but the smells, too: hot dirt, cow dung, fuel, warm exhaust – even, oddly, that whiff you get off a hot Scalextric car motor. The 3 Wheeler is utterly romantic, emotive and totally, utterly immersive. You know how some people shower in the mornings before work, but people who have proper jobs wash at night? The Morgan makes you a 'wash at night' kind of person, even if you're a media ponce. It is wonderful. It is brilliant. And then I get to the Severn Bridge and the bloke in the booth waves me through, free of charge, for being in a motorbike. Who's unwise now?
ARIEL NOMAD – MATT SAUNDERS
South Wales is out there somewhere – at least, I hope it is. All that's visible from the driver's seat of the Ariel Nomad are the extremities of the Severn Bridge swaddled in fog – as if the crossing, the road and every vehicle on it have been lifted 5000 feet into the air and then surrounded by a giant cloud. But so what? If it comes to it, I reckon this chassis could handle a drop like that – especially with the £5000 optional Öhlins dampers of our test car.
Your confidence in what this incredible car can do grows like giant kelp with time at the wheel. Lightweight sports cars with a climbing frame for a cockpit aren't supposed to be this good at touring. The Caterham and Morgan I'm following certainly aren't; their drivers are already mumbling through their snoods about our next fuel stop. But I'm sitting here with a 50-litre tank (which is still reading 90% full 60 miles out from Cheddar), and behind a full-size windscreen (with demister, washers and wipers that work). But for your right elbow, the Nomad actually protects you from the wind quite well – and this one hasn't got side fairings or doors.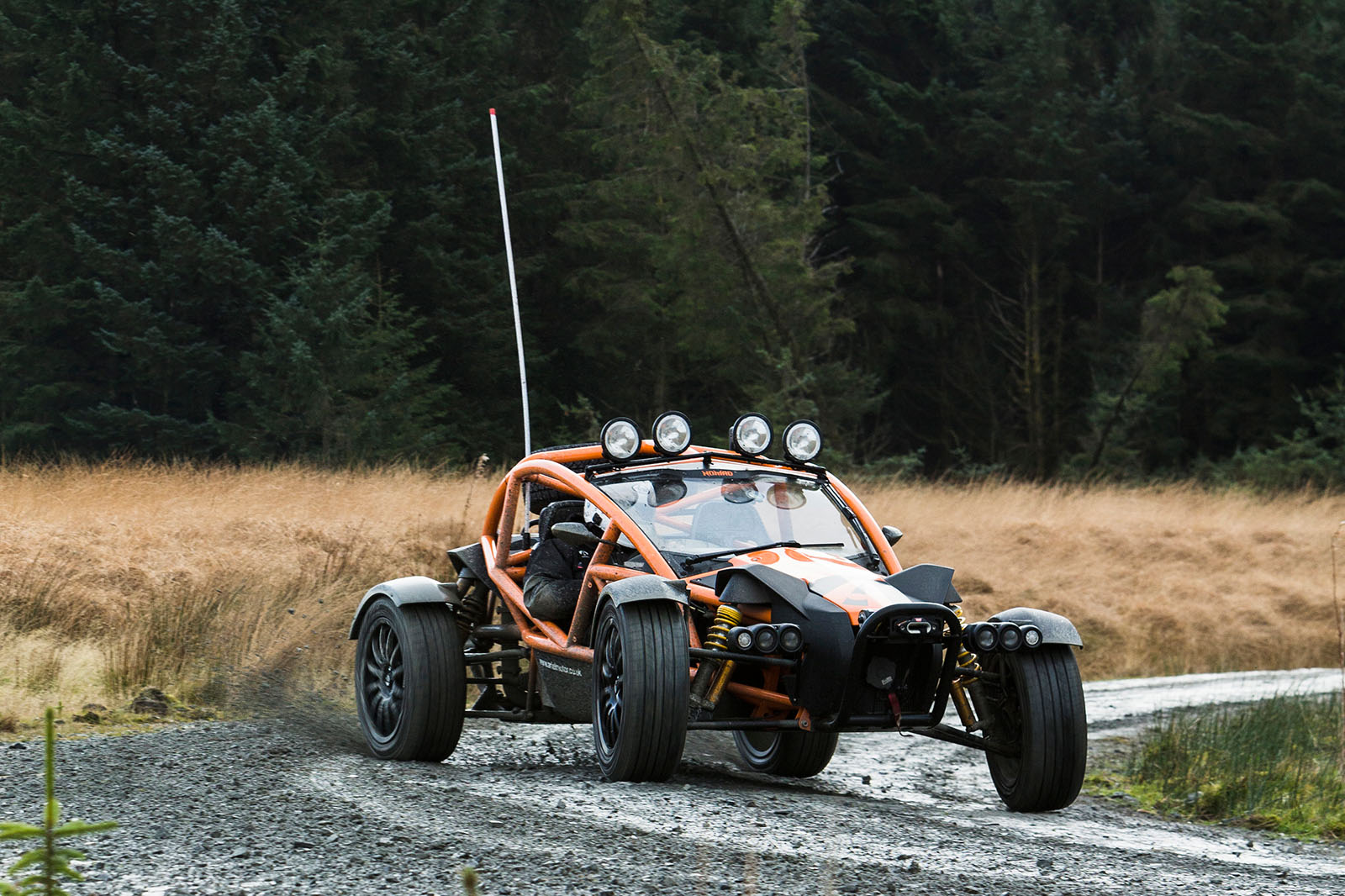 And thanks to the generosity of the man who equipped Ariel's Nomad demonstrator, I'm not only comfortable and confident but unexpectedly warm. You can have your Nomad equipped with heated clothing for chilly winter days like these, so I'm sitting snug in an electric blanket cum gillet and heated gloves powered by the 12V system. This thing really is the Mercedes S-Class of its niche. Except it's so much more fun than an S-Class, with its row of four roofbar-mounted full-beam spots and its cable winch. There's even an unofficial head-up display, for crying out loud. For me, the instrument display's shift lights are obscured by the top of the fixed steering wheel, but they're also perfectly reflected in the windscreen and visible just above your natural line of sight.
The Nomad's powertrain is taking to long-distance cruising well. Along the M4 we go, then north towards the Brecon Beacons, keeping a decent pace up all the while. Longer-geared than the other two and driven along with the benefit of much more torque than either, the Nomad feels almost relaxed on the motorway. It's far from quiet; every good prod at that lovely long-travel, top-hinged accelerator pedal sets the supercharger whining like an upset five-year-old trapped in a dustbin, and the loose seatbelt straps flap away insistently against the hard-backed passenger seat. But 'noisy' you can live with; 'noisy' comes with the territory. It's what earplugs are for.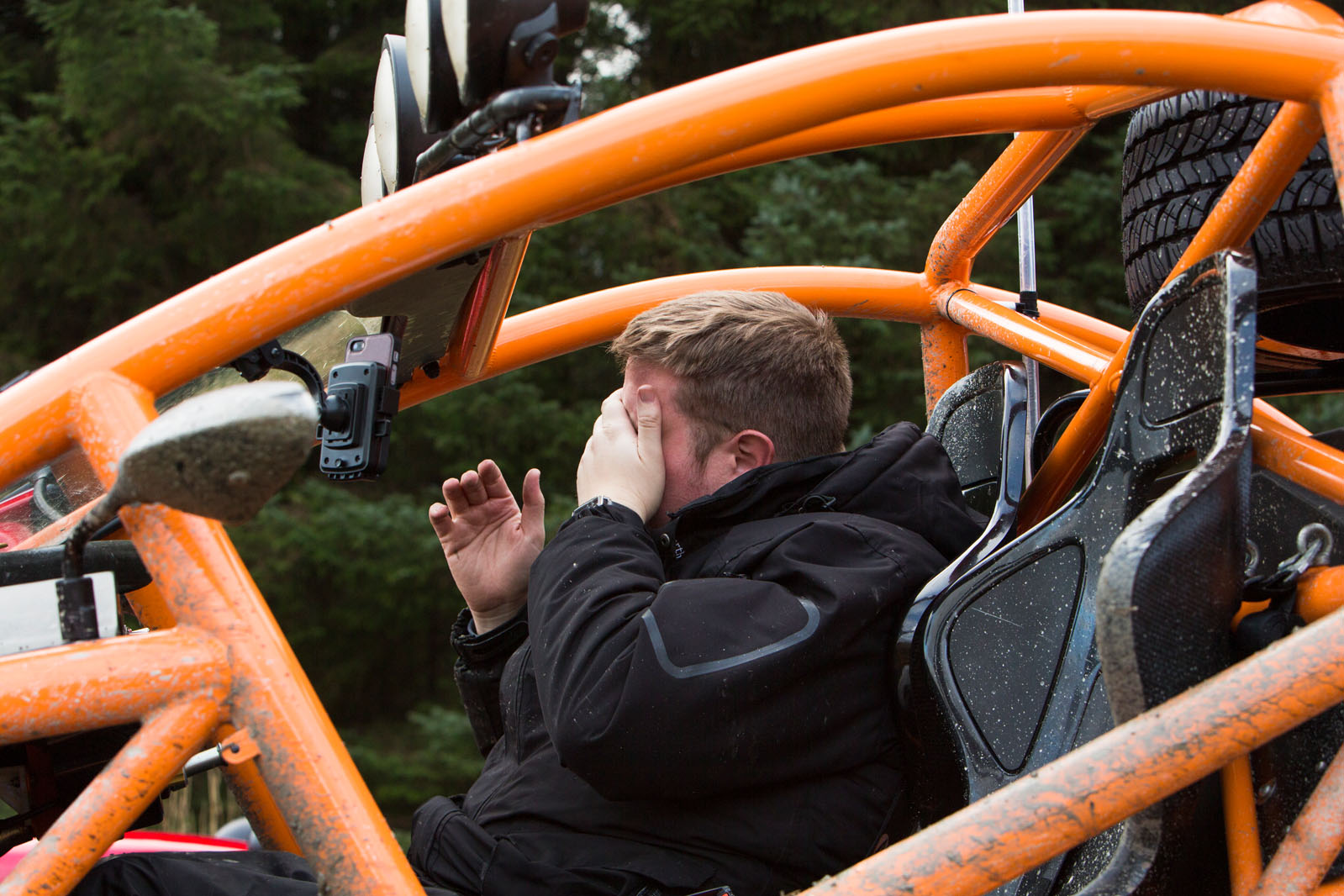 Onto more interesting rural A and B-roads and my tail-end berth in our three-car caravan becomes a grandstand seat. I'm watching a man in a flat cap, whom I've always thought ideally proportioned for a road tester, spilling out of a Morgan 3 Wheeler and seeking to make up with commitment what his car is missing on outright performance as we sweep past slower-moving traffic. He's doing it rather well, I have to say, his car leaning and gently snaking away underneath him in that inimitable way it's got. In front of him is a Caterham that's all hunkered down, instant and clenched in its direction changes, diving around roundabouts and junctions without a hint of wasted energy. Chalk and cheese.
But the Nomad's got every bit as much dynamic charisma as either. With those Öhlins dampers on their middle setting, it's a firmer-riding and flatter-handling Nomad than examples I've driven previously. You're a bit more aware of its mass through the steering, which is quite heavy and has plenty of chatter. But the car's still got that sensationally pliant, eerily settled ride, which seems only to encourage you to go faster over every bump you cross. Seven requires its driver to wear extra layers of clothes.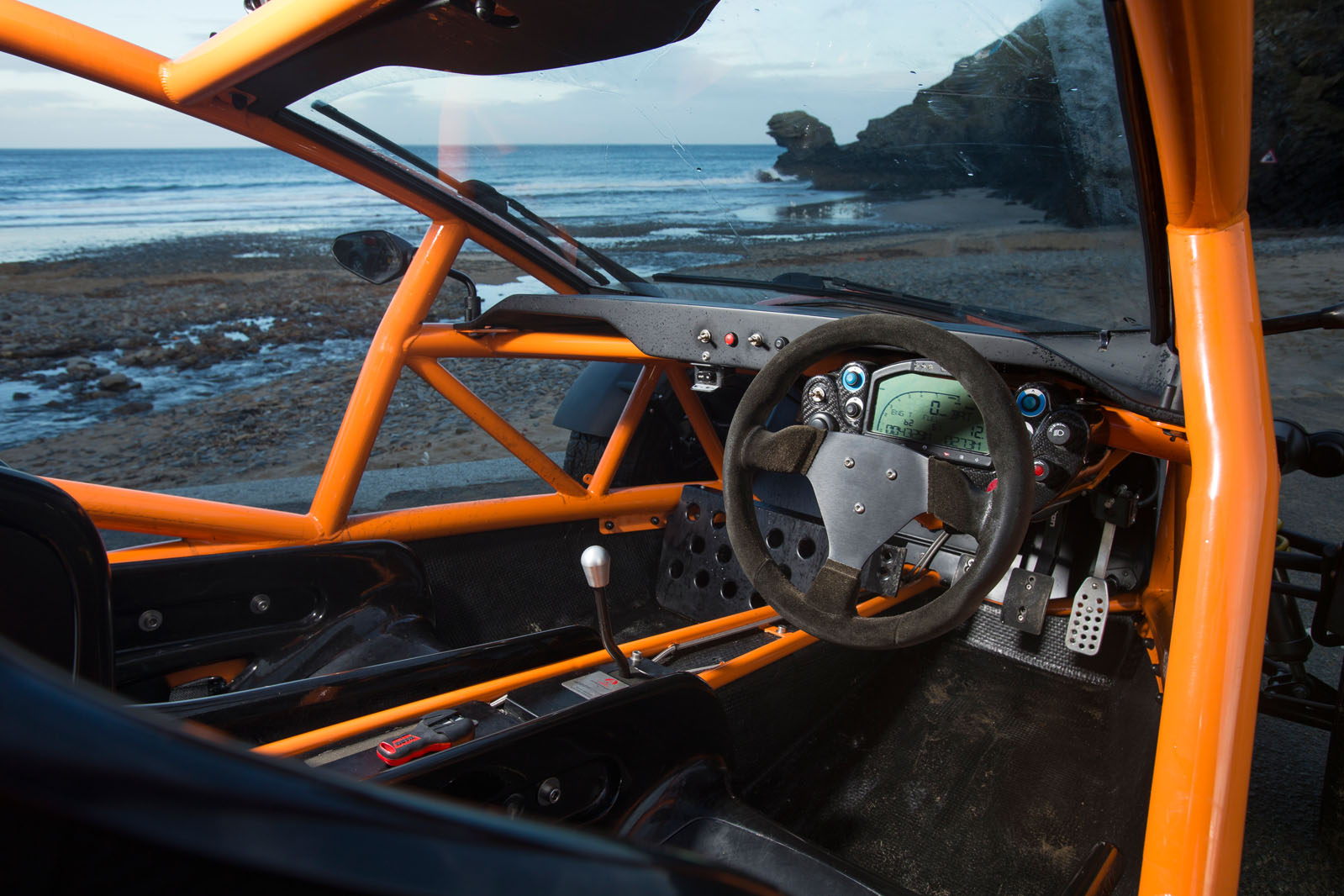 The hedges are closing in now, as we move onto the narrow, often unmarked B-roads and into the forests and glades of Carmarthenshire. A medium-size hatchback would feel wide here, but you don't worry nearly so much about what's around the next corner when you're driving something this small, and you don't worry about wavering grip as the surface underneath changes from dry to wet to loose to muddy and back again in the space of a mile or so. Its steering telegraphs contact patch information so clearly that its brake pedal feel is every bit as effective a safety tool as anti-lock would be.
It's not what we were expecting, but these wintry miles are easy. So easy, in fact, that with a couple of hours to spare, we go looking for fun on muddy forest roads – and find it. On the strength of appearances, I'd say it's a pretty close run for sheer mud-sliding comedy value between the Ariel and the Seven, both being equally balanced and adjustable. Until we find the gravel, at which point the Nomad is in its element – and in a league of precisely one.
I'll be picking the dirt from my glasses and the stones from my shoes for days to come, but how many other new cars could brighten a dark month as brilliantly as a Nomad? What else that's remotely comparable could turn on such charm in as many different settings and scenarios? What rival is this complete, this well engineered, this usable and this much fun?
You know the answer – and it's as obvious as the grit in my eye and that funny earthy taste in my mouth.
CATERHAM SEVEN 310R – NIC CACKETT
Poor old mud-splattered Saunders. Plugged into his Nomad like a spectacle-wearing Neo, wired into the heat and light of the Matrix. I've no need for 12V-sourced warmth in the Seven because I'm countersunk into the tiny cabin like a whippet's tick. Burrowing into the open monocoque is less of a faff than scaling the Ariel's powder orange ribcage, although another year on the road tester diet has hardly helped the skinny-fit feel of the S3 chassis.
Indeed, while the 310R might come with exactly the same Tillet seats that featured in the remarkably similar Supersport long-termer I ran, the torso squeeze of the plastic girdle is now roughly at the level experienced by a Renaissanceera princess. But no matter,  because once you're finally in and trussed up in the four-point tourniquet, the Caterham prepares you for the unadulterated business of driving like nothing else in the roadlegal sphere. It's more akin to being loaded into a cannon.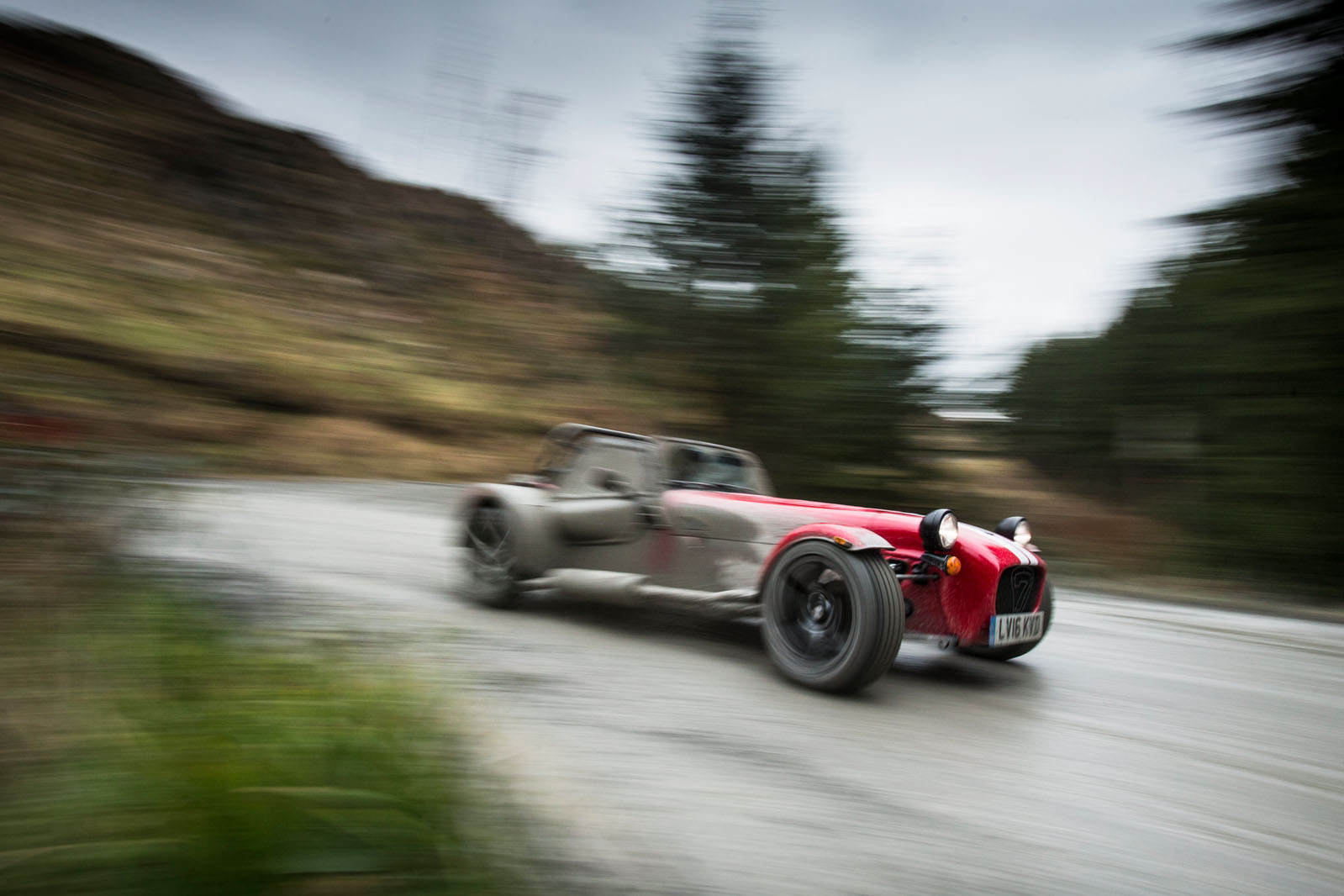 Crucially, you'll want to tick the 310R's £1250 Weather Protection option – not particularly for the evil, ill-fitting hood, but for the full windscreen and vinyl doors that Caterham tactfully describes as something else. With these attached, along with some headgear slightly more serious than hair wax (but short of the full helmets both Matts felt obliged to wear above 60mph) and, oh, about six layers of clothing, you'll be at the ideal temperature for winter-time driving utopia.
It's a noun that this 310R spits out unrestrainedly. Caterham has made much excitable hay about the supposed sweet spot its modest power increase has hit, and while the car's 152bhp doesn't feel all that different from the springy 140bhp being sent rearward from the same naturally aspirated 1.6-litre Ford Sigma engine in the Supersport, this model lives up to its billing as its maker's best compromise between power, speed and price.
Granted, you'd need a heart of cold stone and the imagination of a riskobsessed actuary not to feel a pang of jealousy at the sight of Saunders going all Group B on the charcoalblack loose tracks of mid-Wales. But 20 minutes later, when a temporary road sign reads 'Warning: mud on bend', I wouldn't trade the Seven for all the super-unleaded in Kuwait. Cue the wheel-spinning transformation of the Caterham's Exocet Red finish into cement-dust brown and the foot-wide grin of a man submerged neck-deep in zero-traction slidey reverie.
Has there been a better day for empty-headed, toothy beaming at water-logged scenery? I can't recall it. An hour later I'm back at the tip of our proud trident, slicing, swooping and soaring across Carmarthenshire's stubbly patchwork of field and dale, alive only to its darkening beauty, the fluttering fury of the airflow and to the buzzy thrill of steering 540kg of Seven straight via what is surely God's own rack and pinion.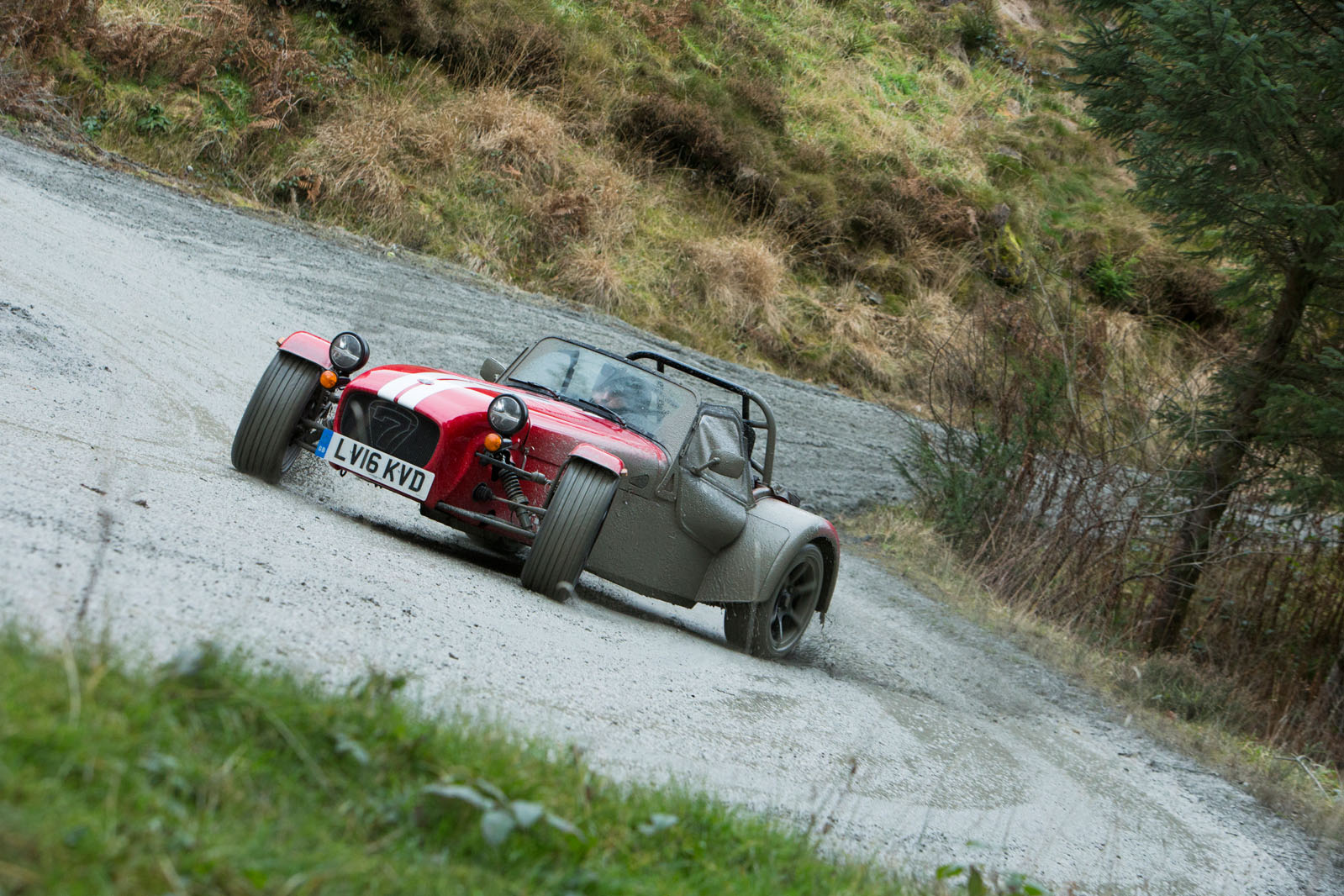 Some credit here must go to the brand-new Avon WV7 winter tyres under the wheel arches. Their fitment may have necessitated exchanging the 310R's skinny 13in alloys for the less desirable 15in alternatives, but their performance has been mostly stellar – and far beyond the usual lacklustre showing of winter rubber in relatively temperate conditions. Credit, too, to whoever recently relaid much of the asphalt around the Llyn Brianne reservoir, serving up around 20 miles of single-track silly-stage fun that would fail to suit any car significantly larger than the three gnat's lunchboxes we brought along.
Credit mostly, though, to Malvern, Crewkerne and Dartford, and to the extraordinary pleasure of their exclusively flyweight outputs. As the canopy of Welsh cloud darkens and we prepare to make the final dash toward the coast and the kind of dusk end shot that snapper Luc Lacey likes to spend an award-winning amount of time lighting, Prior succinctly brands the preceding afternoon "proper motoring" – which is about as neat a nutshell as you could want for describing the nucleus of all that is warm and gooey about such a hardedged experience.
All three cars exact a basic comfort toll in the cold – but return it tenfold as a transactional experience of the road and landscape entirely at odds with its modern-day steamrollering. Most notable in the Seven (but certainly not exclusive to it) is the ability to mould itself to the requirements at hand. Around Llyn Brianne the 310R is microscopic, punchy, incisive and, at the driven axle, ridiculously biddable, then on the fast, flowing A482 towards the coast it flits and floats enigmatically, wishbones bobbing furiously even as it hunkers down into a thrummy super-cruise through the murk.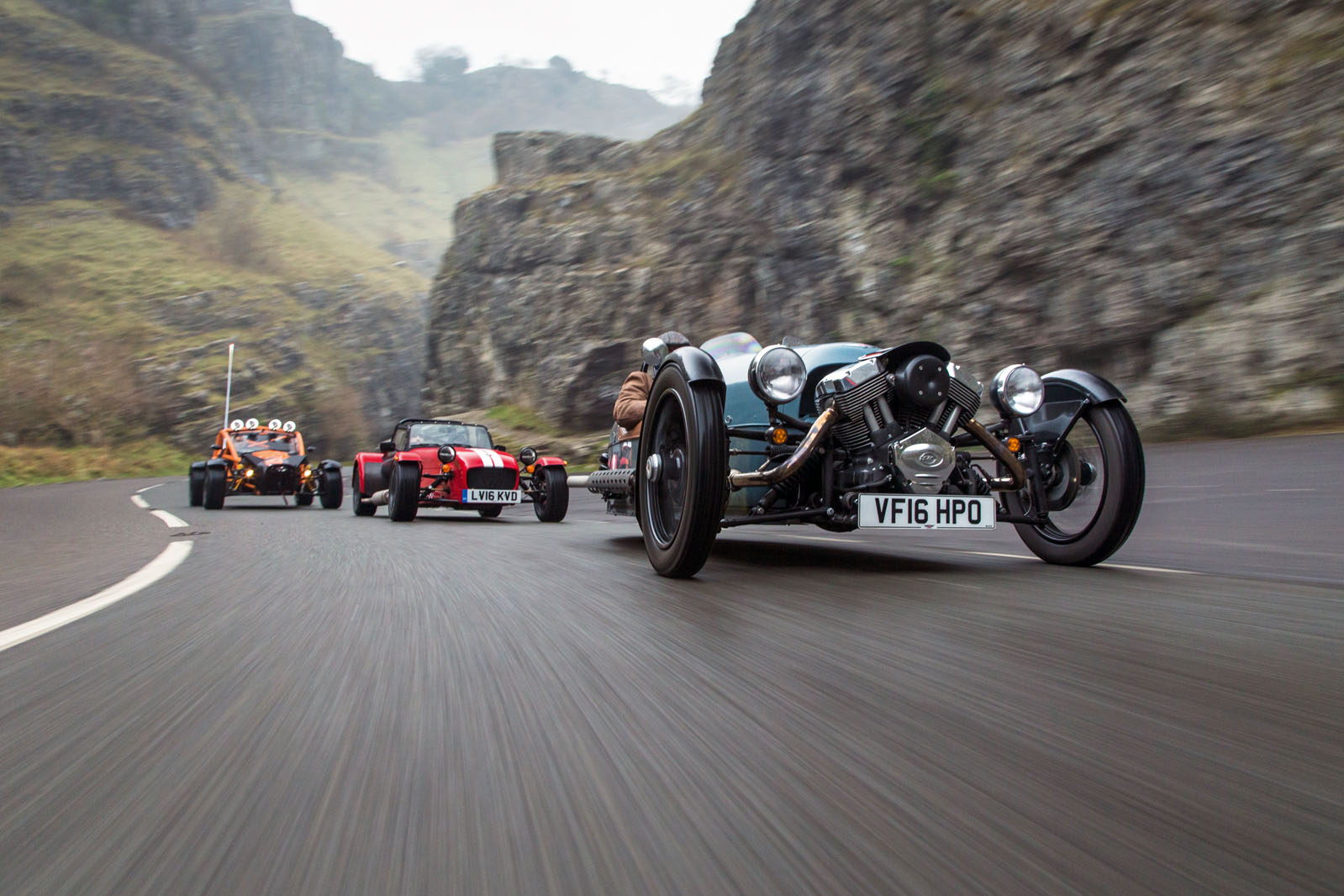 Finally, as we tack north-west for the final time, on roads only a notch above farm tracks, it steadies the nerves on Avon's industry-standard three-peak guarantee, squints into the hedgerows through £800 LED headlights and feels for all the world like it would get me anywhere, come rain or wind or snow or the gloom of night. For now, a tiny, deserted beach in the great, 150-mile sweep of Cardigan Bay is far enough. While everyone nearby with any sense is tucked up in a pub, three perhaps not so unwise men have the place to themselves as bright flashguns pop against the muddy glow of still-warm bodywork and the final ember of light leaves winter's shore.
Arial Nomad Supercharged
Price £44,168 Engine 4 cyls, 2345cc, supercharged, petrol Power 300bhp at 7000rpm Torque 251lb ft at 5500rpm Gearbox 6-spd manual Kerb weight 675kg 0-60mph 3.2sec Top speed 136mph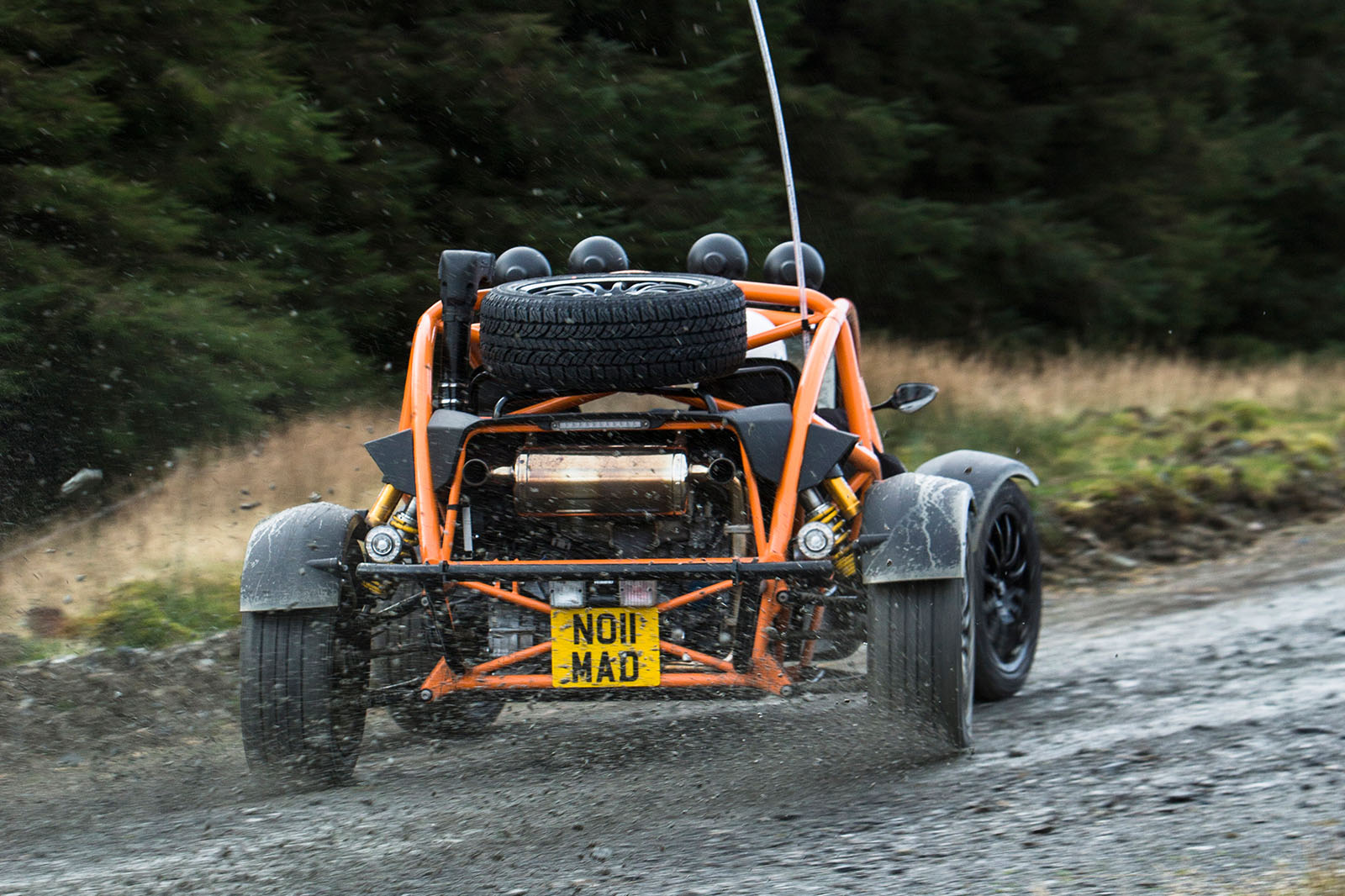 Caterham Seven 310R
Price £28,990 Engine 4 cyls, 1595cc, petrol Power 152bhp at 7000rpm Torque 124lb ft at 5600rpm Gearbox 6-spd manual Kerb weight 540kg 0-60mph 4.9secs Top speed 126mph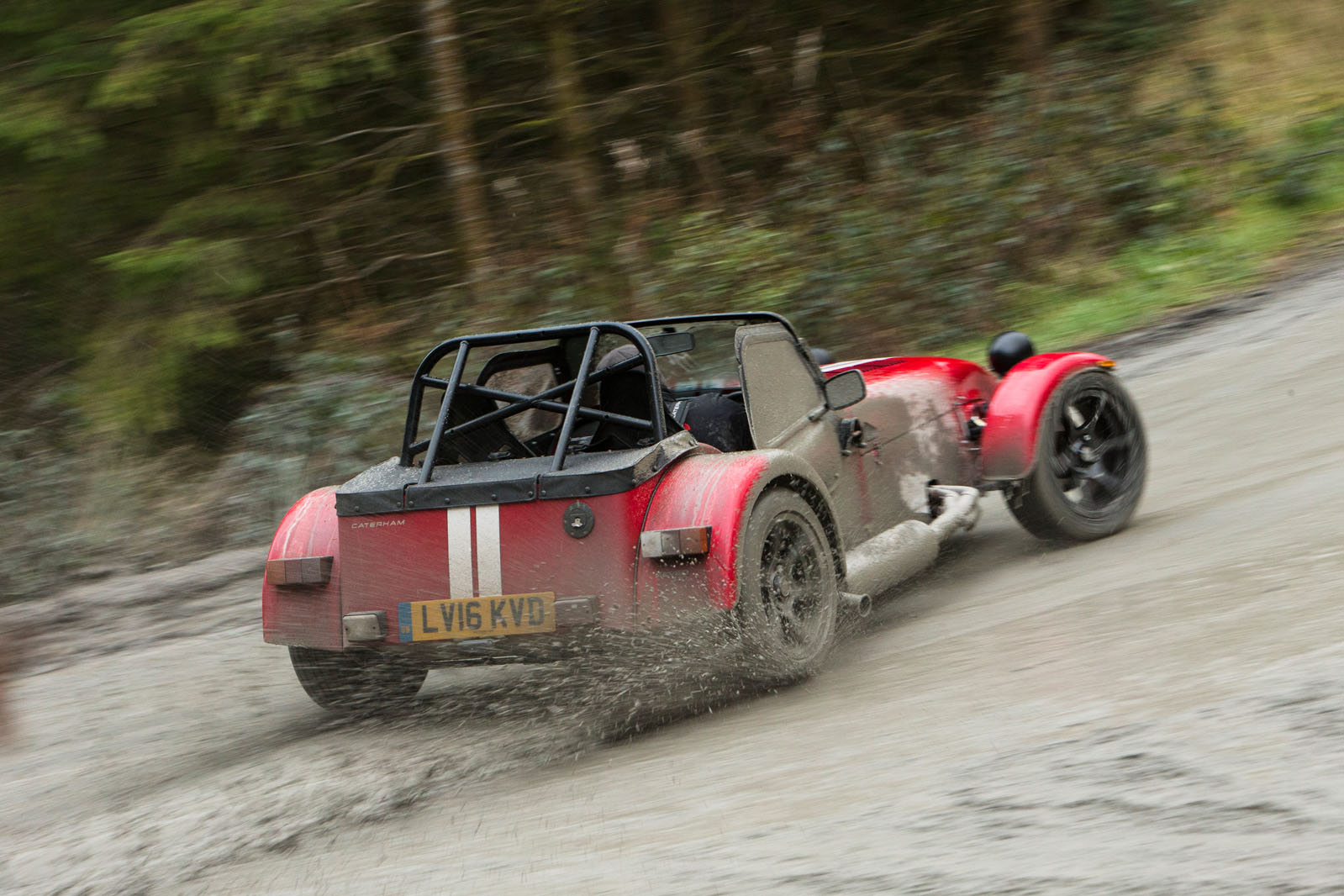 Morgan 3 Wheeler
Price £31,800 Engine V2, 1983cc, petrol Power 82bhp at 5250rpm Torque 103lb ft at 3250rpm Gearbox 5-spd manual Kerb weight 525kg (dry) 0-62mph 6.0sec Top speed 115mph
Matt Prior, Nic Cackett, Matt Saunders
Source: Car
Write

a Comment
Fields with * are required