New

Infiniti QX50 concept revealed ahead of Detroit show debut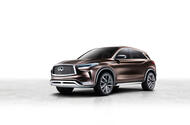 Infiniti QX50 Concept SUV
Infiniti has revealed an image of the QX50 concept and details of some of the new technology it showcases ahead of its official debut at the US show
The Infiniti QX50 Concept medium SUV is the first model to show what future Infiniti's QX SUVs could look like. It also debuts Infiniti's ProPilot autonomous driving technology and the production-ready version of the VC-Turbo variable compression ratio engine. The above image of it has been released ahead of its debut at the Detroit motor show. 
An evolution of the QX Sport Inspiration, the QX50 Concept demonstrates how the design of the previous concept car could be translated into a production model.
Roland Krueger, president of Infiniti explains: "With the unveiling of the QX Sport Inspiration at the 2016 Beijing Auto Show, we showed the future of Infiniti QX models. The new QX50 Concept evolves this concept further and shows how Infiniti could develop its future presence in the fastest-growing vehicle segment globally."
The QX50 Concept's "Powerful Elegance" design combines angular lines with rounded edges and a sloping coupé-like roofline.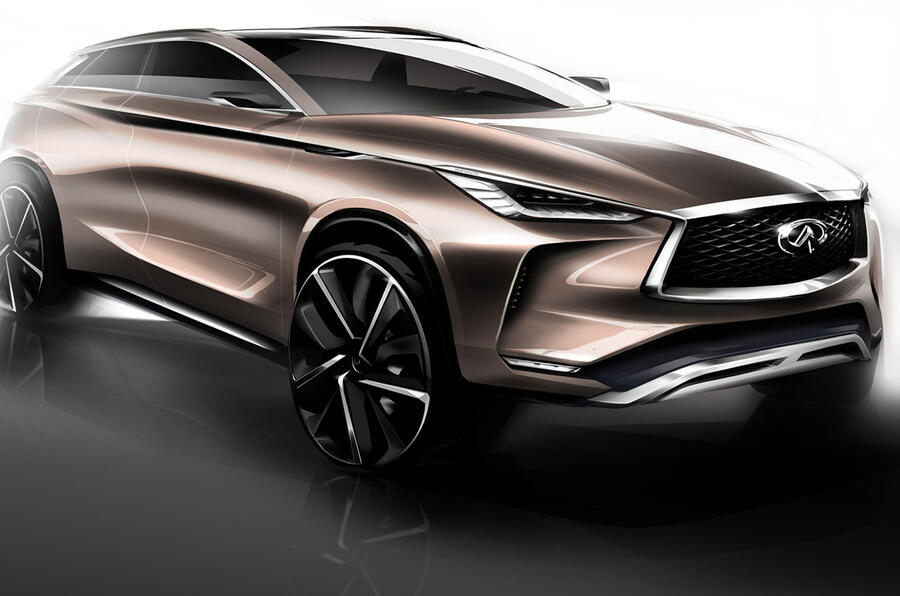 Although we can't see the interior in these images, Infinti says it reflects the brand's desire to challenge conventional approaches to premium interior design.
If it's similar to the QX Sport Inspiration's cabin, it'll feel more like that of a sports car with leather trim, a button-free dash, well-bolstered seats and a flat-bottomed steering wheel.
The QX50 Concept reveals Infiniti's plans to add autonomous driving technologies to its range with the new ProPilot system.
Although the suite of features won't take total control of the car, ProPilot "will act as a co-pilot, empowering [the driver to] delegate more onerous tasks to the car, such as navigating stop-start traffic on the highway or keeping track of the positions of surrounding vehicles."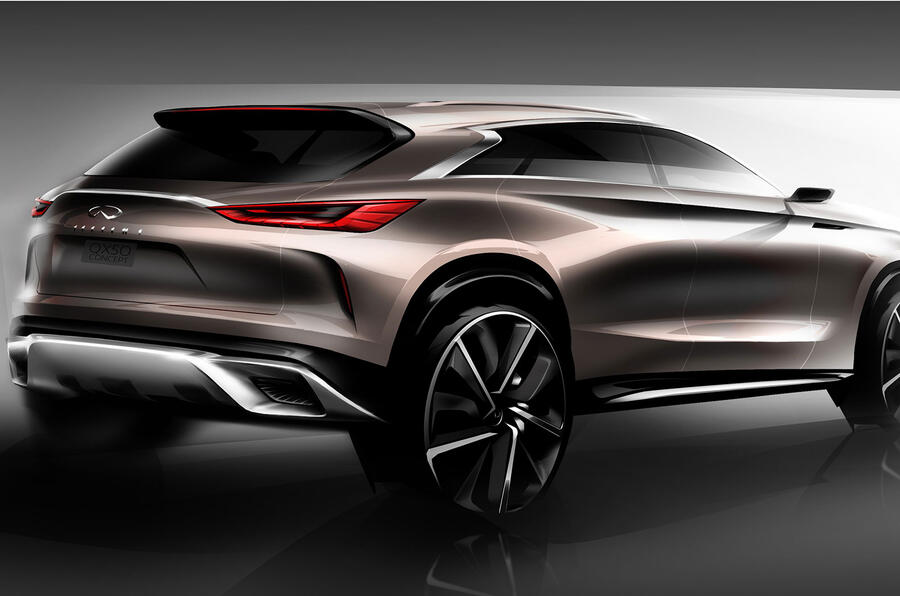 Infiniti's "ground-breaking" VC-Turbo engine will also be shown in the QX50 Concept. The new 2.0-litre turbocharged engine uses variable compression to offer performance that ranges from V6 petrol power to diesel economy.
Billed as a "compelling alternative to diesel powertrains", the VC-Turbo is expected to produce 268hp and 390 Nm of torque, but it's hoped to be 27% more fuel efficient than V6 petrols with a similar output.
The engine is able to offer any compression ratio from 8:1 for high performance to 14:1 for high efficiency.
The QX50 Concept gives a good indication of what we can expect from the replacement for the current, ageing QX50, which should arrive in the UK in 2018. It will be the first in a new range of SUVs to be introduced by Infiniti. A medium-sized SUV, the new QX50 will enter in a highly competitive sector, rivalling the Seat Ateca and Nissan Qashqai. 
Source: Car
Write

a Comment
Fields with * are required