New

Nissan Micra chosen to pioneer digital car-sharing scheme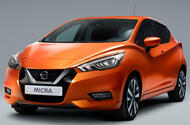 Car sharers will be grouped using social networking and geo-location and billed monthly according to their use of the pooled Micra
The new Nissan Micra will be available for people to buy as part of a group when it is launched early next year under a digital car-sharing scheme announced today by Nissan.
Customers will be able to opt in to Nissan's new Intelligent Get & Go Micra scheme, which allows users to buy a Micra as part of a group and use it only when they need it.
Read more about the new Nissan Micra here
Renault-Nissan Alliance CEO and chairman Carlos Ghosn today announced the plan in Lisbon and highlighted the profile-matching element of the scheme, which uses social networking to determine the group with which each user is best suited to share. Nissan claims the scheme is fully digital, using geo-location and smartphones to facilitate the car sharing.
The digital platform will match owners with compatible driving needs and owners are billed monthly according to how much they have used the Micra.
The scheme will use an Acenta-spec 0.9-litre Micra with Bose sound system. The cost of membership to the scheme includes insurance, servicing, access to the online community and the smartphone app that will host the service. A maximum annual limit of 15,000km (9323 miles) is slated for each group's Micra.
Read about Tesla's car sharing future here
Ghosn said: "We are moving toward a future where car usage may be more flexible, social and shared. At Nissan, we're pioneering new ways to allow drivers to enjoy the freedom and financial benefits of shared car ownership. There is no better vehicle to launch this programme than the all-new Micra, which embodies the vision of Nissan Intelligent Mobility."
The scheme will be launched first in Paris later this year, with the car-sharing beginning in April 2017. Nissan has yet to reveal further details about the scheme.
Source: Car
Write

a Comment
Fields with * are required