Nissan

won't further invest in Sunderland plant without Brexit deal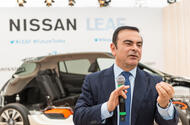 Nissan's Sunderland plant will not get further investment unless the Government strikes a deal with the manufacturer to compensate for potential Brexit costs
Nissan will not invest further in its Sunderland plant until it reaches a deal with the Government to receive compensation for the additional costs and taxes it might incur as a result of Brexit.
The announcement was made by Nissan boss Carlos Ghosn at the Paris motor show. 
Read more: the SMMT has issued a post-Brexit warning about the risk posed to the UK car industry
As a result of this, production of one model will be delayed at Sunderland. Nissan Europe boss Paul Willcox told Autocar at the Paris motor show that this is likely to be the next Qashqai, which is expected to arrive in 2018.
Willcox also said that the Qashqai is moving to 'Line 2', which will allow the Sunderland plant to build more examples of the SUV model. Sunderland also builds around 20,000 Leaf EVs each year, as well as the Infiniti Q30. The plant built 120,000 Jukes in 2014 and 110,000 in 2015.
Read more: Nissan Qashqai production to increase at UK factory
Crucially, Ghosn isn't yet threatening to pull a car from production in Sunderland, but he is quoted as saying that he wants 'compensation' if the UK leaves the EU single market and the EU imposes tariffs on exported cars from the UK to the EU as a result.
'Compensations' are possible. The UK could – because it will no longer be restricted by EU law – reduce corporation tax for UK car makers or engineer some tax break deals on research and development. It's thought that Ghosn made his announcement because he is aware of that fact.
Read more: Paris motor show – report and gallery
Ghosn's announcement confirms a previous story where he warned of grave implications for the plant in the event of a Brexit vote. Nissan has invested heavily in the plant in the past. 
Such a move would be a blow to the UK's car industry, because the plant accounts for a third of all Britain's car exports, as well as one of the UK's most prolific domestically-built models, the Qashqai. 
A spokesman from Nissan was unavailable for comment at the time of publishing. We are awaiting a response.
Source: Car
Write

a Comment
Fields with * are required