Official:

Volkswagen to quit World Rally Championship at end of 2016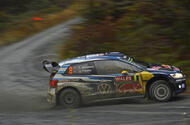 Volkswagen will end its WRC programme at the end of 2016; decision follows sister company Audi's withdrawal from the WEC
Volkswagen has officially announced its withdrawal from the World Rally Championship (WRC), effective from the end of the 2016 season. 
The announcement, made by Volkswagen R&D boss Frank Welsch on Wednesday, brings to an end the most successful chapter in the German car maker's motorsport history. 
"The Volkswagen brand is facing enormous challenges. With the upcoming expansion in electrification of our vehicle range we must focus all our efforts on future technologies. We far exceeded our sporting goals in the WRC, now we are realigning Volkswagen Motorsport and moving the vehicle technology of the future more starkly into focus," said Welsch in an address to around 200 employees at Volkswagen Motorsport division in Wolfsburg, Germany.
Since entering the World Rally Championship in 2013, Volkswagen has swept all before it, resting four successive driver's and manufacturer titles. In the 51 rallies it has so far contested, Volkswagen's ultra successful Polo R WRC has recorded a remarkable 42 wins and 621 best special stage times.
In a realignment of Volkswagen's Motorsport activities in the wake of its dieselgate emission manipulation scandal, Welsch confirmed a shift in focus towards customer racing programmes. "As well as the Golf GTI TCR fort he track and the Beetle GRC in rallycross, we also want to develop a new Polo according to R5 rally regulations."
The new customer rally car, to be based on the upcoming sixth-generation Polo, is planned to be available to customers from 2018 onwards, according to Welsch.
Commenting on the withdrawal, Volkswagen motorsport director, Sven Smeets, said: "We regret the departure from the WRC very much.  The team has done great things."
In a hint that Volkswagen's future motorsport involvement could involve electric car technology, Smeets added, "From now on , the focus is on upcoming technologies in motorsport."
Although there is nothing official at this stage, insiders say internal studies are already underway into a possible participation in the recently announced Global Electric Rallycross series. 
The decision to end Volkswagen's commitment to the WRC comes in the wake of its diesel emission scandal, which has already seen it pledge over £10 billion to buy back or fix up to 500,000 cars in the US as well as develop fixes for affected diesel models in Europe and other world markets.
The final round of the 2016 WRC takes place in Coffs Harbour, Australia on 18 November.  
Volkswagen's sister company Audi axed its World Endurance Championship (WEC) sportscar programme last week after 18 years; officials confirmed it plans to switch its focus to Formula E.
Source: Car
Write

a Comment
Fields with * are required